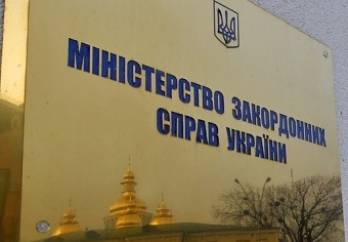 The spokesman for Ukraine's Ministry of Foreign Affairs, Yevhen Perebyinis, commented on Moscow's request for Berlin's official position regarding the statement made by Arseniy Yatseniuk on "the Soviet invasion of Germany and Ukraine," reports Interfax-Ukraine, January 10.
"We were surprised to learn of the intent by Ministry of Foreign Affairs of Russia to obtain a clarification from the Ministry of Foreign Affairs of Germany to the interview of the Prime Minister of Ukraine Arseniy Yatseniuk," Perebyinis wrote on his Facebook, January 9.
According to Perebyinis, "Russia should then ask the opinion of many other European countries where, after World War II, the USSR exported totalitarian regimes and suppressed all attempts at democratic change."
Perebyinis also noted that Russia's interpretation of Yatseniuk's comments only confirms "the fact that the physical and ideological occupation by the USSR of the countries of Central and Eastern Europe, especially of East Germany, is considered a normal event in modern Russia, as is the present occupation of Crimea and the Donbas."
"Arseniy Yatseniuk meant this and nothing else when he spoke with German journalists. And no one except for Russian journalists and diplomats looked for any other hidden meanings in his words, which simply were not there," he said.
Perebyinis emphasized that it is Russian aggression in Ukraine that represents the main threat to fundamental European values and called on the entire civilized world to respond appropriately.
"The main task of the entire civilized world is to stop Russia's attempts to once again reshape Europe according to its aggressive interests and to force it to respect the territorial integrity and sovereignty of other states and to return to the civilized sphere of accepted international relations, " he concluded.
As previously reported, on January 9, Moscow asked Berlin to clarify its official position on the statements made by Ukrainian Prime Minister Arseniy Yatseniuk on the "Soviet invasion of Germany and Ukraine."
Tags: Germany, News, Russia, Ukraine's Ministry of Foreign Affairs (Ukraine MFA), Yatseniuk