Mustafa Dzhemilev, the legendary Crimean Tatar human rights activist, could receive his own documentary film
The studio Alif Films and the civic initiative Crimea SOS are launching a project to create the feature Documentary "Mustafa." It will tell the life story of Mustafa Dzhemilev who spent over 15 years as a political prisoner in Soviet camps and went on the longest ever hunger strike of 306 days. Having been first exiled by the Soviet regime when he was 1 year old, he is exiled once again at 71 years, this time by Putin!
Who is Mustafa?
Mustafa Djemilev is a freedom fighter, human rights activist, and Crimean Tatar leader. In 1944, the Soviet regime forcibly deported all Crimean Tatars from Crimea in an ethnic cleansing operation. Mustafa Dzhemilev grew up in exile in Uzbekistan. All his life he fought against the Soviet regime. Only in 1990s, when it finally collapsed, did the Crimean Tatars return back home to Crimea.
In 2014, Russian forces under Putin's regime occupied Crimea, which led to a mass flow of forced migration. Mustafa led the opposition to the occupation regime. Russia's government banned him entry to his native Crimea and now he lives in exile once again.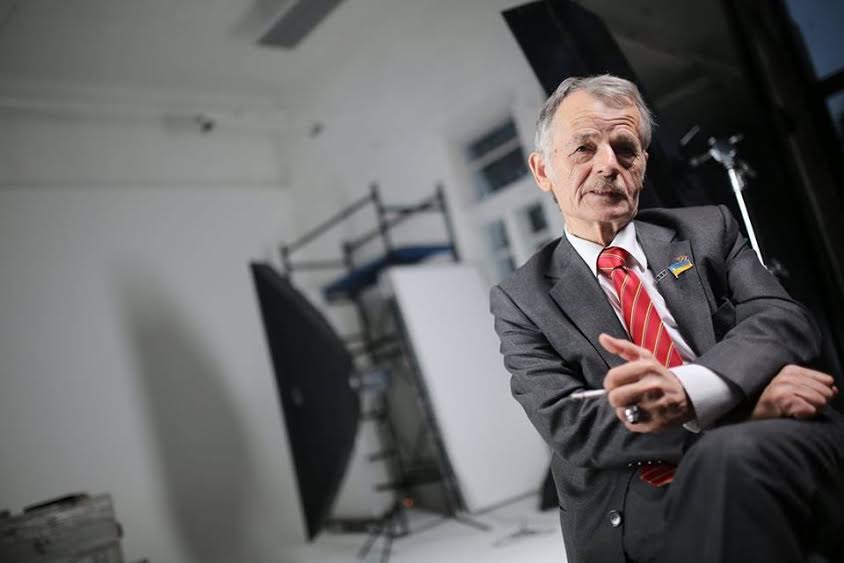 The film-makers in the team have diverse backgrounds:
Olga Morkova worked for the United Nations and OSCE addressing the crisis of Ukraine. She participated in drafting the laws addressing the occupation of Crimea. She gave a talk on TEDx about her experience of the Ukrainian revolution, and directed a short documentary "Crimea Unveiled" about internally displaced Crimean Tatar artists.
Tamila Tasheva is a Crimean Tatar activist. On the first day ofthe occupation of Crimea she created the Crimea SOS civic initiative which addressed the challenges of Ukrainians under occupation. Now when the situation is becoming more and more dangerous, she remains one of very few people from Crimea who publicly challenges the Russian occupation regime.
Fima Chupakhin is a Ukrainian jazz musician, sound producer, and composer. He will work with Ukrainian, Crimean Tatar, and European musicians to create an outstanding soundtrack for the movie.
As this is a non-commercial project, the group asks for your support. The film plans to cover Mustafa's story since 1943, so research will be needed in order to have the best historical accuracy. The historian-consultant Vakhtang Kipiani will help to gather information from world archives to achieve this. The movie will contain interviews with famous human rights activists of the Soviet period. With your support, the film-makers e will be able to travel to New York and Moscow to shoot the interviews, and ensure a high quality of the film (shooting, editing, sound recording, and composing an original soundtrack).
You can support the project here: igg.me/at/mustafa and here https://biggggidea.com/project/882/.
The Mustafa Film Team thanks you in advance for your support and invites you to share the word about this initiative!