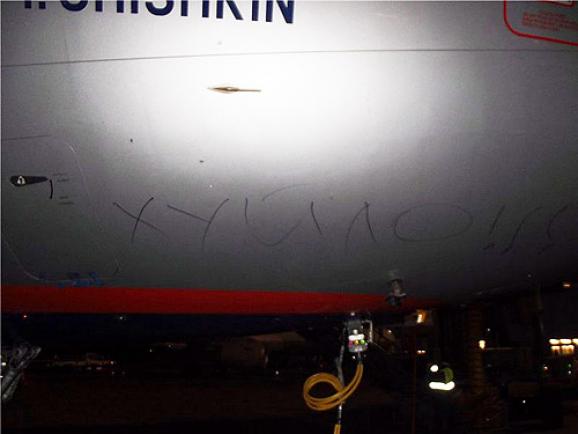 Workers at the Boryspil Airport near Kyiv decorated an Aeroflot Russian Airlines aircraft with graffiti about Putin and Pushkin, reports Espreso TV, November 30.
Using a black marker on the body and engines of the aircraft, they scrawled the famous obscene chant of soccer fans about Putin : "Putin kh**lo." In addition, they placed the inscription "Russians read your Pushkin. Think" on the sensor of the aircraft, avianews.com reports.
The incident occurred sometime in the evening on November 28, in the parking lot near Terminal D.
As reported by LB.ua, the inscriptions were made by several airport employees. They have been detained by airport security, but it is not known if they have been released yet.
Attempts were made to remove the offensive inscriptions but the work was not completed due to insufficient time.  Therefore, the plane flew to its destination bearing a portion of the chant "Putin kh**lo."