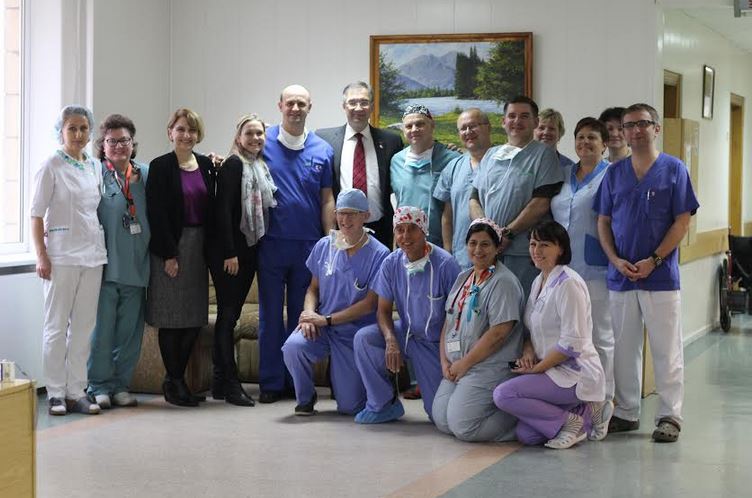 Toronto, Canada (November 20, 2014) – A specialized team of Canadian health professionals recently returned home after completing a medical mission in Ukraine. The team worked alongside Ukrainian doctors and nurses in performing reconstructive complex surgical procedures on victims of the Euromaidan movement and Vladimir Putin's invasion into Eastern Ukraine.
The mission was organized by the Canada Ukraine Foundation and Operation Rainbow Canada, under the patronage of the Ukrainian Canadian Congress. The medical team of 25 professionals was comprised entirely of volunteers and included surgeons, anesthetists, and nurses. The team was assembled from across Canada including Victoria, Vancouver, Edmonton, Winnipeg and Toronto.  Over 60 patients from across Ukraine with complex post-traumatic defects and deformities were seen in consultation. A total of 37 reconstructive procedures were performed in 30 patients. These included:
7 skull reconstructions
10 bony reconstructions of the facial skeleton
9 soft tissue reconstructions of the eyelids, nose, lips
5 burn and scar revisions
6 upper extremity reconstructions
"This mission focused on post-traumatic defects and deformities, many of which were horrific. Most resulted from explosive blast wounds and high-velocity missile wounds. The patients presented major reconstructive challenges," saidDr. Oleh Antonyshyn, Head of the Adult Craniofacial Program at Sunnybrook Health Sciences Centre and Professor of Plastic Surgery, University of Toronto. "The surgical procedures were complex, technically demanding, and time-consuming, some lasting for as many as 7 hrs  We hope to return in the near future and continue to work with our Ukrainian counterparts to provide the best possible care to those injured in the current crisis".
Funding for the mission came from "United for Ukraine", a gala fundraiser organized by the Canada Ukraine Foundation held in September in Toronto.
"The attendance of Prime Minister Stephen Harper at our gala was vitally important and speaks to his ongoing leadership in supporting Ukraine," said Eugene Melnyk who served as the gala's Diamond Sponsor and is also a member of the Advisory Council of the Ukrainian Canadian Congress. "With the support of more than 1,200 people and special guests like the Prime Minister and Wayne Gretzky, we were able to raise the much needed funds to support this very important humanitarian initiative."
"This mission was ground-breaking in terms of the collaboration between medical professionals in Ukraine and Canada," continued Antonyshyn. "To be welcomed into the surgical theatres and entrusted with the care of patients in another country is truly a privilege. This mission has allowed us to establish critical relations with medical professionals and health administrators in Ukraine, and provides a foundation for future collaborations in health delivery and surgical education."
The Canada Ukraine Foundation is thankful for the support of Stryker Canada, who awarded the mission a grant for virtually all surgical hardware and implant materials for the medical procedures; and to Operation Rainbow Canada for providing guidance in terms of planning a mission of this scale.
"From a fundraising perspective, "United for Ukraine" was an incredible success, bringing in more than $200,000," said Victor Hetmanczuk, President of the Canada Ukraine Foundation. "We are looking at the feasibility of a second mission and it looks very promising."
The Canada Ukraine Foundation is also grateful to the sponsors of United for Ukraine, who made this mission possible. They include: Eugene Melnyk, Canadian Tire, Molson Coors Canada, the Temerty Family, the Ihnatowycz Family, Bell Media, the Globe and Mail, the National Post, the Jacyk Foundation, the Ukrainian Credit Union, Buduchnist Credit Union, Buduchnist Foundation, Caravan Logistics, Yarcia Huculak and Family, CIBC, Manulife, and Community Trust Credit Union.
The Canada Ukraine Foundation (
www.cufoundation.ca
) was established by the Ukrainian Canadian Congress to coordinate, develop, organize and deliver assistance projects generated by Canadians and directed to Ukraine. It is a registered charitable foundation.
Tags: Archive, Canada, Donbas, Help, Help Ukraine, International, Medics, Stories