Activists in the USA have launched a campaign to gather support for the bill S.2828, also known as the Ukraine Freedom Support Act. The bill, presented by Sen. Menendez and Corker in September right before Ukrainian President Poroshenko's  visit to the White House,  imposes broad sanctions on Russia's defense, energy, and financial sectors, as well as increases military and non-military assistance for Ukraine. Poroshenko in his speech stated that Ukraine can't win the war with blankets alone. However, up to date no country in the world has provided military assistance to Ukraine suffering from an overt Russian invasion in its Eastern regions following the annexation of Crimea, limiting themselves to imposing sanctions against Russia. So far, the sanctions have not curbed Russian president Putin's appetite for invading Ukraine.
The initiative group behind the campaign #Pass2828 (pass2828.org) claims that the bill has the power to stop the war in Ukraine.
"This piece of legislature presents a blow to Russia's main sources of income by applying additional sanctions against Gazprom, Rosoboronexport and other Russian defense firms that contribute to instability in Ukraine, Moldova, Georgia, and Syria, as well as against companies investing in Russia's crude oil energy products. Apart from that, it will restrict foreign banks' dealings with US banks if it is determined that they significantly financed Russia's defense and energy sectors, or serviced Russians sanctioned in connection with the crisis in Ukraine,"
noted Constantin Kostenko, an activist in Washington DC.
"But what's more important, this bill will finally give Ukraine the means to defend itself from the superior Russian army and reestablish its sovereignty and territorial integrity. It will allocate $350 mn in 2015 to provide both training and such weapons as anti-tank and anti-armor weapons, crew weapons and ammunition, counter-artillery radars to identify and target artillery batteries, fire control, range finder, and optical and guidance and control equipment, tactical troop-operated surveillance drones, and secure command and communications equipment to Ukraine."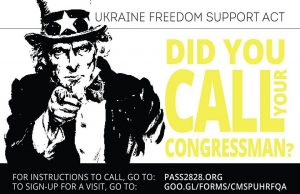 Apart from military assistance, the bill will allocate $350 mn to boost the involvement of the US and international organizations in helping Ukraine cope with the invasion of its Eastern neighbor that, together with the USA and Great Britain, was supposed to provide assurances of Ukraine's territorial integrity in exchange for non-nuclear status, as outlined in the Budapest Memorandum of 1994. It will require the US administration to work with Ukraine on a short-term emergency energy assistance plan to address a potential fuel and electricity shortage in 2014-15, as well as on medium- and long-term plans to increase energy production and efficiency to improve energy security in Ukraine. Additionally, the bill will require the US to boost efforts in strengthening Ukrainian civil society, supporting independent media, reducing corruption etc. Finally, the bill will designate Ukraine, Moldova, and Georgia as major non-NATO allies and will launch programs to counter Russian propaganda in the former Soviet Union countries and prioritize Russian-language broadcasting into Ukraine, Moldova, and Georgia.
The bill has gathered many supporters among Congress Representatives. In order to make the legislation pass, the organizers of #Pass2828 seek to find patriotic  Ukrainian volunteers to come to the Capitol to meet with members of Congress and their congressional office personnel on Capitol Hill. George Barros working for Representative Steve Stockman to pass S.2828 has told Euromaidan Press that the volunteers are needed "to discuss why it is critically important that the United States help Ukraine immediately. Volunteers will also help by distributing literature and letters calling for emergency support of S.2828 due to the recent amassing of Russian troops and missiles at the Ukrainian border and the passage of Russian tanks into Ukraine, as well as copies of S.2828, and cosponsor sign sheets. The volunteers' goal would be to raise awareness, and more importantly obtain allies in the House who will push with us to help stand firm against Russian aggression and defend Ukraine."
It's not necessary to be in Washington DC to help. US citizens can show their support for S.2828 by calling their Congress representatives. All the details on how to do this are on on the campaign's site. The campaign invites all supporters of Ukraine in USA to take the three-week challenge to pass S.2828 by calling the representatives daily. It's possible to leave a voicemail after 5PM or call during the weekend as part of the #Pass2828 Phonathon. George Barros told that calling is the optimal way to show Congress representatives what their voters care about: "Calling in really works, and you know what they say: three minutes a day keep the Russians at bay!"
The campaign has already made good progress in its first week. Anastasiia Rybytska, Vice-President of Razom, a US-based non-profit committed to helping the people of Ukraine in their quest for democracy and human rights, told:
"As always, I was amazed by the level of cooperation from the Ukrainian Community. Dozens of volunteers visiting Congress during business hours, hundreds of phone calls and thousands of voice mails over the weekend from Ukrainians and friends of Ukraine to their representatives made a big difference."
Over the last weekend, 55 individuals made over 5 000 calls to the voicemails of Congress Representatives.
Follow updates about the campaign on the site pass2828.org, the fb event, and the Euromaidan Press Fb page.