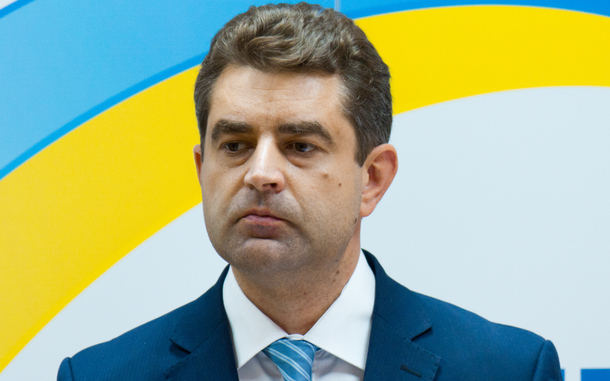 Ukraine's Foreign Affairs Ministry spokesman Yevhen Perebyinis categorically denied accusations of Human Rights Watch that Ukraine's military used cluster bombs in the Donbas at his press briefing on Tuesday, October 21.
"Regarding the information distributed by Human Rights Watch on the alleged use of cluster munitions by the Ukrainian military, I want to make it perfectly clear that the ATO (Anti-Terrorist Operation) troops have never used and do not use such weapons. Moreover, we have repeatedly stressed that the Ukrainian military has never fired on residential areas where civilians could have been hurt, " he said.
According to Perebyinis, "these are methods used by the terrorists — the illegal groups controlled by Russia. This is one of the methods used  to discredit the ATO forces." He added that Ukraine's government has repeatedly made public evidence that these attacks are being carried out intentionally in order to then accuse the ATO forces.
He also insisted that the information disseminated by Human Rights Watch included evidence that was obviously staged and served as an additional example of the "exploitation of such an esteemed organization by the representatives of the illegal armed groups for their own propagandist purposes."
"The conclusions made by Human Rights Watch are not supported by any concrete evidence. They are based on the testimony of several locals. However, the official position of the Ukrainian government is not presented. Furthermore, some of the video footage indicates staging, especially the footage showing the angle of an unexploded bomb that is embedded in the ground. This suggests that Human Rights Watch has become a victim of the most elementary fraud by the terrorists," he said.
Perebyinis encouraged the human rights organization to conduct a broader investigation into the use of illegal weapons in the Donbas as "there is no doubt that they are being used by terrorists with weapons supplied by Russia."
"We attach great importance to cooperation with Human Rights Watch and … we are ready to provide all necessary assistance to the organization," he concluded.
Tags: Donbas, Human Rights Watch, News, Ukraine's Ministry of Foreign Affairs (Ukraine MFA)