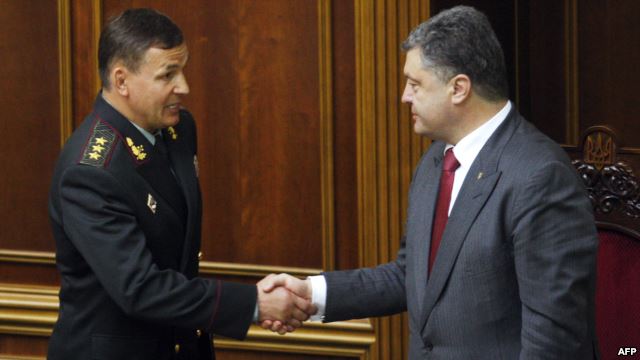 President Petro Poroshenko approved the resignation rapport handed in by Defense Minister Valery Heletey to the head of state, reports the President's press service. Poroshenko emphasized that it is time to replace the leadership of the military Ministry, says the message.
He added that he intends to propose a new Defense Minister to the Parliament on Monday. The President expressed hope that the Verkhovna Rada will support his proposal at the Tuesday session.
The head of state is convince that the decision to replace the head of the Defense Ministry, and a number of other human resource issues, in particular, the resignation of the leadership of the State Border Service and the creation of the Committee for Intelligence and the appointment of Ihor Smeshko as its head, will seriously reinforce the military structures and reinforce Ukraine's defense capabilities, stated the press service.
Heletey's actions as Minister have been subject to a big amount of criticism. There have been calls for his resignation.
Tags: Heletey, Ministry of Defense of Ukraine, News, Petro Poroshenko