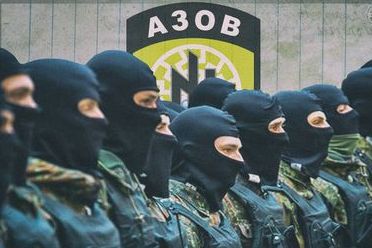 The Azov Special Purpose Regiment under the Ministry of Internal Affairs (MIA) of Ukraine will be integrated into the National Guard of Ukraine, Interior Minister Arsen Avakov said at a briefing, October 9.
"The decision has been made to begin preparations for the transfer of the Azov Special Purpose Regiment to the National Guard of Ukraine," he said.
According to Avakov, the Azov regiment has proven itself in battles in the Donbas.
"First as a special battalion, then as a regiment, they have proven themselves in real battles near Mariopol, near Donetsk. These are the best trained people, and we have decided, in accordance with the doctrine of our defense forces, that this regiment will have the best chance to develop militarily within the National Guard," he said, adding that the Azov soldiers will undergo special training and will receive appropriate instruction and equipment.
In turn, Azov commander Andriy Biletskyi said that an artillery division has been added to the regiment this week. The National Guard Commander Stepan Poltorak noted that it is essential to add serious professionals to the staff of the regiment — people who will teach and organize the fighting.
"We are transferring pieces of equipment, so that the transition of the volunteer regiment into a structured military unit takes place smoothly and painlessly," he said.
Currently there are 800 soldiers in the Azov regiment.
As previously reported, the Ministry of Defense has begun the process of transferring all interested soldiers from the volunteer battalions, who are currently under the jurisdiction of the Ministry of Internal Affairs, to the Armed Forces of Ukraine.
Additionally, last Thursday, October 2, Avakov announced plans to create a single special law-enforcement unit composed of MIA's volunteer battalions. The other special units currently operating in the MIA would cease operation.
"A single large specialized unit will be created for the entire country. As an analogy, it would be similar to the American SWAT (Special Weapons and Tactics) teams. We assume that most of the battalions, most of the men, I think, will form the basis of this unit.
However, Avakov thinks the most experienced soldiers generally will go to the National Guard to "improve their professionalism as part to the special operations."
Tags: Armed Forces of Ukraine (ZSU), Azov Battalion, MIA, national guard, News