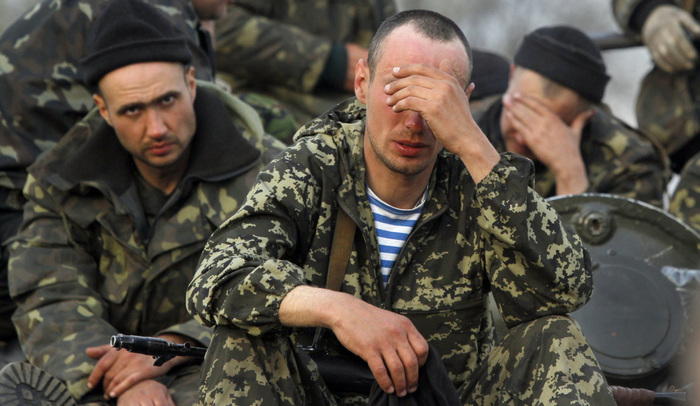 Outrage at the widespread corruption in Ukraine was one of the reasons for Maidan protests last winter. Looks like eradicating it will be a long battle. Now that the country is at war, the plague of corruption has fallen upon the shoulders of front-line soldiers who risk their lives every day to defend their country. Corrupt practices have penetrated all levels of the military.
In the barracks at the time of mobilization
Volunteers to whom I have spoken were not drafted until June, although they volunteered as early as March. One of them explains this delay by the fact that volunteers are not "profitable." Indeed, there are reports of corruption at the time of mobilization: it was possible to dodge enlistment for a fee of a few thousand dollars.
Theft of supplies
Theft of supplies and equipment is another major problem faced by the soldiers. Sasha (whose name has been changed for security reason) tells me that during the first days of combat, his unit whose mission was to take back rebel-held territory, was not supplied with food. After they and their families made some noise in Kiev, this problem was resolved, but another appeared: they realized that parcels that were sent to them had been stolen. In particular, a package worth UAH 300,000 (about EUR 20,000) and included equipment such as night vision goggles, and which had been sent to them by volunteers and family, never reached them. Other packages sent by their wives and containing cigarettes and cash were stolen as well.
This is also one of the problems facing civil society volunteers. If they deliver aid directly to the target units in the war zone, then everything is fine. However, if they drop off parcels with the army personnel at the entrance to the combat zone and rely on the regular army for delivery, then theft is quite common.
Who is stealing? My contacts simply say, "some officers." This is one of the many sad consequences of the corruption plaguing the army since Ukraine's  independence, corruption which became even worse during the reign of Viktor Yanukovych.
High ranking officers "sell out units"
Most worrying perhaps is the corruption among high ranking officers at the anti-terrorist operation headquarters. Sasha told me: "My unit had been sold." According to him, the Russians bought from some officers information about the movements and positions of his unit. This serious charge is supported by several facts. For example, in one of the recaptured villages, a resident told them that the rebels "were waiting for you and preparing for your arrival." In another place, the enemy artillery began bombing the site where they were going, and they did not fall under enemy fire only thanks to an unexpected delay on their part. They were surrounded three times, and should have been annihilated. They managed to survive only thanks to the intervention of other battalions. They also captured maps and documents showing that the separatists knew their movements and plans in advance. Rumor has it that the price of betrayal is $75,000.
The treatment of demobilized soldiers
While traitors do not hesitate to sell lives for personal enrichment, soldiers receive no benefit in return for their participation to this war. Kolia (whose name has also been changed) told me that he was paid only UAH 5000 (EUR 333) for taking part in the combat for two months. The military did not even provide the promised transportation for their return home. As soon as they returned their weapons, they were told to "go home by their own means." Kolya called his friends who came by car to get him, but there are testimonies that some took two weeks to return home by foot. He now encounters a lot of difficulties in trying to obtain official documents certifying his army service in the war zone. He still has not received them last time we talked.
Why all this betrayal?
The problem of corruption in the army is recognized by many politicians, including Prime Minister Arseniy Yatseniuk. Corruption in Ukraine is pervasive and deeply rooted with no segment of society, not even the military, immuned to it. The petty corruption in recruitment, parcel theft and stolen equipment is probably explained by this sad reality. It will take time for these practices to stop and for the mid-level officer staff to be renewed. But the betrayal of the high ranking officers in charge of leading this war against Russia and responsible for Ukraine's defense is extremely serious. These allegations must be investigated and, if found to be true, traitors should be held responsible.
Sasha is disillusioned and says that this war is between the younger generation that wants new, less corrupt, more democratic and free Ukraine; and elders who resist change, look up to Moscow and, bereft of any morality, continue their the old ways in order to enrich themselves, even at the cost of hundreds of lives.
Tags: corruption in Ukraine, Military analysis, Ukrainian military