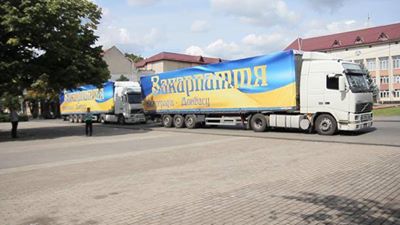 According to spokesman of Ukraine's National Security and Defense Council Andrii Lysenko, 13 thousand 817 tons of humanitarian cargo has been delivered to the eastern regions of Ukraine, to Donetsk and Luhansk oblasts.
People received more than 1 million 600 kg of food, 318 thousand units of medicines and medical devices, over 139 thousand sets of clothes, 48 thousand hygiene kits and 4,600 heating devices. Internally displaced people also received cash assistance in the amount of more than 11 mln USD and other kinds of assistance worth nearly 485 thousand UAH.
In total, more than 273 thousand citizens, including 102 thousand children and more than 41 thousand of the elderly and disabled, have received humanitarian assistance from Ukrainian government as well as other regions of the country.
Foreign states also make contribution into delivery of humanitarian aid to Donetsk and Luhansk oblasts. As head of Ukraine's Customs Service Anatoliy Makarenko reported yesterday, "German government has allocated 18 million Euros for humanitarian aid to Ukraine, which is supposed to arrive on October 6-7. The humanitarian convoy will include construction materials for temporary housing as well as power stations."
Tags: Donbas, Donbas war (2014-present), Humanitarian aid to Ukraine