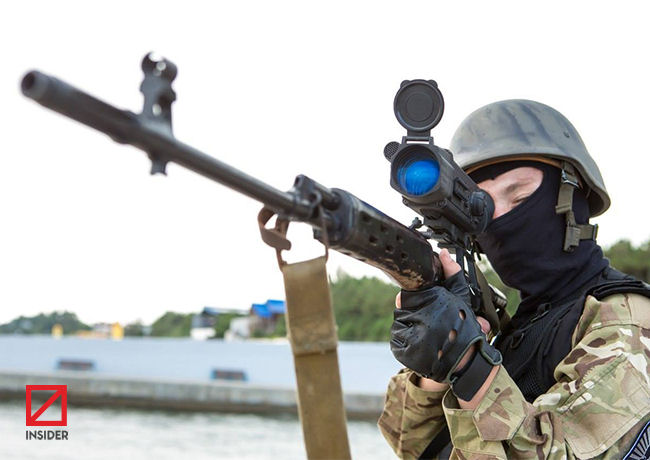 'Cleaner' (his military nickname) is wearing high combat boots, camouflage pants and a warm military sweater over a khaki shirt.
We sit in a café patio in the center of Zaporizhya. Cleaner has been home for a few days, but is soon returning to the Azov unit. We drink tea… that is, I sip my tea while Cleaner is more interested in the dried fruit floating in the tea strainer.
"I woke up one day, looked at everything and decided to go to war. I hitchhiked to Kyiv with a backpack and a change of clothes. I first joined the Kyiv-1 battalion; I knew some guys there. But, somehow I realized right away that this was not for me. The Donbas battalion was just being formed at that time. …. So, the path somehow led me to Azov. I've been with Azov since the end of April."
I know that Cleaner is an active member of the Zaporizhya football fan club. I also know that he spent the whole winter on the Maidan in Kyiv where he met boys who later formed the core of different volunteer battalions.
"I'm a good shot. My father died a year ago. He took me shooting every week. My brother also taught me a lot; he's now in an intelligence unit. So, I knew how to shoot. When the unit commander saw that I could shoot, he immediately took me in. I started targeting enemy weapons in the battalion. In short, I had the makings of a sniper. Priority training in Azov takes about a month. But, the battalion really needed men who already had some skills and knowledge … I went to war after five days of training."
Cropped blonde hair, dry chapped hands…. nothing special about him. Yes, Cleaner looks much older than 18, maybe about 20 or so. He's just a kid with a child's voice. Only his eyes seem tired and somewhat lifeless. Cleaner's facial expressions reflect little emotion; or perhaps he just did not get enough sleep.
"My first real fight was on Friday May 13, during the assault on Mariupol. My friends told me my eyes looked terrified … I didn't even have a sighting device then. I got it later from Zaporizhya. My mission was to detect certain targets and keep them under fire, that is, find another sniper or soldier that was firing at us from a good position… so that my comrades could take him out easily. I also had to lure the sharpshooters out of their initial positions so that Michael could pick them off. Michael is a sniper from Sweden; he's fighting with Azov. Much has been written about him. In one way, he represents an ideal towards which we should all strive. He taught me a lot, showed me where and how to breathe, and where not to breathe … As a matter of fact, I spend most of my free time – not too much of that in Azov, I'm afraid – learning English, so that I can communicate with Michael. He's helped many guys in the battalion."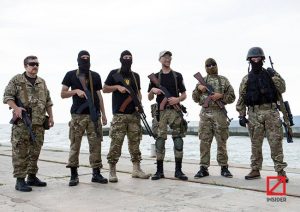 It is interesting to note that before coming to Mariupol, Cleaner had another nickname – 'Dirtball'. But, the guys decided to change that because, as he says jokingly, he is quite tidy and generally polite.
I ask him about his parents.
"I've got a difficult relationship with my Mom. She'd come and pick me up in a taxi on the Maidan. When I decided to join Azov, I told her I was going to work as a waiter in Berdyansk. Of course, she found me out quickly, and now she knows everything. She knows and helps me in any way she can… and not only me, but the other guys in ATO, too. But, many of my friends still think I'm working as a waiter in Berdyansk. Yeah, nowadays many of them call and ask me why I'm still at the seaside as the summer season is over. I still have it pretty good compared to other guys from Luhansk and Donetsk; they've simply been cut off and cursed by their parents."
The very next day, I learned that Cleaner's mother and other volunteers are weaving 'kikomors' in a former theater on the outskirts of Zaporizhya. 'Kikimors' are camouflage covers sewn and woven together with thousands of bands and patches. Snipers also use them. It takes twelve people and a day and a half of hard work to make one "kikomor".
"After Mariupol, I realized that this was no joke. I have to push myself, train hard, learn more and develop. Then, there were other combat operations at Novy Svit, Marinka, Ilovaisk, Starobeshevo, Novoazovsk, and Obryv. We were often shelled by Grads. When you hear a volley of Grads and you realize that you only have 15 seconds to get to the nearest basement, your body really works wonders. We were simply lucky in Novy Svit – we were waiting all day for something to happen. Well, five minutes after we left the place, an entire company showed up there, and not just six or eight detachments."
Cleaner does not want to talk about Ilovaisk, but I pull it out of him… or should I say I beg him to tell me about it. Though, I admit that when I went to meet up with him I was expecting a lot of bluster and bragging, non-stop chest-thumping… something quite ordinary in a young bloke, fully justifiable and even well deserved.
"We left that place just a few hours before the "shit hit the fan". Thanks to our commander who said he didn't want his soldiers dying because of some fools … As for the boys from the other battalions, with whom I had time to put away a few shots in Ilovaisk, well… it took them eleven days to get out of there on foot. Men who weighed 70 kilos then, today weigh 40 kilos after escaping from Ilovaisk. They were abandoned by their unit commanders.
Why were seven volunteer battalions stationed there? This has never happened before, nowhere. Ilovaisk isn't a strategic site – everyone thought that there were some 300 separatists running around and that there'd be no problem getting them. We were told that we'd soon be in Donetsk, but we couldn't even retreat … Please write down that all the guys called home, and said that they'd soon be in Donetsk, that we'd hold a parade there, then take a break and advance towards Crimea! That was the ambience! But, Poroshenko didn't do what Kolomoysky did for Dnipropetrovsk.
Generally speaking, I rarely agree to an interview, but you're a friend of my friend. So, if I agree, it's only to tell everyone about the boys …"
Cleaner fumbles and falls silent.
"Summer has flown by so quickly and it's been so sad. I've lost a lot of friends. Aksion, a Luhansk ultra died at Ilovaisk; Sasha Derzsky – we shared a room, died at Solntsevo; locals betrayed him. Recently, Dnipro football players entered the stadium with his portrait on their t-shirts. I want to make sure that Nikolai Gyurza gets an award. He deserves much more than the Order of Courage; I'd create a special award for him…"
For a few seconds Cleaner stops to think about this important and distinguished award.
"That's it! The Order of Bandera"! He was shell-shocked, but managed to save three soldiers and held the defense line for an hour and a half."
I ask him about the separatists.
"Many of them are scared of Azov. When I tried speaking with the prisoners, and I spoke in Russian, I saw their fear. They believe that the battalion consists of banderites, fascists and guys from Pravy Sektor, that we get help from the CIA and the French Legion. Oh yes, there's another popular story going around… that we are taught to kill from childhood. Russia has stuffed their brains and ears with such tales, and in the meantime the Russian humanitarian convoy loaded three Ukrainian factories into the trucks and transported them to Russia. I'm not making this up – about the factories, I mean – it's been announced officially by intelligence services.
Let's stop spreading all these stories about Azov. Azov is a one big family, where everyone helps and encourages each another. Honestly, before shooting Putin, I'd shake his hand and say: "Hey, dude! Thanks for getting us together. Thanks for giving us a new outlook on life. Thanks for showing us that we know how to win." That's what I'd say… and then I'd shoot him."
Cleaner puts the remaining raisins into his hand, says goodbye and leaves. Watching him, I think of a question that has never been raised in such interviews: Did Cleaner ever have to kill anyone? I remember his eyes, tired and somewhat listless … I would not want to have such eyes. Or maybe Cleaner simply did not get enough sleep? That idea – "not getting enough sleep" – comforts me a bit, but the image of an 18-year-old sniper does not.