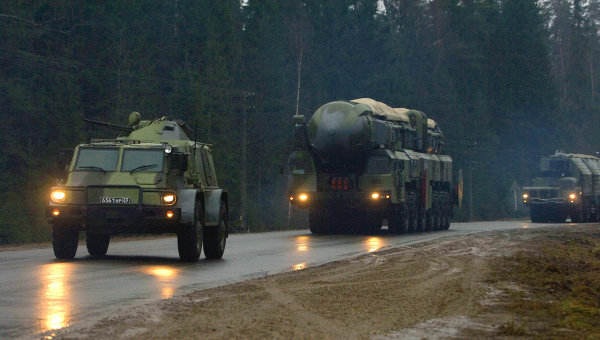 Photo: RIA Novosti, Sergey Guneev
Deputy Prime Minister of Russia, Dmitry Rogozin, stated that by 2020 Russian strategic nuclear forces (SNF) will be renewed by 100%, and not 70% as currently anticipated.
"We're forming the technical basis for our strategic nuclear forces at a faster rate than expected, and, in fact, we'll update SNF by 100%, and not 70%." Rogozin said on Russia 24 TV channel.
The Deputy Prime Minister added that in 2015 the Army and Navy should be re-equipped with ultra-sophisticated weapons by 30%, and in 2020 – by 70%.
At the same time, Russia needs to create a compact army, which can be deployed quickly to "any threatening zone of war."
"Is it really necessary to surprise our colleagues by openly brandishing all sorts of weapons? Some things must be kept secret so we can spring a surprise in the most critical moment." concluded Rogozin.
Rearming the Russian army
Begun in 2008, military reforms for the Russian army will be the largest to be implemented in post-Soviet history. The system of military command and control was dramatically changed and the number of servicemen was significantly reduced (proportion of conscripts decreased, and number of contractors increased). Officers' salaries were raised considerably, and solutions were offered for their housing problems. But, most importantly, the authorities approved an important rearmament programme to be implemented by 2020.
During this period, supplies of new military weapons increased to 16%, and are expected to reach 70% by 2020.
Vladimir Putin: "The state allocates a lot of money for this purpose (rearmament)… a huge amount. In 2003, the defense budget totalled 600 billion rubles. This year, overall budget expenditures for the Ministry of Defense will reach 2.3 trillion rubles."
Weapons for the army in 2014
In 2014, the Russian Defense Ministry plans to increase the delivery of modern weapons and technology to the army by 30%. This year, the Ministry will continue upgrading missile regiments in the Strategic Missile Troops with Yars, NATO codename SS 27 second generation, mobile launcher systems. At the same time, it will re-equip siloes based Yars launchers at the Kozelsky missile compound.
In addition, the Defense Ministry will renew equipment of two missile brigades of the Ground Forces with Iskander missile complexes and two anti-aircraft missile regiments with S-400 anti-aircraft missile systems.

Photo Russia24 TV: Rogozin to Medvedev: We have a secret weapon that will surprise everyone at the most critical moment
Tags: International, News, Nuclear threat, Russia, Russia's confrontation with the West, Russian militarism, Russian military threat