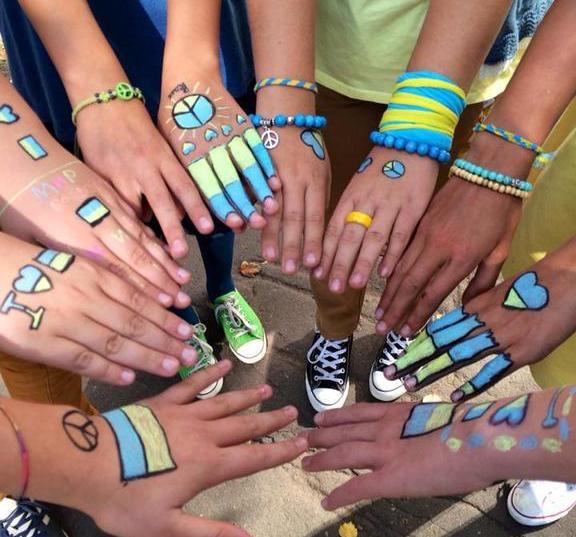 On September 12, Moscow schoolchildren donned yellow-and-blue T-shirts and painted their hands in colors of National Flag of Ukraine, as their moms wrote on their Facebook pages.
Flashmob in a #moscow school: students came dressed in #Ukraine colors #MoscowMaidan #RussiaInvadedUkraine pic.twitter.com/oJ7GEFORbO

— Euromaidan Press (@EuromaidanPress) September 15, 2014
The kids put on clothes in yellow and blue colors, and also bracelets, rings, and other trinkets.
The parents insist that they did not even know about their children's plans about this flash mob.
"They organized this flash mob on 12 September. Their arms were painted with hearts with Ukrainian and Russian flags, there were words 'Peace' and 'Love.' I am so proud of them," wrote one mom, Marina Shpar-Chernysheva.
The history of this flash mob is also interesting: a few days before one of 7th grade students of this school came to class in an American Eagle T-shirt and got reprimanded for this.
The principal was standing at the school's front door before the start of the classes, and she said this is an American propaganda. It could be that she was just joking, but the student got offended. He shared the story with his classmates. Kids discussed it and on the next day they came to school like this. I've learned about this only after the fact. But I must say that I am very proud of kids in our school. They have their own opinion and they are not afraid to express it. I am, frankly, in shock – in the good sense of the word – because no one is forced them to do it. My God, I cannot believe – they are growing to be citizens, not just members of the population," wrote another mom, Maria Kniazieva.
On September 21, a Peace March is to be held in Moscow, permitted by the city hall of Moscow.
Tags: International, Moscow, Russia