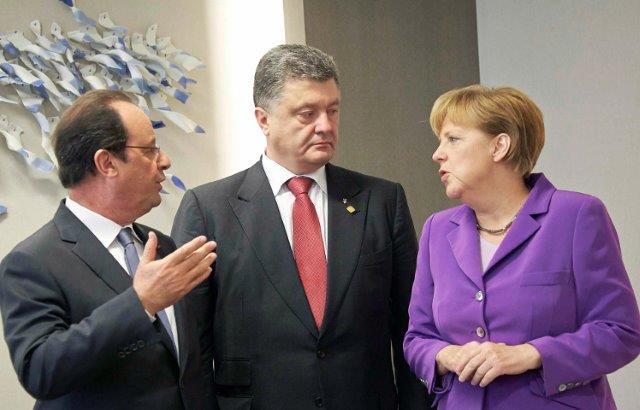 "Thousands of foreign troops and hundreds of foreign tanks are now in Ukraine's territory," Poroshenko said during the European Union Summit on August 30, 2014 . "There is a very high risk for loss of peace and stability, not only for Ukraine, but for the whole… of Europe."
Poroshenko also said that he believed the situation in eastern Ukraine was nearing a "point of no return" and that failure to halt the violence quickly could lead to a "full-scale war."
What response did Poroshenko receive from Angela Merkel?
Very interestingly and unusually, no English or German press organizations published an extended version of Angela Merkel's speech at the briefing during the European Union leaders' meeting on August 30. They were either ashamed, or trying to avoid accusations from Merkel that she was misunderstood by the media. Euromaidan Press is correcting this omission.
Angela Merkel said:
"I personally believe that German arms supplies to Ukraine are unacceptable. The situation has very much escalated over the last two days, and if this continues we will decide on further sanctions within the week."
"We do not want to do this for the very reason that we do not believe it is possible to solve the conflict by military means. Consequently, we should not create the impression that the supply of arms to strengthen the Ukrainian army will help to resolve the crisis. I cannot speak for everyone else here; other countries may have different answers to this question, but my position will remain unchanged until the NATO summit [September 4-5]. "
Responding to a question on the impact of EU economic sanctions against Russia implemented so far, she expressed the opinion that they are effective.
"We cannot expect the same reaction from Russia. Russia is not so open. In our communities, people say what they think and what difficulties they face. Anyway, I am absolutely convinced that we must clearly show what values we defend."
According to Merkel, the European Council did not make a decision on new sanctions against Russia on August 30 for purely technical reasons, not because of significant differences between the countries of the [European] Union.
German Chancellor Angela Merkel said the new sanctions would target the same sectors as previous punitive measures, which also included an export ban for some high technology and oil exploration equipment. This part of the speech was cited in other media sources, but the important contextual words that followed were passively ignored:
Full quote:  "No decision has been made today, not because of significant differences, but rather due to technical reasons" – she said, responding to a reporter's question. "We do not have at this stage a ready list of specific companies and specific individuals. Those persons in Donetsk and Luhansk, who are responsible and closely linked with the separatists, should be under the new sanctions. They are not included in the lists at the moment, such as those that are closely connected with the events in the Crimea, " said the Chancellor.
When asked about a deadline for EU action, the EU Summit Chairman and Council President Herman van Rompuy said: "It depends on further steps, on development of the situation on the ground. There is no precise criteria, but I can assure you that everybody is assured that we have to move quickly."
"We are ready to take very strong and clear measures, but we are keeping our doors open to a political solution," outgoing European Commission President Jose Manuel Barroso said. "If Russia continues to escalate the crisis, it will come with a high cost," said EU Commission President Jose Manuel Barroso. "It's time for everyone to get down to the business of peace-making. It is not too late, but time is quickly running out."  Barroso warned of a "point of no return," but he stressed that Brussels wanted a political resolution to the crisis.
The EU foreign policy chief Catherine Ashton said that there will be no military solution to the crisis. She said a sustainable political solution was the only way forward.
U.K. Prime Minister David Cameron said it is "totally unacceptable" that there are Russian soldiers in Ukraine "and we now have to set out a timetable for further sanctions…and that's important."
French President François Hollande said in the same format as Merkel, regarding military aid to Ukraine: "One can't think it would be fruitful, useful. What we're asking for today is a cease-fire—not to sustain the conflict, but to end it." "There would have to be another meeting either of senior EU officials to sign off any new measures," stated Hollande.
Austrian Chancellor Werner Faymann was one of several leaders to question whether sanctions would have any impact on Mr. Putin.
Russia Today happily informed, "Slovakia's PM Robert Fico, following the meeting, slammed the idea of new sanctions as 'meaningless and counterproductive' – as the impact of the previous round of tit-for-tat sanctions is still unknown – and reserved the right 'to veto sanctions harming the national interests of Slovakia.'"
Only Lithuania's President Dalia Grybauskaite said the EU should send military equipment to Kyiv.
Our apologies, in the event that we have misunderstood the EU leaders and Chancellor Merkel, but what they really said means (if the EU approach does not change):
1) The EU does not want to strengthen Ukraine's army (to avoid creating the impression that the supply of arms to strengthen the Ukrainian army will help resolve the crisis)
2) Additional sanctions are just words – they are not even ready, just under consideration – in spite of direct invasion by professional Russian troops
3) Additional sanctions will be symbolic. Judging by Merkel's words: "Those persons in Donetsk and Luhansk, who are responsible and closely linked with the separatists, should be under the new sanctions." What terrible sanctions! It would be such a terrible blow to Russia, perhaps Russia will be scared to death that persons in Donetsk and Luhansk will not be able to travel to the EU.
4) It was not clear when sanctions might actually be implemented
It is clearly evident that the EU is not going to hurry to impose any new sanctions against Russia, nor provide other than symbolic help to Ukraine.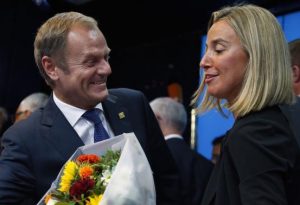 New leaders appointed in this Summit: EU Council president Donald Tusk (the current Polish prime minister) and Federica Mogherini (Italy's foreign minister) as the EU's high representative for foreign affairs.  Tusk will take office on December 1, 2014, while Mogherini, if confirmed by the European Parliament, will start her new job on November 1, 2014.
As commented by Reuters, the appointment of Tusk as president of the European Council marked a major advance in influence for the eastern states who joined the bloc this century and who share non-member Ukraine's concerns about Russian President Vladimir Putin's ambitions.
Mogherini, on the other hand, stressed the need to work for a lasting diplomatic deal with Russia. "As we think and we work on the level of sanctions, we also have to keep the diplomatic way open … hoping that the combination, a wise combination, can be effective," she said. Ex-communist states had deadlocked an earlier summit two months ago by opposing Mogherini as too soft on Russia.
We will see shortly whether the EU and NATO attitudes toward measures against Russia change at the NATO summit in Wales on September 4-5, with new leaders appointed in this Summit.

By: Dr.
Vitalii Usenko
, MD, MBA, expert of the 
Center of Military-Political Studies
 in the sphere of psychology of communications and
Dmytro Usenko
, student at
Rotman School of Management
,
University of Toronto
, edited by Lisa Spencer
Tags: Angela Merkel, EU sanctions against Russia, Featured, International, News