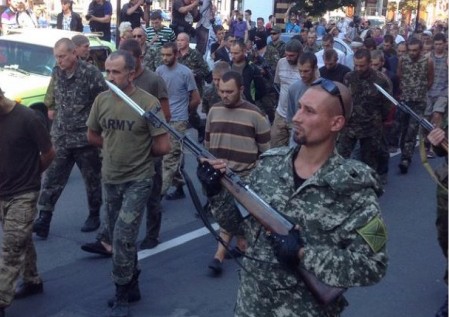 Instead of a Ukrainian Independence Day parade, pro-Russian terrorists marched Ukrainian prisoners through a "corridor of shame."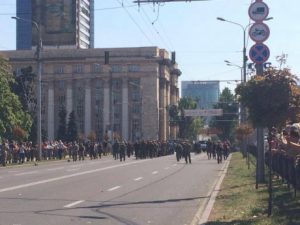 YouTube user dima svets posted a video of the column of prisoners that was followed by a crowd shouting "fascists!" Some people tried to force the Ukrainian soldiers on their knees, others threw eggs at them.
Brainwashed Donetsk throwing eggs at Ukrainian POWs being parades through the streets. pic.twitter.com/MTgxymijZs

— Ben Judah (@b_judah) August 24, 2014
Only once did someone shout "Slava Ukrayini!" (Glory to Ukraine!)
Water was sprinkled on the road as soon as the column of prisoners walked by.
"Parade" of prisoners in Donetsk 
Novosti Donbasa (Donbas News) writes that, at 14:00, supporters of terrorists and militants from Russia, who call themselves the "Donetsk People"s Republic" began gathering in the center of Donetsk.
Terrorists display Ukrainian Army hardware in Donetsk.
In Lenin Square, militants displayed military equipment, which they said belonged to the Ukrainian Army. This is how they wanted to demonstrate their superiority on Ukrainian Independence Day.
Donetsk militants staged their own "parade" on Independence Day
A few dozen supporters of the Russian terrorists came to see the "exhibit".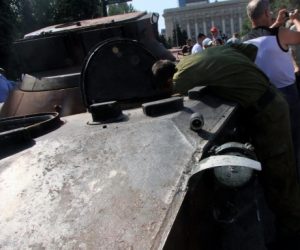 Trampling the Ukrainian flag in Donetsk on Independence Day
Donetsk resident waving their "flag"
Donetsk, Ukrainian Independence Day
The day before, the self-proclaimed "Donetsk People's Republic" abolished Ukrainian Independence Day in territories controlled by pro-Russian militants.
Source:
www.pravda.com.ua,
  translated by Christine Chraibi
Tags: Donetsk, News, Terrorists, Ukrainian soldiers