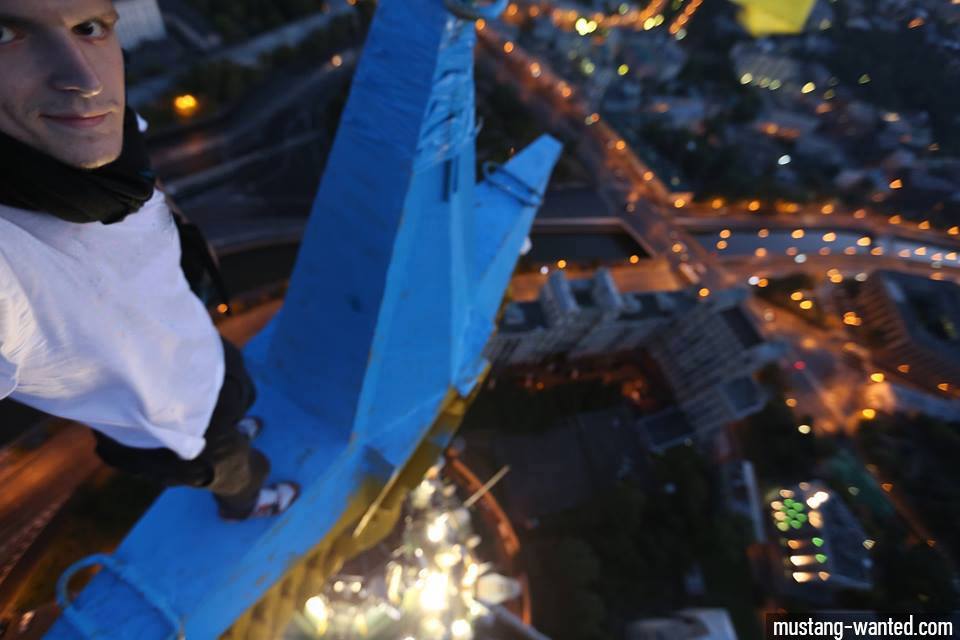 A Ukrainian citizen has claimed responsibility for "decorating" the Moscow's "Stalin Tower" high-rise and says he is ready to give himself up in exchange for Nadiya Savchenko, the online publication FAKTY.ICTV.UA reports, August 22.
A Ukrainian citizen, who claims he painted the star on top of the "Stalin Tower" high-rise in blue and yellow and then attached a Ukrainian flag says he is willing to surrender to Russian justice in exchange for Ukrainian pilot Nadiya Savchenko.
Hryhoriy, who calls himself "Mustang Wanted," described his feat on his Facebook page, adding supporting photographs.
"I, Hryhoriy (aka Mustang Wanted), a citizen of Ukraine, am forced to make this confession not for the sake of recognition but to bring about the release of innocent Russian citizens, who have been accused of hooliganism and who risk becoming victims of Russian justice, which is widely known for its fairness," he wrote. "I am the man who in an impulse of true patriotism climbed to the roof  of the skyscraper on the Kotelnichesky embankment and repainted it in the colors of our native Ukrainian flag. Then I raised the flag of an independent Ukraine there. I have photos and video evidence, " he added.
He noted that this process was very time-consuming and took him almost all night. He finished his work around 6 am. "At that time I noticed on the roof of the building the Russian citizens who face criminal charges and possible imprisonment of 7 years. It is worth noting that we are not even acquainted," Hrihoriy said.
"I declare myself guilty of 'hooliganism' and I am ready to appear before the same court in exchange for the release of a wonderful, courageous Ukrainian girl — Nadiya Savchenko," he continued.
The Ukrainian also wrote that he considers his actions "performance art," which he has dedicated to Ukrainian Independence Day and also to all the young men who are now protecting his homeland.
Translated by Anna Mostovych