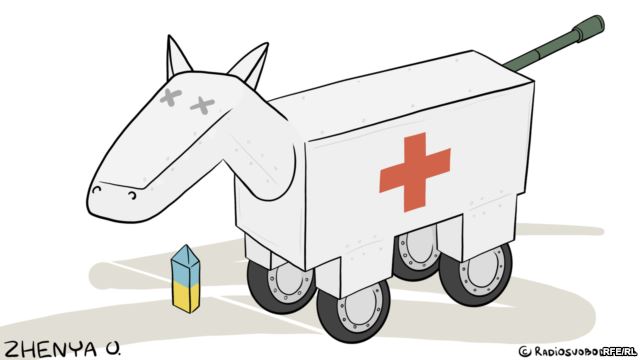 Kyiv – Russia has already used "humanitarian convoys" to send its armed forces to Abkhazia. There is a threat that this scenario may be repeated in Ukraine, experts emphasize. They note that under the guise of such a convoy, which is currently at the Russian checkpoint "Donetsk," two entire battalions together with automatic weaponry can be transported. Besides, a military convoy is present within the humanitarian one. 
Russia did not adhere to UN international rules in its humanitarian and peacekeeping operations in Transnistria, Abkhazia and South Ossetia. Accordingly, there is no guarantee that it will not repeat the scenario in Ukraine, on Donbas.
Isolated Luhansk and blocked Donetsk require more and more humanitarian aid, first and foremost, medicine, potable water and foodstuffs, and Russia may take advantage of the trouble to create a positive image for itself, NSDC Information Center expert Vyacheslav Husarov is convinced.
"We think that the Russian Federation may conduct peacekeeping activity overtly or without license through private peacekeeping funds, religious organizations, Kazak organizations, in order to create a positive image for itself among Donbas citizens," the expert notes.
Vyacheslav Husarov allows that Russia may ask for a UN mandate to legitimize its presence, citing the support of the local population.
Expert: Abkhazia may repeat itself in Donbas
Deputy head of the main headquarters for military cooperation and peacekeeping operations of the Ukrainian Armed Forces General Headquarters colonel Andriy Ordynovych emphasizes that Russia has already violated all international legislating in its first steps of pushing forth its "humanitarian convoy." Ukraine did not ask it for help, which is one of the conditions required to start the provision of such aid.
"The Ukrainian side violated the rules of initiating humanitarian aid provision at the beginning. Ukraine did not ask for this. Today Luhansk and Donetsk oblast receive aid from Dnipropetrovsk oblast, it is also planned that it would receive it from Kyiv and Kharkiv. This humanitarian aid in total surpasses the aid that the Russian side plans to provide," stated Andriy Ordynovych.
As he emphasizes, the Russian side has to give a detailed cargo decryption to the Ukrainian customs and border services, after which the cargo should be handed over to the International Red Cross, which will escort it on Ukrainian territory.
"If this is not done, some sort of secret, covert ways might be used, we may expect any kind of situation. For example, such as the "humanitarian convoy" in Abkhazia. We may predict the creation of a new "grey zone," which would be undesirable, and everything has to be done to prevent this. According to the information at my disposal, the international community already knows of this. Today we talked with several military attachés from the west, which are concerned with the presence of a military convoy within the "humanitarian" one," said Andriy Ordynovych.
The head of peacekeeping operations of the Main Headquarters of military cooperation and peacekeeping operations of the Ukrainian Armed Forces Main Headquarters colonel Sergiy Vereshchak notes that two entire battalions can be imported into the ATO zone under the guise of a "humanitarian convoy."
"The cargo has to be reloaded, we cannot even allow those trucks to pass. We have counted three hundred tucks, two drivers for each, we get 600 people. These are two regular battalions. It is not a problem to hide two rifles in every car," the officer is convinced.
Meanwhile as of the evening of Friday, August 15, the Russian trucks are at the Russian checkpoint "Donetsk" in Rostov oblast. 41 Ukrainian border servicemen and 18 customs officers arrived at this checkpoint on Friday. This was stated by the ATO press center, noting that at the time there was no according documentation provided by the International Red Cross Committee.
---
Source: Radio Liberty
Translated by Mariya Shcherbinina
Tags: Donetsk, Luhansk, Military analysis, Russia