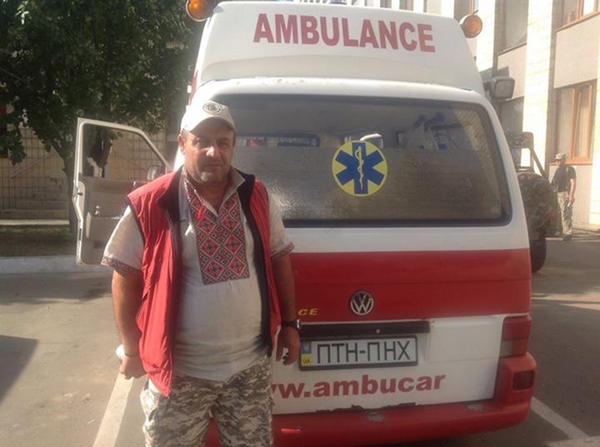 Irina Koprovskaya, Fakty.ua
8/1/2014
The soldiers on the frontline gave volunteer medic Armen Nikogosyan the nickname "Angel of battle" and tell incredible stories of his heroism. This plump man with distinctive Armenian looks came to the ATO zone on his own initiative. He brought an ambulance and has been rendering aid to the wounded in the hottest combat spots, together with his driver Ilya and nurse Alena. Armen hasn't been counting the number of guys he's carried off the battlefield under fire and operated on right in the ambulance. But he does remember the names, wounds and faces of the soldiers. And when he calls the hospitals where he brings the wounded, he always asks if this or that soldier is getting well.
"I gave up my work in Tyumen as soon as I saw the news of the events in Kyiv," the 49-year old neurosurgeon Armen Nikogosyan tells Fakty. "I rushed to Kyiv. I've got a family and children here. I went to the Maidan right away. It was calm for a couple of days, but on January 19, on the Baptism holiday, the battle at Hrushevskogo started…the wounded numbered in the hundreds! I'll never forget one case. The bullet went into the shoulder and entered the skull through the neck. But, I managed to take it out and resuscitate the patient. It turned out well: The boy is alive; he often calls me.
IRINA: You came here as a doctor in the First National Guard Battalion, yet you became a guardian angel for all the soldiers at once.
ARMEN: When the First Battalion was formed, another practitioner was appointed surgeon. But he…got frightened. There were volunteers from the Maidan in the battalion; everyone had health issues. All the winter the guys slept in tents, ate irregularly; they got poisoned with gas, shot with sniper rifles…Anyway, that doctor resigned and the First Battalion had no doctor.
I'd already met two volunteers on a visit to Mezhyhirya [ousted President Yanukovych's former residence]. We were a great team: Ilya the driver, myself and my assistant Alena. When we found out that the First Battalion was leaving for the ATO zone, we "borrowed" a German ambulance parked in Mezhyhirya, stocked it up and rode off to the Donetsk region. How could we leave the guys without medical aid? I know all of them from the Maidan: I patched them up, treated their pneumonia…We called the ambulance's owner from the frontline and apologized. He laughed: "Well, if you are there, I won't stop you, use the car."
IRINA: Legends are told about this car. They say your ambulance can pass where an APC wouldn't.
ARMEN: Probably they mean that our unarmored car can go through a hail of shrapnel. However, the armored APCs, or rather their crews, are afraid to go to places where they shoot with heavy guns. No one is safe in war. You can be killed any minute. But you have to get the wounded out of the line of fire and bring them to a hospital. I'm a Capricorn by zodiac, so difficulties don't stop me. There are places that seem unreachable. But we do reach them – through fields, in the rain. Sometimes we get stuck in a swamp, but we just push the car out and keep going. So the guys say to cowardly commanders: "Armen goes there in an ambulance, and you won't go in an APC!"
IRINA: How do the terrorists let you pass?
ARMEN: Only the worst nutjobs fire at ambulances. But professional military men – and there's a lot of Russian soldiers among the terrorists – respect the work of medics. I was going to pick up the wounded once and got stopped at a separatist roadblock. And they asked so very politely for a toothache pill. Well, I did give them the medicine. So they told me: "You shouldn't ride with Ukrainian symbols, Armen, or our guys will definitely shoot you." Our ambulance bears the Ukrainian flag; I have a blue-and-yellow cap and a t-shirt with the Ukrainian coat of arms. "I rode with [the symbols] and I will [continue to do so]," I replied, "because I'm in Ukrainian territory."
*Armen won't give up the national symbols, despite what the separatists tell him.
IRINA: What's with the story when you carried 24 wounded soldiers from the battlefield under grenade fire?
ARMEN: At night the separatists attacked a checkpoint, leveling it with tanks. The guys called me: "We are under fire! We have lots of wounded!" I reported to the ATO HQ and the medical service like I was required to. The ambulances were afraid to go there; they waited for a police APC. But I couldn't wait. We got into our car and rolled up there. I carried the guys out, loaded them in the ambulance. When I counted, there were 24 troopers! I had to render first aid to some of them on the road to Izium, or else we wouldn't bring them there alive. Then the battalion commander came up to me, shook my hand and said: "Armen, I've seen a lot of crazy people, but you are the worst – rushing headfirst into hell!"
IRINA: Many times have you brought the soldiers back literally from the grip of death.
ARMEN: We were flying to the Karachun mountain on a helicopter, bringing food to the guys. We landed at the fourth checkpoint and saw chaos and cries: "Bring a medic, bring a medic!" Turned out a sniper had wounded a young paratrooper. The bullet came right through the lung. I jumped out of the helicopter and ran up to the soldier. A paramedic was kneeling over him, trying to set up an IV – but he couldn't, his hands were trembling. I quickly stuck the needle into his vein and the paramedic said: "It's over. It's a 200" – that's military for "dead." I brought my phone to the wounded man's nose. I saw steam on the screen, which meant he was alive. I pushed the paramedic away: "Don't interfere! He is still alive, and I'll bring him to the hospital alive!"
We bandaged the guy up, put him on the helicopter and flew to the hospital. The flight took 45 minutes. And all this time I closed tightly both the bullet holes so that air wouldn't get to the lungs and the guy wouldn't bleed out. We brought him to Izium and the ambulance took him there. At that point I couldn't even feel my hands.
I do remember all the wounded and dead I touched. I wish I could erase it from memory, but I can't…There are moments when I suddenly recall vividly the scary episodes: one had no legs, another had no arms. And a third was crying: "Doctor, I'm dying!" Once I was carrying a soldier out of a burning APC, and he told me, so calm: "Doctor, I think I'll remain ugly after these burns."
But what shook me most was a family blown up on a mine between Semyonovka and Mykolaivka.
On the night of July 5, the head of the surgery department of the Krasnyi Liman hospital called and told me they had two wounded paratroopers and a 10-year old girl. He asked me to come. Sometimes local surgeons invite me to advise them. Sometimes I help them with difficult operations when they ask. I came to the surgery and examined the soldiers first. One of them had his hands amputated; the other had a light, tangential wound. Then I went to the girl, Masha.
Her family, parents and grandma, were driving in a car, rushing to evacuate. The terrorists had mined the road and the car blew up on a mine. "I was sleeping on grandma's knees," Masha told me. "And when I woke up, I was in Oleg's hands." Oleg was the traffic policeman who had found the girl and brought her to the hospital. The explosion threw Masha out of the open window 20 meters aside. That was what saved her life. The girl has an open fracture of the left ankle and an eyebrow blown off.
Masha didn't know what really happened, that all her family died. She thought dad took a wrong turn and they got in an accident…I couldn't bear to tell the girl the truth; I didn't want to traumatize her. I told her her parents and grandma were alive, but in a different hospital. The girl was worried that she'd lost her phone in the accident. To console Masha, I bought and gave her a good touchscreen phone.
Then I contacted the Kharkiv region governor and asked him to send Masha to a local burn treatment center. I organized guarded transportation. Masha's relative lives in Kharkiv; she is going to file for guardianship.
Then the paratroopers from the 95th Airborne called me. "Armen, the girl you took…We've found the site of the accident, there are bodies there." The guys gave me directions, and me and Alena went to the field to look for the car. The search took for hours. At last we saw the car, ravaged by the explosion. The grandma's body was lying near the car. The mother's body was nearby: no head, no legs…And we didn't manage to find the father's body, no matter how long we searched. I called the local police unit and asked them to pick up the bodies. They came and picked them up. But that was on the eighth day after the explosion.
I found Masha's mom's necklace and slippers in the field. I washed and cleaned them and brought to Kharkiv. "Your mom told me to give it to you," I told Masha.
I've almost gotten used to soldiers dying almost every day. But children…that's hard, that's painful.
IRINA: During Prime Minister Arseniy Yatsenyuk's latest visit to the ATO zone, you were introduced to him as a hero who had been bringing water and food to Ukrainian soldiers at Mount Karachun surrounded by the enemy for two months.
ARMEN: It was really hard before they drilled a well on the mountain. They guys had no water at all. The pilots were afraid to fly to Karachun because the helicopters kept getting shot down. The APC crews were also afraid to go there. But I couldn't leave the soldiers to die. I found the right people, they showed a road by which you could pass the enemy-held territory. On my first trip I loaded the ambulance with 800 liters of water. I brought it. The guys surely were happy. But as I talked to them I realized: it was just a drop in the bucket. I had to keep bringing water.
IRINA: During WWII there were legends of soldiers "blessed with luck" – they said bullets passed them by.
ARMEN: Neither bullets nor shrapnel can get me either. That means I have to live some more, to do something important. I've had a lot of dangerous situations in life, and each time it was like an angel carried me away. I spent my childhood in Armenia. When I was a boy, I chased bees in a vineyard. And suddenly I felt a sting in the chest. I ran up to my aunt and told her: "I think a bee stung me." She looked at me, turned pale and said: "That's not a bee, that's a hornet. The sting is huge." My aunt pulled the sting out…and I can't remember anything after that. I went into a coma right away. And then, one and a half days later, I came back to my senses.
There was another story. In Germany, I was driving down Mount Oberhof in a car. The mountain was very steep; skiing races are held there. And then my brakes failed. I don't know what magical force brought the car smoothly to a stop and tenderly put it on the roadside. I still can't understand how the car managed to stop without the brakes. It was as if someone held it.
IRINA: I was told you weren't just a volunteer medic, but that you were a man who could solve any problem.
ARMEN: I've got three phones and all are bursting with calls. People ask for help all the time. We help not only the soldiers, but the civilians as well. I'm currently taking care of a family with tween girls with cerebral palsy. They constantly need medicine, and I brought it to their village even when it was being shelled.
I also bring food to the checkpoints, to the freed towns and villages. Some commanders get offended: They say I visit them too rarely. But I can't be in two places at once! There are 30 checkpoints but just one me. I've been as busy as a bee as it is.
And recently I solved the most pleasant of the problems we encounter these days. Residents of a village near Sloviansk contacted the "Bars" [Panthera Pardus] special forces unit members. A woman had gone into labor. The Bars commander asked me to bring the woman to hospital. The doctors were really surprised! Usually when our car arrives at the hospital the nurses rush to the yard thinking that I've brought a gravely wounded soldier. And that time they saw a pregnant woman and were happy: "Another Ukrainian will be born!" And I said: "I wish for this to be a start. I wish to drive only pregnant women in my ambulance. I wish for people to be born, not to die."
Every night when I go to sleep I pray to God to end all this. I pray that no one calls me at night and says I have to evacuate another wounded or dead soldier. I wish that once a friend's call would wake me up with: "Armen, let's go fishing this morning, shall we?"
Photos taken from Armen Nikogosyan's Facebook page.
Source:
Fakty.ua
Translated by Kirill Mikhailov, edited by Andrew Kinder