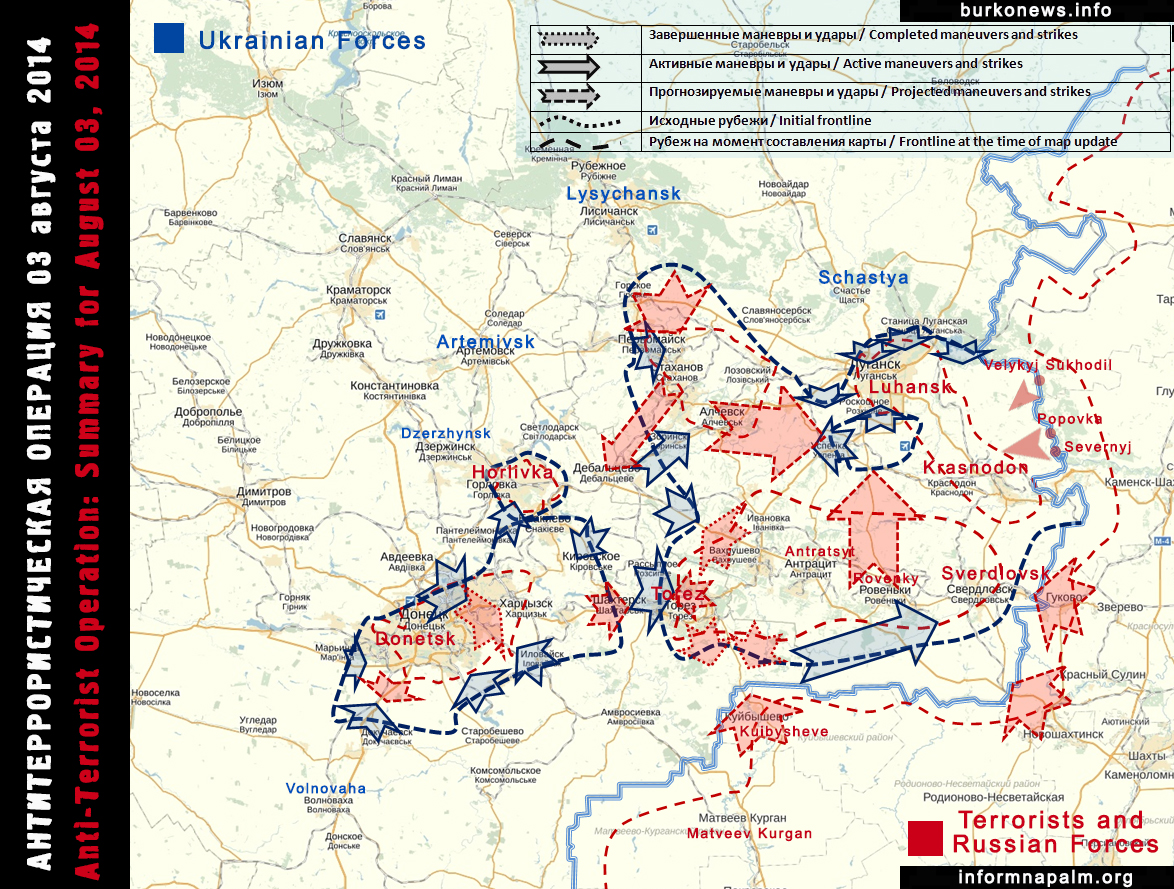 By Roman Burko, burkonews.info
The past 24-hours showed no special activity, possibly due to the Day of 'Air-Military-trooper' (a military holiday since soviet time), and the situation remained the same in almost all areas of combat. So we can say that Saturday evening/Sunday morning was relatively calm, which gave both the Ukrainian forces and the terrorists the possibility to regroup. From Monday we can expect new initiatives from both sides.
Luhansk Oblast
It has been confirmed that another column of military vehicles arrived in the city of Luhansk from the Russian Federation via Krasnodon along the M04 highway (although this road is officially "free" according to ATO Headquarters).
Terrorists are spreading information that Ukrainian forces are negotiating a withdrawal from Lutuhyne and Heorhiivka (Luhansk airport area). But in conditions where the Ukrainian forces still have initiative, this information is almost certainly an attempt at disinformation. However, terrorist strikes from Rovenky and Alchevsk on these Ukrainian forces are still taking place.
Donetsk Oblast
Ukrainian forces started moving in the direction of Makiivka. But the route N21 (Zuhres-Shakhtarsk) is still controlled by terrorists. They constantly get reinforcement in Donetsk using the N21 from Rovenky.  Terrorists are continuing digging in in Torez and Snizhne, and counter-attacking in area of Shakhtarsk and Savur-Mogila. Ukrainian forces also attacked Shakhtarsk, from the North-West direction. The terrorist counter attack in area of Marinka and Krasnohorivka gave the enemy some tactical success, but not for long.
Ukrainian forces continued with their siege of Horlivka, but Yasynuvata is still under terrorist control.
There were successful artillery attacks on terrorist concentrations in Kirovske and Orlivka.
There is (unconfirmed) information that terrorist forces are preparing to counter-strike in Debaltseve. Most likely it is false information, but if true then the strike against the Ukrainian forces can be made from the Irmino area.
Translated by Eugenia Zlamanuk , edited by Larry Field
Tags: Archive, Donbas, Ukrainian Army