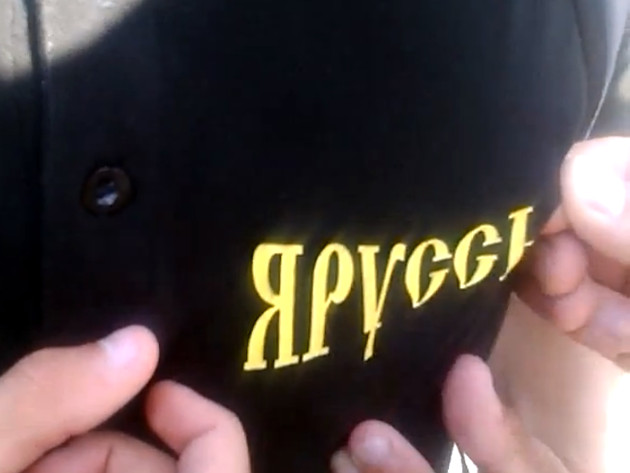 In Minsk it has become dangerous to express love for Russia.
A boy walking in the center of Minsk wearing a t-shirt stating "I am Russian" was urged  by concerned Belarusians to avoid wearing similar clothing. They then helped him remove the offending message, reports Espreso.TV, July 31, citing the Belarusian news agency by24.org.
Two Belarusians explained to the t-shirt owner that, in light of well-known events in Ukraine, similar texts were, to put it mildly, not a good idea. Then they simply removed the offending text, writes by24.org. A video of the incident was distributed online.
The "Russian patriot" did not put up any resistance to the Belarusians and no one was hurt in the incident. He was advised not to follow "ugly ideology" and instead to place the Belarusian coat of arms "Pahonia" (the coat of arms of the Belarusian Democratic Republic in 1918 and of the Republic of Belarus from 1991 to 1995 — Ed.) or the text "Belarus above all" on his t-shirt.
Pahonia coat of arms
Similar  (pro-Russian) t-shirt slogans are not the only possible source of difficulties during a stay in Belarus. There have been multiple reports recently that cars displaying any Russian symbolism often suffer from the actions of unknown avengers. Stickers with Russian flags are torn off and tires are occasionally punctured.
At the same time, many Belarusians are trying to demonstrate their solidarity with the people of Ukraine. Cars with Ukrainian flags on windshields are increasingly seen in the streets of Belarus, and on the eve of the Independence Day parade in Minsk, July 3, there was even an organized collection of signatures (for a petition) demanding that the traditional participation of the delegation from the Russian army be banned.
Additionally, many residents of Belarus are going beyond purely peaceful means of expressing their solidarity with Ukrainians. According to by24.org, they have created a special unit called "Pahonia" that has arrived in Ukraine, completed combat training, and is now taking part in the antiterrorist operations in the Luhansk and Donetsk oblasts. The news outlet also states that many Belarusians are fighting in other volunteer units in Ukraine, including in the Donbas battalion.
Translated by Anna Mostovych
Sources:
Espreso.TV
,
by24.org