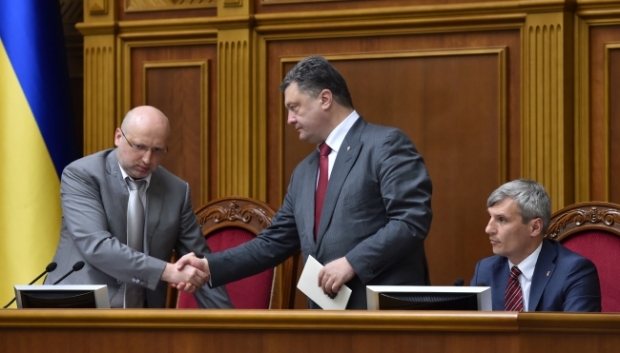 Ukraine is spending UAH 70mn per day to conduct the ATO (antiterrorist operation), said President Poroshenko, speaking in Verkhovna Rada Thursday, July 31, reports UNIAN.
"Ukraine today spends UAH 70mn per day on the antiterrorist operation," Poroshenko said and again stressed the importance of the bills that were passed today on amendments to the state budget and tax legislation that will ensure funding for Ukraine's army and the restoration of eastern Ukraine.
Poroshenko said the readiness of the government and parliament to continue to work together was obvious.
Verkhovna Rada on Thursday, July 31,  did not support the dismissal of Arseniy Yatseniuk as prime minister of Ukraine and passed changes to the tax code and the 2014 budget  that have been proposed by the government. The proposal to reform the gas transit system of Ukraine was sent for a second reading.
As UNIAN reported earlier, the government proposed to amend the state budget for 2014 and to increase expenditures for the antiterrorist operation, the resettlement of refugees, and the restoration of cities destroyed during the fighting by UAH 11,838bn.
Changes to the budget include increased revenues of UAH 4,889bn and expenditures of UAH 4,825bn, with the same level of budget deficit and a 21.53% increase in public debt to UAH 806,962 bn.
Translated by Anna Mostovych
Tags: News, Verkhovna Rada