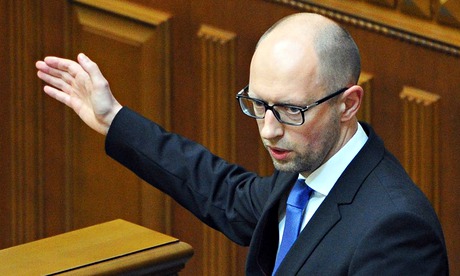 The government will reintroduce  draft laws on changes to the state budget and the leasing of the gas transport system in the Verkhovna Rada, said Prime Minister Arseniy Yatseniuk at a press briefing on Monday, July 28. Yatseniuk added that rejection of these bills would result in Ukraine's loss of US $1.5bn in aid from the West.
According to Yatseniuk, the bills primarily address amendments to the budget to increase financing for the army, reform the Ukrainian gas transportation system (GTS), and change certain rules on taxation. Adoption of these amendments will allow for an additional allocation of UAH 9.1bn for the needs of the ATO (antiterrorist operation) and also UAH 3.3bn this year for the restoration of infrastructure in eastern Ukraine destroyed by terrorists, he explained.
He added that the government has been able to avoid reducing benefit payments despite the war, explaining that it is precisely for this reason that he is asking deputies to attend an extraordinary session of the Verkhovna Rada on Thursday, July 31, to vote on the necessary bills.
"The adoption of these amendments to the budget, the changes to the tax code, and the approval of a decision on the GTS — these are all key issues. If we accept that fact we will have funds to finance the army and restore Donetsk and Luhansk. And we will receive US $1.5bn from the IMF and the World Bank. If we do not accept this, we will not receive (these funds)," he said.
As previously reported, the failure of these bills last week led to the resignation of the government.
Yatseniuk also reported that the Cabinet may receive an additional UAH 400mn due to the elimination of allowances added to government salaries.
"All national deputies and cabinet ministers will receive salaries only. You can call this a populist decision, but in my view it's the right one," he said.
"In other words, we will have UAH 400mn  less in expenditures for all public authorities," he said.
As reported earlier, during the second quarter this year, 120 deputies in the Verkhovna Rada received allowances from the state budget to cover rent for lodgings or to pay for hotel rooms.
Among the deputies are many wealthy people, including the head of the Party of Regions faction Oleksandr Yefremov, his colleague Volodymyr Prodyvus, Party of Regions member Artem Shcherban, the son-in-law of the "coal king" Yukhym Sviahilskyi, Volodymyr Vecherko, ex-mayor of Odesa Eduard Hurvits, and National Security Council Secretary Andriy Parubiy.
Translation: Anna Mostovych
Tags: News, Verkhovna Rada, Yatseniuk