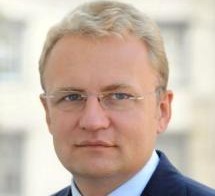 Lviv Mayor Andriy Sadovyi said that he has no serious political conflicts and no explanation for the attack on his home.
The city mayor made his comments at a special press briefing convened in connection with the firing on his house with a grenade launcher during early morning hours, July 26, reports ZAXID.NET.
Sadovyi is not calling this incident a terrorist act, stating that this was a "targeted attack." However, the Lviv city police chief, Serhiy Ziubanenko, stated that investigators are considering the incident a terrorist act.
Investigators are at the crime scene and journalists are not being allowed in the building. While the investigation continues, police will patrol the surrounding area but enhanced security will not be implemented.
Savovyi said he has not requested enhanced protection but may receive it if the police considers it necessary.
Investigators are calculating the trajectory of the fire and establishing the location from which the attack was conducted. As a result of the incident, windows in the house were blown out, including four window panes in the children's room.
City Police Chief Serhiy Ziubanenko says he has several possible scenarios for this incident but refused to elaborate so as not to hinder the investigation.
At the beginning of the briefing, Sadovyi expressed his condolences in connection with the murder of the mayor of Kremenchuk, Oleh Babayev, whom he knew personally.
As has been reported, unknown persons fired with a grenade launcher at the home of Lviv Mayor Andriy Sadovyi during the early morning hours Saturday, July 26. The Mayor of Kremenchuk was shot dead early morning July 26. The Ministry of Internal Affairs and the Security Service of Ukraine are investigating if these crimes were terrorist acts.
Translation: Anna Mostovych
Source: ZAXID.NET