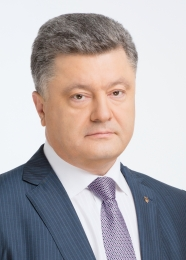 Official letter of the President of Ukraine to the Head of the Verkhovna Rada of Ukraine Oleksandr Turchynov
Dear Mr. Turchynov
As stated in Paragraph 12, Chapter I, Article 85, of the Constitution of Ukraine, the decision on the resignation of the Prime Minister of Ukraine lies within the powers of the Verkhovna Rada of Ukraine.
Article 15 of the Law of Ukraine "On the Cabinet of Ministers of Ukraine" states that the Verkhovna Rada of Ukraine must consider the issue of the resignation of the Prime Minister of Ukraine no later than 10 days after receipt of the relevant request.
But given the wide publicity generated by the announcement of the Prime Minister of Ukraine Arseniy Yatseniuk regarding his resignation, announced on July 24, 2014, I ask you to bring this matter to the consideration of the Verkhovna Rada immediately.
I insist that by July 25, 2014, at the latest, the Verkhovna Rada  hold a vote of confidence in the Cabinet of Ministers.
The collapse of the coalition in the Verkhovna Rada is not a legal basis for the resignation of the government. As President, I positively assess the anti-crisis efforts of the current Cabinet of Ministers. I understand that it is working under extremely difficult conditions not encountered by any other government. I hope that violent emotions will subside and that cold reason and a sense of responsibility will take precedence, so that the entire Cabinet of Ministers can continue its work.
Today I said publicly that the departure of people's deputies from the coalition must not paralyze  the work of the Parliament. The Verkhovna Rada is obligated to continue to address issues of national importance.
I stress the need, also by July 25 at the latest, to address issues regarding changes to the state budget and tax code. We need these changes not only to protect our territorial integrity and the financing of the army, but also to restore territories freed from terrorists and to provide assistance to civilian populations in the affected cities, towns, and villages.
I urge the Government and all the people's deputies to work together on the important issues in Parliament.
Respectfully yours,
The President of Ukraine Petro Poroshenko
July 24, 2014
Translation: Anna Mostovych
Tags: News, Petro Poroshenko, Verkhovna Rada