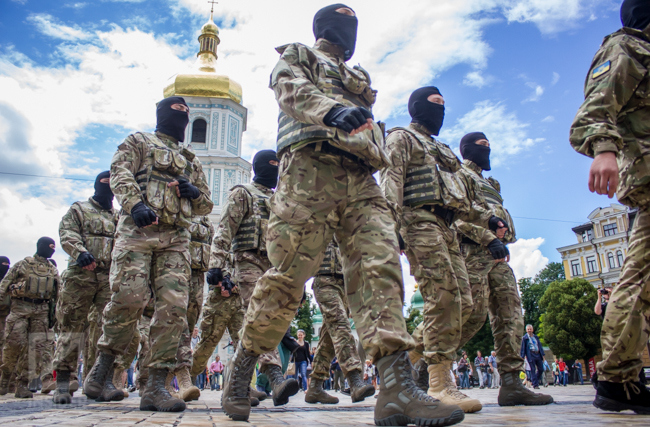 Azov Battalion in Kyiv 
More people have left for the ATO zone today, 70 new recruits of the "Azov" battalion. Twelve days of training, AK-74M in their hands and to the front line. For the most part they are representatives of nationalist organisation, football fans groups and former Maidaners. Family members, friends and random citizens came to say goodbye to the soldiers on Sofiyska square.
Despite the rain, about a hundred people came to bid farewell to the fighters headed for Donnas. For the most part, family members, some of them came from hundreds of kilometres away. But they were not let near the battalion fighters. First one of the leaders of the troop declared a prayer, then those present sang the Ukrainian anthem and shouted patriotic mottos.
The deputy commander of the "Azov" battalion Igor Mosiychuk states that today 70 new fighters left for the ATO zone, as well as those who came to rest after the Mariupol operation. They are posed with the task of the final liberation of Pryazovya and an advance on Donetsk:
"There are people from Cherkasy, Poltava, Kyiv oblasts – volunteers which showed up at mobilisation points. The average age is 25 years. There is a battalion son from Crimea who is 14," says Mosiychuk.
The soldiers did not say much. Without taking his balaclava off or divulging his name, one of them explained his reason for enrolling in "Azov" ranks:
"I have to do this. As a real man, as a warrior, as a protector of my land, my country. The most important thing is that there is a warrior's spirit inside, the rest will come in time. We spent twelve days preparing here. We will train and prepare there more. It doesn't matter that there is military action there. The people that aren't ready probably train more and don't join the battle immediately."
Though there were some who had already been to Donbas. "My friends and family are there. I want to protect them, pay my debt to the Motherland. I will fight until peace reigns in Donbas. The people that don't want dialogue will be destroyed by us. There is nothing to talk about with drug addicts and alcoholics, they simply have to be killed," said a man named Petro. His girlfriend promised she would pray for him to return "with his shield."
A little girl named Eva treated the soldiers to candy. According to orders, they cannot take anything from random strangers, but nobody dares refuse the little girl. One of the balaclavas said: "Take them, guys, a week later you'll be happy to get candy."
Meanwhile "Azov" leaders and representatives of the Ministry of Internal Affairs it is subordinate to shared the plans regarding the future of the new recruits with the journalists.
Advisor to the Minister of Internal Affairs Anton Herashchenko said: the volunteers will receive a salary of 4300 UAH (in comparison – contract soldiers get 1505 UAH). "I understand that this does not satisfy everyone, but this is all the state can give at the moment. There is very little defence equipment now, but there will be enough weapons for everyone," assures Herashcheko. According to the plan, the "Azov" battalion should include 400 people. The representatives don't say how numerous it is at the moment. They explain: this is a military secret.
"If you want peace – get ready for war. A ceasefire is a ceasefire but we have full rights to reinforce our armed forces. There are enough volunteers but we would like there to be more," says Herashchenko. We remind you that President Petro Poroshenko announced a ceasefire to the separatists, during which they have the opportunity to put down their weapons.
Avakov's advisor is nonetheless convinced: the separatists continue recruiting reinforcements in Russia despite the ceasefire, plus they are being paid much more.
Mosiychuk did not hide: the soldiers don't have enough means of protection and night vision. There have been instances when charity activists brought bulletproof vests, and those can be shot through even from a short-barrelled gun. However there have been no dead in the battalion so far. Only one grievously wounded.
Mosiychuk doesn't believe that the separatist will put down their weapons: "We have to prepare that by the end of the 7-day ceasefire the conflict will resume anew."
Herashchenko claims that on the initiative of Minister of Internal Affairs Avakov, three National Guard battalions and over 25 volunteer police departments in various oblasts have been created. The sense lies in that the police of Donetsk and Luhansk oblasts did not want and was unprepared to rebuke the attack of the separatists. There are even instances of them switching sides, explains the Minister's advisor.
Source: TheInsider
Translated by Mariya Shcherbinina
Tags: Azov Battalion, Donbas war (2014-present), Eastern Ukraine, Featured