A Ukrainian military helicopter had dropped leaflets over Sloviansk giving instructions on surviving under Russian terrorist occupation, censor.net reported on April 24, 2014, citing the Євромайдан facebook community.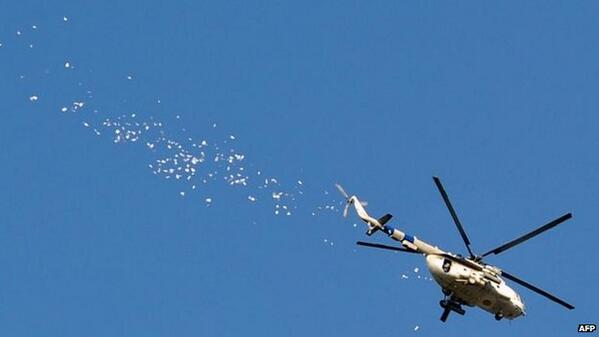 INSTRUCTIONS for SURVIVAL
for the civilians in Kramatorsk and Sloviansk
where RUSSIAN TERRORISTS ARE ACTING.
Dear citizens of Kramatorsk and Sloviansk, for the Russian separatists your homeland has become a polygon for punitive measures, for committing terrorist acts. as well as preparing provocations which will involve mass casualties among the peaceful citizens!
For the sake of preserving your life, the lives of your loved ones, and for the speedy end to acts of terror you need to follow the following rules:
1. Never approach the locations where protests are being held in front of the administrative buildings that have been captured. Your presence is beneficial to terrorists. You will first become a living shield, and then a hostage. For Russian separatists, the more casualties there is, the better – the brighter picture can be shown by the Russian Media.
2. Do not listen to those who promote and advocates in the streets for the federalization of Ukraine and separatism, and to those who call onto people to storm the government buildings. They are being paid 1000 hryvnia per day [around 100$ – ed.].
3. If you see the buildings that have been captured [by separatists], or young people of athletic build approaching them, or people wearing military ammunition, or people of any age and appearance that carry bags with food – let the nearest policeman, Ukrainian Army soldier, or SBU [Ukrainian Security Service] representative know. If you cannot inform them directly, call the numbers listed in the bottom of this pamphlet.
4. Do not under any circumstances join any of the spontaneously appearing squads or brigades – Russian secret services will use this information against you and will blackmail you with intention of forcing you into participation in unlawful actions and into supporting terrorists.
5. Avoid mass gatherings of people – there are combatants of the Russian secret services present among the protestors, who are tasked with physically eliminating anyone who is attempting to criticize Russia's policy. They will use you as a living shield that is what occupants of the Soviet Union did during years 1941-1945 [German Nazis].
6. Restrain your loved ones, relatives and friends from supporting terrorists and from participating in any anti-Ukrainian actions/protests. By doing so, you will save their lives and health. Terrorists view all the protestors as potential casualties. By the way, the terrorists were ordered to kill the civilians that have any contacts with the local authorities.
REMEMBER THAT BY FOLLOWING THESE RULES YOU ARE SAVING YOURSELF AND YOUR HOME REGION!!!
Following the distribution of these leaflets, separatist VKontakte social media communities began spreading hype that they are poisoned and should not be touched:
Translated by Olena Khomenok, edited&assembled by Alya Shandra 
Source: censor.net.ua