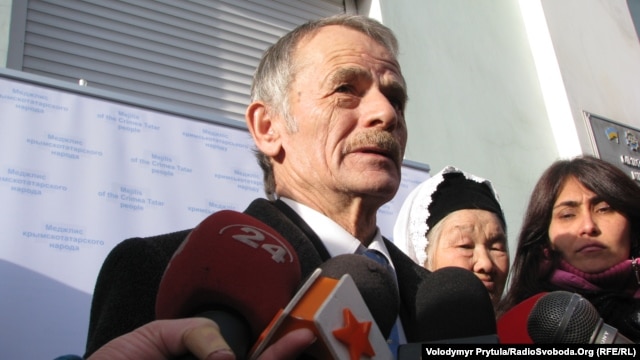 Management at the Crimean Tatar television broadcasting company Krym received verbal instructions to avoid "showing" the leader of the Crimean Tatars Mustafa Dzhemilev and several members of the Mejlis of the Crimean Tatar People (executive-representative body), a source at the company confirmed to Ukrainska Pravda.
According to the source, the new "powers" in Crimea decided to impose sanctions against the leader of the Crimean Tatars and to introduce censorship regarding coverage of the activities of the Mejlis.
In addition to keeping images of Dzhemilev and other members of the Mejlis off the air, Krym employees were "advised" to avoid doing interviews with the Tatar leader, broadcasting any information on his plans and whereabouts, or even mentioning his name.
The source said these "recommendations" were announced verbally and confirmed information that an unofficial ban on any coverage of the Mejlis is already in place.
The Krym staff intends to meet with the direction of the broadcasting company for greater clarification.
"If this is censorship, we will demand an official document that spells out the requirements that had been announced verbally," the source explained.
However, the Mejlis press secretary Leyla Muslimov confirmed, on April 22, that a ban on airing information on Mustafa Dzhemilev, Refat Chubarov and members of the Mejlis was already in effect.
As previously reported, on March 22, Russian troops occupying Crimea prevented Dzhemilev from entering his homeland. He says he does not know for sure if the Crimean "government" had formally forbidden him entry to the peninsula.
The attempt to keep Dzhemilev and Chubarov from entering Crimea was repeated on April 18. The leaders of the Mejlis were kept at a checkpoint in Chonhar for about an hour by representatives of the Crimean "self-defense," who seized their documents. They declined to provide any explanation for the refusal of entry.
http://www.pravda.com.ua/news/2014/04/21/7023180/