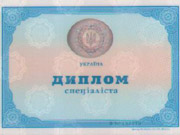 According to an announcement posted on the official website of Russia's Ministry of Education and Science, Crimean residents who wish to
have the validity of their diplomas recognized will need to go through a recognition procedure, sending an application with a package of documents confirming their completion of education to the Service for Educational Supervision. This requirement applies only to those residents who received their diplomas in 1992-2000. 

Presently, the residents of Crimea who received their education in Ukraine are subject to the general procedure for recognition of foreign degrees and qualifications. "There is a number of mutual recognition treaties between Russia and Ukraine. These treaties apply to government-approved educational documents, academic degrees, and academic titles; however, they do not extend to documents that were issued in Ukraine between May 16, 1992 and May 26, 2000", reads the announcement. Thus, any documents received by the Crimean residents outside of the stated period are automatically recognized in Russia. Those documents issued during 1992-2000 will be recognize as valid only after receiving a positive evaluation and issuance of a recognition certificate.
Source: finance.ua
Translated by: Olga Ruda
Tags: Crimea, News, Occupation