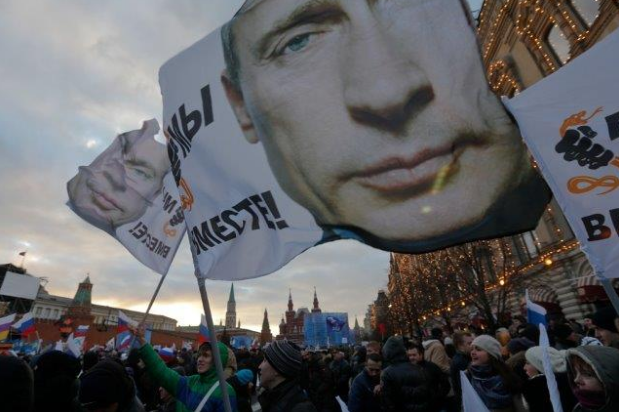 by Vitalii Usenko and Dmytro Usenko
In an interesting interview to The New York Review of Books, George Soros shared his ideas on many topics including Europe, Russia, and the Ukrainian crisis. He also presented his new bookThe Tragedy of the European Union: Disintegration or Revival? Whether one agrees or disagrees with Soros's interpretations and arguments, it is hard to deny that the interview is extremely insightful and gives a lot of food for thought. I offer a discussion of the part of the interview devoted to Ukraine.
George Soros emphasized the necessity of a large-scale technical and financial assistance program for Ukraine. "The EU and the US, under the leadership of the International Monetary Fund, are putting together a multibillion-dollar rescue package that will save the country from financial collapse. But that is not enough: Ukraine also needs outside assistance that only the EU can provide: management expertise and access to markets."
"Ukraine is a potentially attractive investment destination. But realizing this potential requires improving the business climate by addressing the endemic corruption and weak rule of law. The new regime in Ukraine is eager to confront that task," Soros said.
This opinion was also presented by George Soros during the Q&A session at  the European Council for Foreign Relations in London during a presentation of his new book. Some journalists' questions were rather provoking: "Is the EU a failed experiment? What is the impact of European disintegration on Eastern Europe? What would happen if creditor countries left the euro? Are Europe's citizens ignorant about the costs of leaving the single currency? Has the EU had a firm plan for how it wanted to deal with Ukraine?"
George Soros replied that he did not consider Europe a failed experiment and pointed out that crisis in Ukraine is a wake-up call for Europe. He was impressed that Ukrainians were ready to lose their lives to be closer to Europe, but now the country is at risk of disintegration. Ukrainian crisis is a real challenge for Europe and it is vital for Europe to respond to this crisis successfully.
Earlier George Soros called for an EU Marshall Plan for Ukraine. He mentioned that "Europe, true to form, demanded a lot and offered little… It's very important to respond, and to respond in the right way… Something like a European Marshall Plan for Ukraine."
"In just a few months in 1947, US Secretary of State George Marshall crafted a plan to channel billions of dollars of aid to Western Europe – initially in the form of food, fuel and machinery, and later through investment in industrial capacity. The program, which ran until 1951, laid the foundations of Europe's post-war prosperity, the creation of NATO and ultimately the EU," clarified CNN Money.
Some experts allege that geopolitics is not Soros' area expertise as a finance trader.  This hardly holds as international finance requires profound knowledge and understanding of international politics and geopolitics. That is why successful international financiers are usually well versed in many areas related to international finance.
The opinion of George Soros about a Marshall Plan for Ukraine is very appropriate and timely both from the geopolitical and international finance points of view. There are huge industrial capacities in Eastern and Southern Ukraine which are in urgent need of restructuring. It is essential that the restructuring be in compliance with EU technical standards. In order to achieve this, a large-scale financial assistance program,  as well as a technical assistance program for Ukraine, are vital. You can not just close these industries, as they provide hundreds of thousands of jobs. To close them would result in a dangerous and unpredictable social upheaval that could lead to the disintegration of Ukraine.
On April 6, 2014, George Soros somewhat unexpectedly visited Ukraine and held a number of meetings. He said that his Soros Foundation will determine the most important reforms which are necessary for Ukraine. If Ukraine does not implement these reforms now, it never will, said Soros in an interview with the Ukrainian news channel TSN. Among these urgent measures, in Soros' opinion, is the reform of the justice system. He stressed that the courts in Ukraine are corrupt and everybody knows about it.  If this is not changed, Ukraine will not be able to overcome the political crisis.
This means fair salaries for judges. In particular, Soros suggested to channel one-third of the $11 billion financial package offered by the European Union toward the judicial reform, which would also underwrite judges salaries. In addition, it is necessary to investigate all cases of corruption. This must be done within a year," said Soros. If the system is not changed, there may be many revolutions ahead, he said.
Furthermore, Soros said that a number of international institutions have already expressed their willingness to help Ukraine with credit and loans. With their help, business will be able to start, but subsidies must be reduced. It is imperative that the EU and US aid to Ukraine be strictly conditional on real anti-corruption measures and judicial reform. These programs and reforms will only benefit Ukraine. Reforming the Ukrainian judiciary is regarded as one of the biggest challenges—as it has been throughout Eastern Europe.
A necessity of robust economic assistance package for Ukraine was mentioned in the article 'Calling Putin's Bluff' posted in US journal 'The National Interest': "Washington should coordinate a package of economic assistance with the EU and the International Monetary Fund that enables the Ukrainian government to stabilize its economy. This assistance should be conditioned on a commitment by the Ukrainian government to implement a coherent program of economic and political reform and to reduce corruption".
Another important issue for Ukraine mentioned by 'The National Interest' in the article 'Ukraine and Europe's Communist Memories', but not discussed much by George Soros, is 'Lustration'. This is very sensitive issue, and it may be that George Soros has not elaborated on it for this reason. In Eastern European countries, which are currently EU member states, clearance under the Lustration Code (from the Latin lustratio, meaning purification by sacrifice) was required to retain or obtain a position in a wide range of occupations from the bureaucracy, security, and the military to journalism and academia. Progress was closely monitored by Brussels.
Ukraine did not introduce a lustration law in the past. This resulted in a democratic system that failed to take root, and was quickly undermined. Without efficient lustration, the old authoritarian-style system will not change; only the leaders be changed without changing the essence of the system. No doubt in an effort to improve its chances of not only eventual EU membership, but also chances to survive as an independent state in the face of Russian pressure, Ukraine is now considering and implementing lustration laws. On April 1, for example, a European foundation organized a public conference in Kyiv on lustration laws and how they worked, with a panel of specialists from Poland, the Czech Republic, and Romania. Without efficient lustration the old, inefficient, and corrupt authoritarian-style  system can hardly be changed. Only the leaders will alternate while the system will preserve itself.
On the other hand, lustration should be transparent and not be used as a tool of revenge, manipulation, misuse of power, or even as a new corruption instrument. To avoid this, it should be closely monitored by NGOs. "In pursuing lustration, parliament [in approval of lustration laws] should ensure full respect for the right to participate in public life without discrimination, as protected by international human rights law" – Humans Right Watch cautioned.
Russia envisions a different way of Ukraine's development: back to totalitarianism under Russian control, with technical restructuring of the Ukrainian defense industry to cover the needs outlined in Russian State Program of arms development for 2011-2020. The Ukrainian defense industry's contribution to the program was expected to grow from 10% in 2013 up to 40% in 2020.  Russia was expected to invest more than USD 700 billions into the arms program in 2011-2020. The bulk of Russian USD 15 billion credit to Ukraine was most probably conditioned on restructuring Ukraine's defense industry and paying for Russian gas. Some experts consider the contribution of Ukraine's military-industrial complex to Russian defense as critical in such areas as air-space defense, strategic missiles forces and navy.
This underscores the importance of Soros' point about the technical assistance program for Ukraine. It could reduce Ukraine's dependence on Russia while allowing Ukraine to retain its high-tech military potential by having access to the EU and US markets. But are the EU and US are willing or able to provide a sort of 'Marshall Plan' for Ukraine that Soros suggested? Are they ready to have one more strong player at the international armaments market and integrate this player with the US and EU defense industries?
If the answer is yes, then the restructuring of Ukraine's defense sector can only be successful in conjunction with the judiciary and anti-corruption reforms in Ukraine overseen by the EU and US. Otherwise, financial and technical aid will be inefficient. A good example of a failed innovation project due to corruption, abuse of power and mismanagement is the modernization project 'Skolkovo' in Russia. The plan to create a Russian Silicon Valley failed. Money disappeared. Corruption, abuse of power, 'administrative resource', absence of competition are incompatible with innovation. The result was all too predictable.
Ukrainian people are prepared to challenge any new authority if it does not clean up its act and continues the ways of the Yanukovych regime. People are growing more intolerant to corruption, mismanagement and abuse of power. If the government does support this Ukrainian drive it will be simply deposed by the new Maidan without the help of any Russian troops. Current authorities understand this perfectly well. However, strict oversight from the EU and US over judicial and anti-corruption reforms in Ukraine, including technical assistance to make them successful, are crucial.
The people of Ukraine are looking forward for such reforms and will support them for the sake of their country's European future. Ukrainians do not want to go back to a backward totalitarian empire with outdated standards that belong to the last century. Ukraine is no longer willing to arm Russia 'to the teeth' and make Russia stronger and more successful in its challenge to the West. Western countries demand Ukraine to halt cooperation with Russia in the defense and space industries.
The Ukrainian government is drafting measures to compensate for losses to defense and space companies due to the suspension of its cooperation with Russia, Ukrainian Deputy Prime Minister Vitaliy Yarema said.
The problem of industrial and military-technical cooperation with Russia in the context of events around Crimea was discussed at a recent government meeting attended by representatives from Ukroboronprom (the Ukrainian defense consortium) and Ukraine's State Space Agency, Yarema said.
"We are now working actively to ensure the effect of this suspension on these enterprises is as low as possible," Yarema said.
In order to thwart Russian efforts, US, Europe and Ukraine must coordinate their efforts and move toward each other as a partners. Ukraine cannot do it on its own.
Written by: Dr. Vitalii Usenko, MD, MBA, expert of the Center of Military-Political Studies in the sphere of psychology of communications, and by Dmytro Usenko, student at Rotman School of Management, University of Toronto
Edited by Mariana Budjeryn and Alya Shandra