Wednesday, April 9, 2014, 10:00
Donetsk separatists want to hold a "referendum" before May 11th, and asked the Kremlin to bring Russian troops into Ukraine, reports Radio Svoboda on its Twitter page.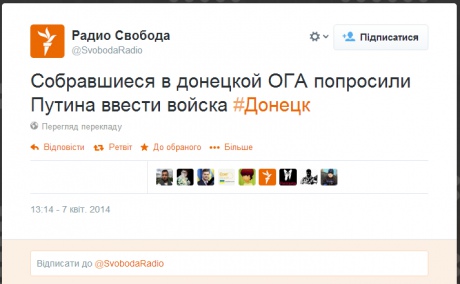 The separatists seized the regional administration building where also the Donetsk Regional Council is located. The separatists are sitting in the council hall, where they expect to hold the referendum.
"The Donetsk People's Republic will be created in the administrative boundaries of Donetsk Oblast. A decision on it shall take effect immediately after the referendum," RIA Novosti quotes a separatist as saying.
According to the Ostrov media outlet, there will be only one question in the referendum: "Do you support the creation of a Donetsk republic?"
After the approval of the "Act of Creation Donetsk republic", it is to take into effect on a date the "People's Regional Council" will coordinate with Luhansk and Kharkiv oblasts.
According to Ostrov, if the Ukrainian authorities impede the "referendum" and do not recognize the so-called "Donetsk Republic", it will appeal to Russia to bring in peacekeepers. The separatists have already aired a request for assistance from Russian President Vladimir Putin.
The original text is on Ukrayinska Pravda athttp://www.pravda.com.ua/news/2014/04/7/7021602/
Tags: Eastern Ukraine, News, Putin, Russian invasion