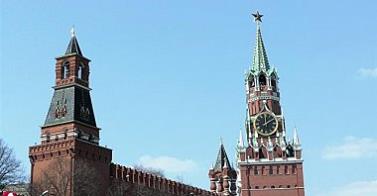 April 8, 2014
The Kremlin is concerned that the Ukrainian side may sell ballistic missile technology currently in service in Russia to third countries.
Moscow is concerned about alleged reports of a deal to sell the production technology of Intercontinental Ballistic Missiles (ICBMs) heavy class R-36M2 "Voevoda" by the Ukrainian military enterprise "Yuzhmash" (Dnipropetrovsk, Eastern Ukraine). Russian Federation Strategic Missile Nuclear Forces are armed with ICBMs "Voevoda". Russian Foreign Ministry issued a statement to official Kyiv on the issue.
"We [Russia] would like to note that Ukraine, as a member of the Missile Technology Control Regime (MTCR ) and a signatory to the Hague Code of Conduct (HCC) to prevent the proliferation of ballistic missiles, carries serious political obligations. In particular, particular restraint shall be made when considering transferring technology for constructing missiles capable of carrying a payload of 500 kg over a distance of 300 km," the Russian Foreign Ministry site says.
As noted in the statement, according to the principles stated in Missile Technology Control Regime the most likely outcome of considerations to transfer ICBM missile technology should be rejecting such a deal. "In addition, signatories of the Hague Code of Conduct have an obligation not to support and assist other countries in developing programs to build ballistic missiles capable of carrying weapons of mass destruction. ICBM "Voevoda", without a doubt, is subject to the above criteria," said the Russian MFA.
In conclusion, the Russian Foreign Ministry mentioned the current situation in Ukraine: "Despite the difficult political situation in Ukraine, the absence of a legitimate sovereign power, the current leaders of Ukraine shall exercise due responsibility and be fully compliant with obligations set in Missile Technology Control Regime and the Hague Code of Conduct. Ukraine shall refrain from steps that could undermine the existing nonproliferation regimes and their non-proliferation delivery means of weapons of mass destruction".
The Russian Foreign Ministry stated that a series of mass-media reports mentioned a possible sale of ICBM "Voevoda" secrets. However, no evidence of this was found yet.
Source: liga.net
Translated by Vitalii Usenko, MD, MBA, expert of the Center of Military-Political Studies in the sphere of psychology of communications, and by Dmytro Usenko, student at Rotman School of Management, University of Toronto, edited by Alya Shandra
Tags: International, News, Russia