A few dozens of Simferopol citizens on March 10, disregarding bad weather and provocations of pro-russian activists, have marched against repression of free speech, to restore broadcasting of Ukrainian TV Channels, and in support of the Crimean Tatar TV Channel ATR.
They marched in a column under Ukrainian and Crimean Tatar flags to the building from where ATR broadcasts and chanted "Freedom of speech!", "Thank you, ATR!", "Crimea is Ukraine!"
The protesters claimed that the by shutting down Ukrainian TV channels rights of Crimeans have been grossly violated, that people are being manipulated and fooled on the eve of the illegally appointed rereferendum.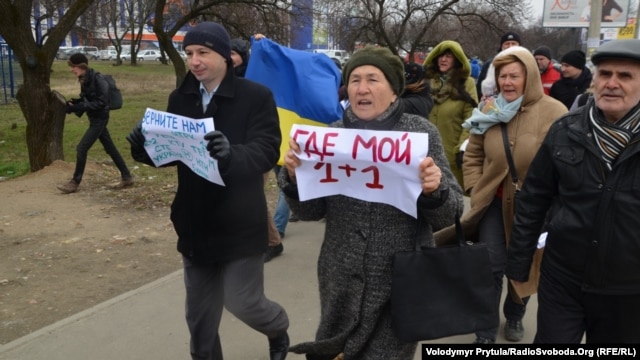 Since March 3, pro-Russian activists with the support of Russian troops on have disabled broadcasting of the TV Channel "Chornomorska", channels 1 +1, Inter, Channel 5, STB, ICTV, enabling Russian channels instead. The sole Crimean Tatar Channel ATR is also under threat of being shut down.
Translated by Alya Shandra
http://www.radiosvoboda.org/content/article/25291745.html