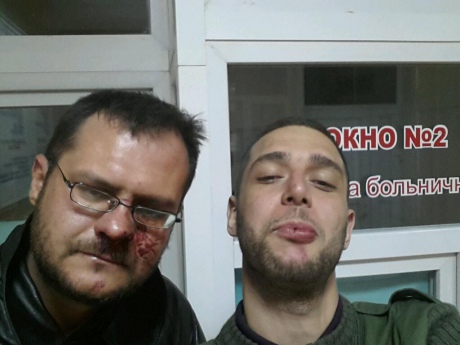 Journalists in Sevastopol were severely beaten during the attack on the Ukrainian military unit #2355 on March 7.
Ukrainian journalists that were near the military unit #2355 (tactical unit "Krym") were assaulted by "Aksenov's combatants". The journalists were severely beaten, the car in which Yelena Mekhanik was in was chased. They smashed the car and took away the cameras.
Ukrainska Pravda reports that apart from Yelena Mekhanik, journalist Andriy Tapliyenko and two more cameramen from "Inter" were in the car.
Dmitriy Belotserkovets, coordinator of the youth organisation in the UDAR party, wrote on FB:
I will start writing emotionally… but I have never seen such Fascism-Nazism-Genocide in my life. I was present during the raid of [Ukrainian] military unit #2355…Russian troops smashed the gates of the unit, and between 40 and 50 soldiers of Russian army made it inside.

They blocked the unit commander, and then they were ordered to leave… a so-called "self-defense" secured their retreat, but in in fact those were the Berkut riot police… who men who began to sweep the journalists. I have not seen such a menacing tyranny towards journalists… they made a bloodied mess… the journalists were beaten, finished off laying on the ground, pure revenge from Berkut to reporters. A broadcasting journalist from [Ukrainian] Channel 5 was severely beaten along with a Russian journalist; here is Russian democracy in action on the territory of Ukraine. Then they started looting, robbed everyone in sight, taking their phones, tablets, even bummed a wallet from someone.

I do not want my city mired in this lawlessness, this genocide against dissidents, it's high time for the government to restore order!!!

I ask everyone to inform others about this genocide against people, it i not difficult to understand what awaits Sevastopol in the future! Complete anhiliation of free people and their freedom of opinion!

It will all come true if we do not stop them!
In addition, as per Russian TV Channel "Dozhd", the Russian journalist Pavel Nikulin also was beaten during the assault. He was beaten to blood, but headed off to the hospital by himself.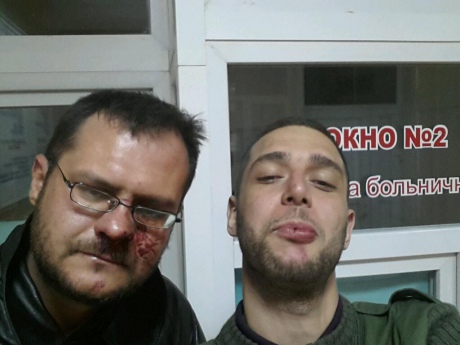 Nikulin is the correspondent of the online edition "Russkaya Planeta". During the last few days he was in Crimea, from where he reported on the events to different media outlets.
This is a video that remains from the assault.
As of 00:11, Lilya Burdzunova informed that Mekhanik together with the cameraman are in the Emergency hospital. "They say she is fine," she wrote. Among the journalists that were injured is the director of TV Channel 5 Anton Loktionov. His fingers are broken, as Tetyana Danylenko on FB, the presenter of this channel, on facebook.
Another video of the assault is here.
Source: Pravda.com.ua