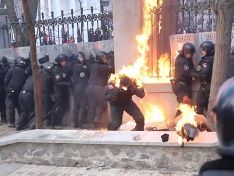 An opinion from Viktor Yadukha, translated into English which explains the unfolding feelings towards President Yanukovych in all regions of Ukraine due to unprecedented growth of corruption, crime and lack of rule of law which fueled Ukrainian protests across the country. "Ukrainians are tired of the lack of rule of law. Because only Dante could live up to describing the the social hell Ukrainians are living in."
Yesterday morning, reading about news from Kyiv, I was thinking, why don't Yanukovych's people put up barriers on the streets that lead to the camp of protesters on Hrushevskiy Street? Why don't the troops, instead of engaging in these show-off exchanges of stones and grenades over the burning barricade, why didn't they stop the protesters from getting the supply of tires (which are used to create a smokescreen), from their supply of water and food? It seemed obvious, that it could be done in far off places, without getting into a fight.
Kyiv expert Aleksey Bluminov believes that the establishment doesn't control Kyiv. Yuriy Romanenko, a political analyst, says that Ukraine's Berkut has a force of about 4 thousand people, and all of them are already in Kyiv. There are 20,000 more soldiers in the internal forces, but Yanukovych cannot count on them, nor on the militia. He also cannot count on the army – which for long has lived through deductions of funds, living half-hungry, made to buy uniforms from personal funds and which is angry at those in power not less than is Maidan.
So, how back then on Hrushevskiy St., where there are so many Berkut officers, especially knowing that they work in shifts? What prevented them from overtaking the zone of active protest at the perimeter, including an 1-2 extra blocks in each directrion, and letting cars and people through only after check them, and -hen waiting till the opposing side runs out of resources?
Having found out that Berkut in Kyiv is waiting for orders to advance and such order is not coming, I thought that maybe this show off violence is the end goal of the power brokers, who while the protest is happening are engaged in more important affairs. A few hours later, when the flame of the protest went into the regions, it became obvious: under circumstances of unified hatred for Yanukovych, the president simply count not afford the advance on the protesters. All that he can – is to postpone and wait it out. Time is working against him, however.
So, why Ukraine doesn't love Yanukovych? Why and not on any of his predecessors have the rays of people's hatred came together? There are many reasons:
1) For his governance style: it denigrates people and takes its root in the Russian absolute power tradition. At a minimum half of Ukraine, which in the past 20 years has become much more confortable with the merit-based populism of poliarchy, does not approve of absolutism. Kyiv in particular is sensitive towards this. Yanukovych's criminal past has been forgiven, but no one could forget and forgive it after not signing the association agreement with the EU.
2) For raidership: Yanukovych, by Yanukovych and the people of Yanukovych took too much from too many. Took bluntly and fiercely, and in numbers, which Ukraine has not seen. Yes, we survived through the 1990s, but all, from moderately rich to very poor, got used to the idea that most of the capital redistribution is over. And here we go.
3) For taxes: In the past two years, Ukrainians have been burdened with a lava flow of new fines, taxes and other forms of stealing capital. And this was together with a continuous growth of prices and chronic delays in paying salaries.
4) For encroaching on civil liberties: Even before the "devil's package of laws" (of January 16, 2014) , which took away the last freedoms, the government had prohibited the organizing of events, could charge without any reason their organizers with crimes, and the routes of the events were altered. Bans were not only concerning events, but on their duration, geography and etc. I won't even mention the Lutsenko and Tymoshenko cases.
5) For numerous traitorships: south and east, maybe are not natural Maidan supporters, but they are certainly not for Yanukovych. And for the first time this makes the prognosis of the divide of Ukraine real.
But most improtantly – Ukrainians are tired of the lack of rule of law. Because only Dante could live up to describing the the social hell Ukrainians are living in.
Today, people protest not only in the west or in the center, but in the south and east of Ukraine, in Mykolayiv. I remember how in Mykolayiv, the militia raped and burnt alive a girl from a poor family, Oksana Makar. Only mass protests made the government prosecute the criminals.
I recall, how, right there, in Mykolayiv oblast, in Vradiyivka, people had to storm the police department, where maniacs in police uniforms hadbeen hiding. They raped and killed women on the streets of the town, with hammers, just because they were bored. And they were bored because they could afford to do anything – they were protected by the region's police department and the prosecutor's Office, where they were making regular cash payments from the money they took away from common people under whatever circumstances. They had a target on these payments.
I recall Vitaliy Zaporozhets from Brovary District of Kyiv Oblast, who got 14 years for killing the village policeman. But villagers said that when the policeman terrorized the whole village, police management did not react to any complaints. Since 2012, Zaporozhec has been a true hero for the whole region.
I recall fights with drug dealers from Nizhyn, who after video recognition of "pushers" at the press conference, were taken into custody with help of a police mafia which provided a "roof" for the drug dealers. The drug dealers themselves were let go.
I recall protests at the Shliah produce market  in Sviatoshyn District of Kyiv, where police all of a sudden raised "roof" tarriffs from 1000 usd to 1500 usd per month, and when tradesmen refused to pay, they declared the traders illegal and started "clean up" of the market by beating everyone, including women. And that was the first time when they – now called the Right Sector – showed themselves. With help of nationalists from the Right Sector, tradespeople expelled the "police" and then stormed the Sviatoshyn police department.
I recall a teacher, Valentyna Moskalenko, whose house in the center of Kyiv was overtaken by bandits now called "titushkas" while the whole country was watching. And that is only because the place where the house stands was wanted by one of the deputies of the Party of Regions.
In July 2013, Vladymyr Fesenko, a political analyst, had said that the people of Ukraine are no longer afraid of the police. At the same time, sociologists said that Kyivans are ready for revolution. "The tension in the society grew so high, that people are eager to participate in active protest," then said deputy of Svoboda Andriy Mokhnik. "And it is not going to be the singing Maidan of 2004, it can grow into something bigger. It is difficult to foresee where it will start. "
And so it started. When within the circle of Yanukovych I hear mutterings that it's external influence, I want to say: "Look into the mirror. You are not only monsters. You are fools as well."
Translated by Nataliya Popovych
Tags: EuroMaidan, Yanukovych