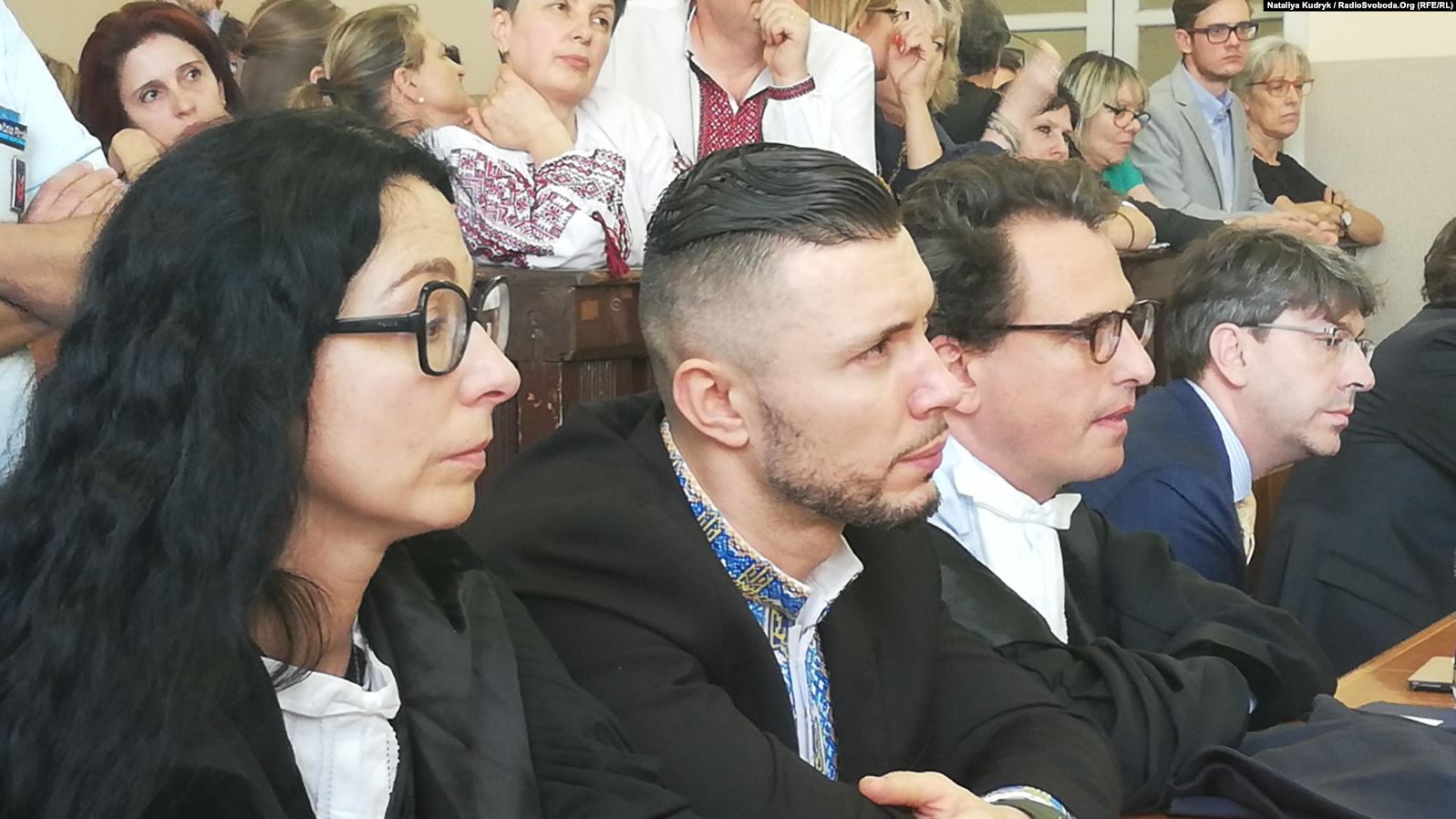 Vitaliy Markiv (second from left) with Italian defense attorneys, Pavia, Italy. Photo: FB
A request to appeal the Pavia court decision against Ukrainian soldier Vitaliy Markiv has been filed by Markiv's defense team. This was reported by Donatella Rapetti, one of Markiv's attorneys.
On July 12, 2019, the Pavia court sentenced Vitaliy Markiv to 24 years in prison on charges of alleged complicity in the killing of Italian photojournalist Andrea Rocchelli and Russian interpreter Andrei Mironov near Sloviansk in the Donbas.  Vitaliy Markiv has been in custody in Italy since June 31, 2017.
On November 20, 2019, defense attorneys representing the interests of Ukraine and authorized by the Ministry of Justice of Ukraine also filed a statement of appeal against the decision of the Pavia court. Both requests were filed with the Pavia court and will be forwarded to the Milan Court of Appeals. The first court session in Milan should take place within the first three months of 2020.
The Ukrainian government and Ukrainian society were surprised and deeply disappointed by the verdict of the Pavia City Court, which condemned National Guardsman Vitaliy Markiv on questionable evidence to 24 years in prison. In addition, Ukraine considers that the adoption of a civil action against Ukraine in a national court of the Italian Republic violates the principles of international law, in particular sovereign immunity of states which prevents litigation against them in foreign courts.
In an interview with Radio Liberty, Deputy Minister of Internal Affairs of Ukraine Anton Herashchenko, who is working closely with Markiv's defense team in Italy, explains:
"Personally, I was shocked by the complete absence of facts and evidence in the trial as well as in the statement of motivation provided by the Pavia court. I was appalled to see that the basic legal principle – the presumption of innocence – was systematically violated during this trial. The charges should be based on hard facts and clear evidence, which is not the case here… and the fact that the verdict accuses the Ukrainian army of intentionally firing at civilians does not correspond to the real state of affairs.

Neither the jury nor the judges took into consideration that both Vitaliy Markiv and his comrades-in-arms were defending their country from an invasion by Russian troops. They did not take weapons into their hands in order to shoot civilians. In the spring of 2014, Sloviansk was one of the most dangerous places in the world. Those who went there voluntarily – soldiers, journalists, photographers – knew that people were being killed and tortured in that area. The verdict pronounced by the Pavia court does not take into account that Andrea Rocchelli and Andrei Mironov had ventured into a very dangerous battle zone."
Ukraine is ready to apply all legal means to ensure justice for Vitaliy Markiv and hopes that the Italian Republic will remain steadfast in their respect of the rule of law.
The second stage of the fight for the liberation of Vitaliy Markiv has begun!
Tags: court hearings, Italy, Vitaliy Markiv, war in Donbas