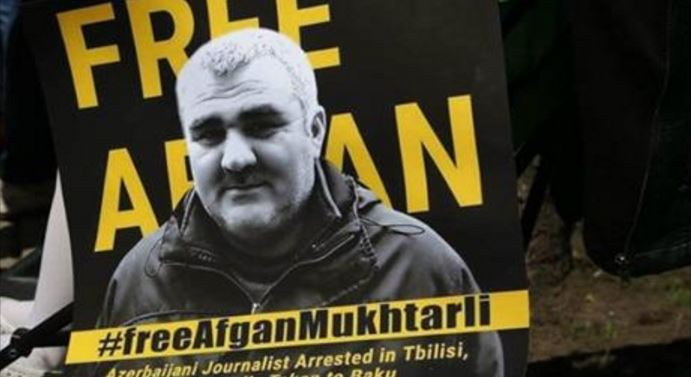 Photo: Snapshot from video, hromadke.ua
Over 200 journalists from 16 countries demand to free the Azerbaijani investigative journalist Afgan Mukhtarli of Meydan TV, who was kidnapped from Georgia to Azerbaijan on 29 May 2017 and is imprisoned there.
"We decry the intensification of the Azerbaijan regime's war against its dissidents, manifested by this unprecedented cross-border attack. We believe that this assault is intended solely to silence an investigative journalist known for reporting on the corruption of Azerbaijani authorities," they say in their statement.
On 15 June 2017, Media representatives from different countries held a flashmob in front of the Georgian and Azerbaijani embassies in Riga, where they are currently studying. They are wearing black bags over their head – because the men in the forms of Georgian police who kidnapped him put one over Afgan's head when they shoved him in the car and drove him away.
Olga Rudenko, a journalist of Kyiv Post who learned of the story from Afgan's wife Leyla Mustafaeva, wrote about the details.
Afgan Mukhtarli moved from Azerbaijan to Georgia two years ago together with his wife and little daughter. Afgan and Leyla, his wife, both wrote about corruption in Azerbaijan and the business interests of the family of President Ilham Aliev. This is outright dangerous in Azerbaijan, which ranks 163rd out of 180 countries in Reporters Without Borders's 2016 World Press Freedom Index, and the government wages "a vicious crackdown on critics and dissenting voices," according to Human Rights Watch. For their safety, Afgan and Leyla moved to neighboring Georgia.
On 29 May Afgan was walking home in central Tbilisi. As he approached his house, a car drove up, four masked people in masks and uniforms of the Georgian police jumped out, shoved him inside and drove away. The car changed two times. During the night, Afgan was driven into Azerbaijan, and he heard the conversation of his kidnappers with the border guards.
He was arrested by the decision of a Baku court for illegal crossing of the border, resisting the police, and an attempt to smuggle in EUR 10,000. Leyla says the money was planted: the family never even saw such a sum.
Starting from 3o May, Leyla struggles for the freedom of her husband together with his friends and lawyers. Meanwhile, the actions of the Georgian police to investigate the crime have been slow and ineffective.
"We call on the international community to intervene and support Mukhtarli. We are sure that the partners of Azerbaijan and Georgia in the West will disgrace themselves if they ignore this outrageous attack on the freedom of expression,"  reads the statement of the journalists, signed by media professionals from Armenia, Azerbaijan, Belarus, Georgia, Estonia, France, Kyrgyzstan, Latvia, Lithuania, Moldova, Poland, Russia, Tajikistan, Ukraine, U.K., and the U.S.
"One year ago I thought it was good that journalists were in relative safety in Ukraine. But in July of last year, a famous journalist was killed by an explosion in the center of Kyiv," Olga wrote, referring to the death of Pavel Sheremet. "If today we will be silent, we will be quashed one by one."
The statement is open for additional signatures. You can sign it here.
Tags: Azerbaijan, journalist, media freedom, News