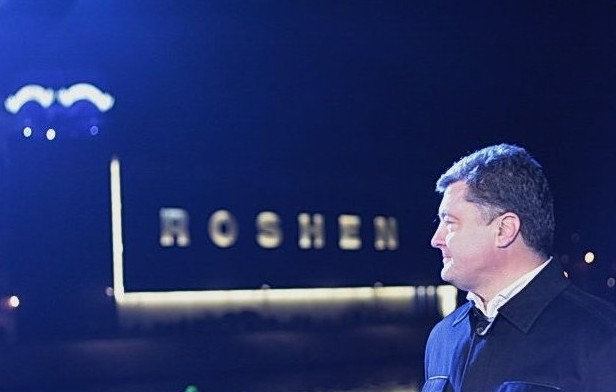 Petro Poroshenko stands next to a Roshen factory. Image: biz.liga.net 
April 4, 2016
On Sunday, April 3, a report was published creating an international sensation, detailing an investigation of offshore investments by a number of political figures on the international stage, including Ukrainian President Petro Poroshenko.  According to that report, an offshore pyramid scheme was created, instead of a "blind trust" for managing the Roshen company, owned by President Poroshenko.
I am not Mr. Poroshenko's attorney, but as a lawyer I cannot ignore obvious misunderstandings.  The reporters in question either prepared their report too hurriedly or failed to involve experts who could have easily corrected the errors in their conclusions.
Let us begin by recalling certain events that took place in 2014. A war was raging in eastern Ukraine and, at the same time, there was a political battle in Kyiv prior to the October parliamentary elections. President Poroshenko's political allies and opponents alike were demanding that he fulfill his pre-election promise to sell his business, Corporation ROSHEN.
Their demand was proper, but, as a practical matter, it was almost impossible to implement. The country was at war and it was hard to sell even the most profitable businesses at normal market prices.
For Ukrainian assets, investors were offering only 5-10% of their market value—prices that were simply not acceptable to owners who had built successful businesses from scratch.  However, at the same time, it is also true that the president of any country should not be allowed to manage a private business during his term of office.
The way out of this bind was to transfer management of Mr. Poroshenko's Roshen business to the Rothschild Group, in a so-called "blind trust."
In a "blind trust" the owner transfers his rights to manage his company to a person or organization whom he trusts, and afterwards he is not allowed to influence the decision-making processes of the company.  The owner directs where the company`s profits should flow, and then is not allowed to change his decision.
Anywhere in the world, a "blind trust" is considered to be an acceptable way of eliminating conflicts of interest between businesses and government.
Significantly, the person or organization to which the owner transfers control must have an unquestionably honest reputation, because this kind of reputation is the only assurance that the owner will not be mistreated.  That is the reason why Mr. Poroshenko chose the Rothschild Group to handle his blind trust.
The concept of a trust and furthermore a "blind" trust does not exist in Ukrainian law – trusts originated in England and English law governing trusts is well established.There is no reason why the Rothschild Group would have agreed to enter into any arrangement involving the ownership of Ukrainian stock, subject to uncertain Ukrainian laws, and then, with the arrival of a new president, potentially be forced to submit to the office of a successor prosecutor, if questioned about how the trust was managed.
Journalists discovered that, in October, 2014, Mr. Poroshenko created Prime Asset Partners Limited, a company established in the British Virgin Islands (BVI), which in turn created CEE Confectionery Investments Limited, a Cyprus company.  The Cyprian company then created ROSHEN EUROPE, BV, a Dutch company.
The overzealous journalists discovered that documents of Prime Asset Partners Limited, created by Mr. Poroshenko, were provided to the Rothschild Group.  As a result the investigators have accused Mr. Poroshenko of not transferring Roshen into a blind trust, as well as not paying taxes in Ukraine.
Both statements are incorrect. Moreover, it would not have taken too much trouble for these journalists to have realized that.
By using open Ukrainian registries it would not have been hard to find out that Kyiv Confectionery Factory Roshen, a Ukrainian open joint-stock company, has two shareholders who own almost 100 % of its stock.  First is an affiliated company called Confectionery Corporation Roshen (73,4772 % of its shares), and the other is Central European Confectionery Company (23,5464 % of its shares).
Confectionery Corporation Roshen is 100 % owned by Central European Confectionery Company.
Central European Confectionery Company is 85 % owned by the Dutch company ROSHEN EUROPE B.V., the final beneficiary of which is Petro Poroshenko.
This information is easily verifiable by entering the codes of the corresponding Ukrainian enterprises into the open registry maintained by the Ukrainian Ministry of Justice.
Thus, it has been established that Mr. Poroshenko sold to the Dutch company ROSHEN EUROPE B.V 85% of his stock in Central European Confectionery Company, which controls his Confectionery Factory Roshen.
Because Mr. Poroshenko's share in Central European Confectionery Company has been sold for a nominal price he was not obligated to pay taxes, which answers any accusations that he evaded payment of taxes in Ukraine.
These accusations are false because in fact Mr. Poroshenko has simply shifted ownership of his business from his Ukrainian pocket to his Dutch pocket.  Payment of taxes on this clearly technical transaction would be strange.
There is no reason to doubt that Kyiv Confectionery Factory Roshen will continue to pay taxes on its profits, the VAT and other taxes in Ukraine, as it has done in the past.
Moreover, if the company distributes its net profits to its shareholders before the money goes to the Netherlands, all taxes on them also would be paid in Ukraine- this is the law and cannot be bypassed by anyone, even the President.
Because the Rothschild Group cannot take control of Ukrainian corporate rights, or would even wish to, it would be silly to require Mr. Poroshenko to pay high taxes in Europe, without taking advantage of lawful strategies to minimize his tax liabilities.
In accordance with European tax law, after all taxes in Ukraine have been paid, any dividends paid from Ukraine to the Netherlands, and from the Netherlands to Cyprus, and from Cyprus to the BVI, should not be subjected to additional taxation in Europe.
There are virtually no differences between the tax laws in the British Virgin Islands (BVI) and British tax laws.  Moreover, legal disputes in the BVI are resolved in the High Court of London, which has allowed Mr. Poroshenko to transfer his shares of the BVI Company "Prime Asset Partners Limited" into a blind trust controlled by the Rothschild Group.
Such a transfer is consummated by entering into a contract transferring shares in Mr. Poroshenko's BVI company (that owns, through a chain of firms, Kyiv Confectionery Factory Roshen, in Ukraine), with the Rothschild Group, to which the appropriate documentation would be provided.  This is what has been established by the journalists.
After establishment of the blind trust, Mr. Poroshenko will not be able to have anything to do with these shares, cannot run the business, and all powers of management will be vested in the Rothschild Group.  And Mr. Poroshenko, according to the Ukrainian registries, remains the beneficiary, that is, he receives the profits, if there are any, but cannot manage the business.
A similar distinction of interests is common and is considered appropriate for politicians in any country in Europe and the USA.
The reputation of the Rothschild Group assures that all applicable rules will be strictly followed.
As to the absence in Mr. Poroshenko's tax declaration of shares in his BVI Company, Prime Asset Partners Limited (with a stated value of $1000), such shares, according to settled practice, are not paid for by the intended owner at the time of creation of the company. The actual cost is zero.  Often that zero amount is considered "paid" by the local lawyer engaged to set up the company, who technically donates the company to its intended owner.  Accordingly, the zero amounts are not accounted for in the Ukrainian tax declaration.
Again, as pointed out above, any profits distributed by the Ukrainian business would be required to be taxed in Ukraine.
If the Rothschild Group eventually finds a buyer for Mr. Poroshenko's business, payment of taxes in Ukraine from the sale would depend on whether shares of the BVI Company, Prime Asset Partners Limited, are sold to the buyer. If they are, the President would pay a 17% tax on the amount of the sale.
If shares of the Cyprian company, CEE Confectionery Investments Limited, are sold, then all proceeds will go to the BVI Company, Prime Asset Partners Limited, and the transaction would not be subject to Ukrainian taxation.
Time will tell what Mr. Poroshenko will do, but for now he has completely fulfilled his promise to give up management of and influence over his business.
Anatoliy Rodzynskyi is a lawyer and member of the "Reforms against Corruption"