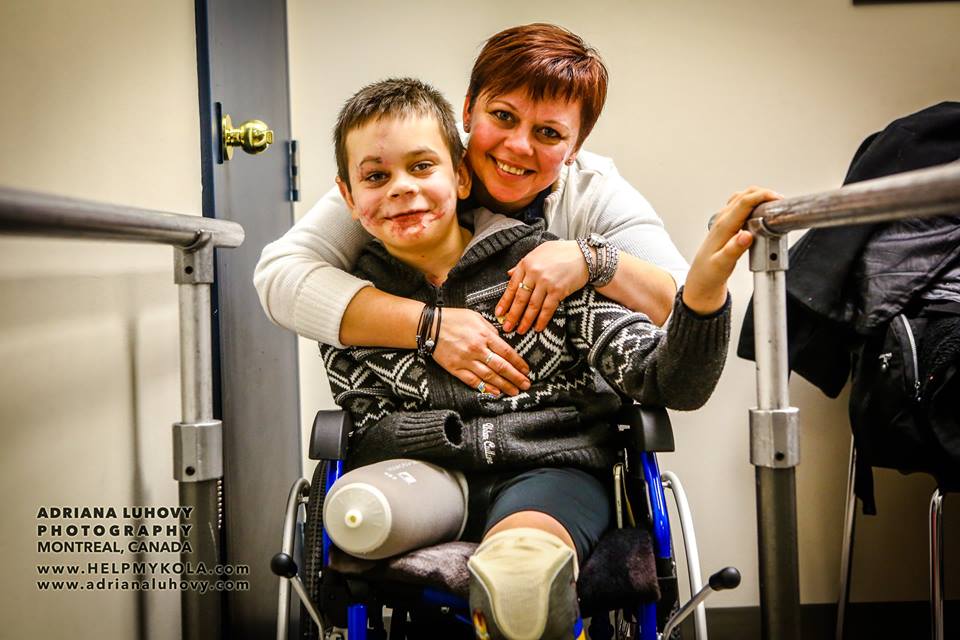 Mykola is making progress at Shriner's Hospital, Montreal. Photo by Adriana Luhovy 
On January 30, CTV's W5 featured the third medical mission by the Canada-Ukraine Foundation to Kyiv, Ukraine. The program highlighted the plight of Mykola Nyzhnkovskyi, an 11 year old boy from near Mariupol, in Eastern Ukraine. Mykolaand his four year old brother Danyo were playing near their home and found an undetonated live grenade. The explosion cost Mykola both legs and an arm. It cost Danyo his life.
Dr. Reggie Hamdy, Chief of Staff at Shriners Hospital for Children- Canada, in Montreal, Quebec, learned of Mykola's injuries and offered not only to treat his amputations with prosthetics, but also provide for all additional medical treatment Mykola requires; including treatment of his eyes, ears, teeth, other shrapnel injuries, and psychological counselling.
Mykola has undergone several procedures since arriving at Shriners Hospital in December 2015; and earlier this week, stood in his new prosthetic legs for the first time.  He has also been visited by Sr. Airman Brian Kolfage, a triple amputee from the United States Armed Forces, who is the most injured US Serviceman to have survived.
He has a long road of therapies, physio, procedures and counselling ahead of him, but thanks to the staff at Shriners Hospital, the Canada-Ukraine Foundation and the Ukrainian Community in Montreal, he is well on his way to recovery.
The Canada-Ukraine Foundation has set up a fund to ensure that Mykola is able to travel back to Canada for treatment and adjustment of his prosthetics as he grows. The fund will also provide for additional care in Ukraine and any supports Mykola requires as he grows up. Those interested in learning more may visit www.HelpMykola.com or www.cufoundation.ca. The Canada-Ukraine Foundation's Fourth Medical Mission begins at the end of February.