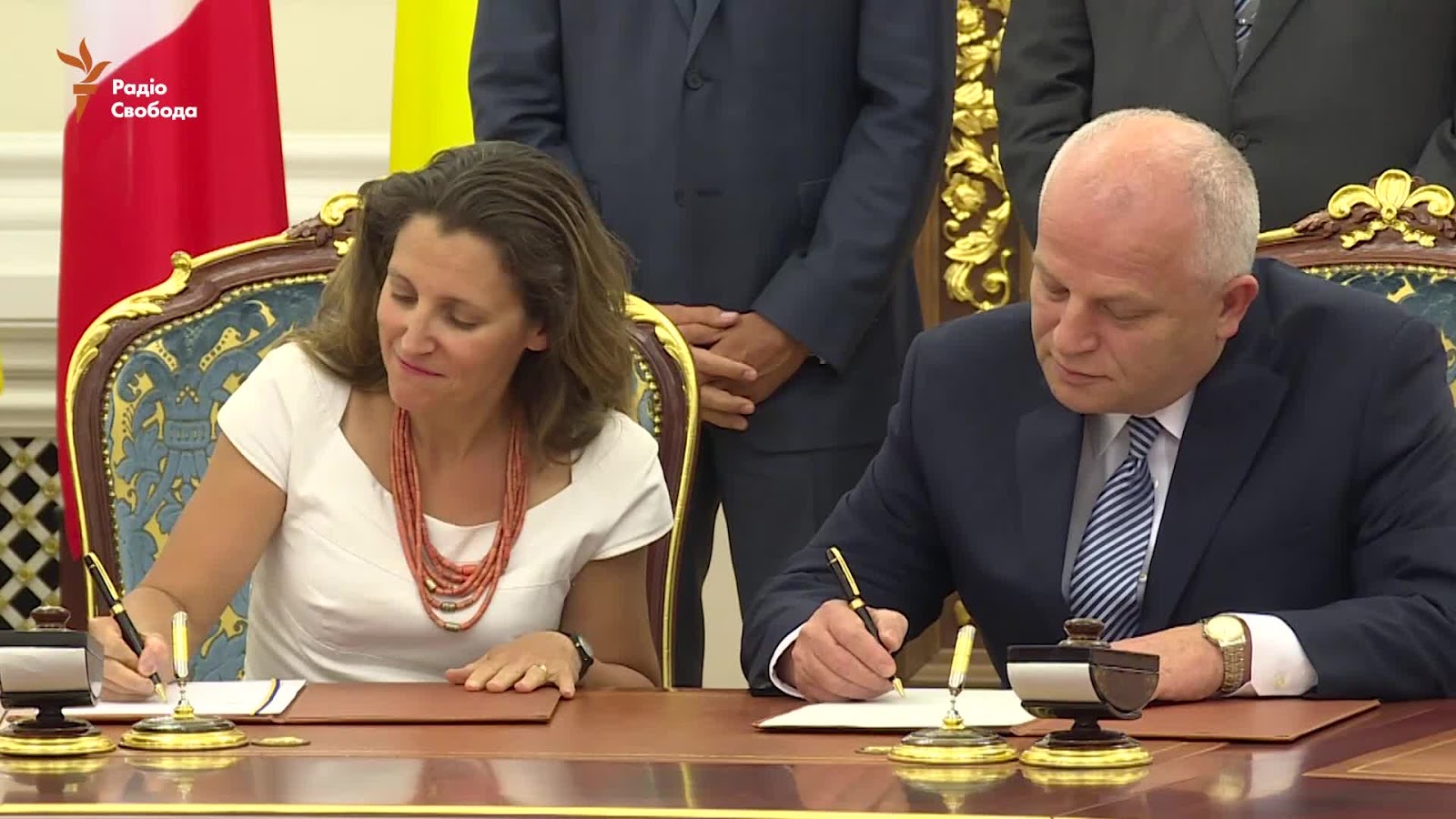 Photo: Radio Svoboda. Minister of Economic Development and Trade of Ukraine Stepan Cubiv and International Trade Minister of Canada Chrystia Freeland are signing CUFTA in Kyiv 
For ten days, the Canadian government's official website's top news was related to Ukraine, namely – the landmark Canada-Ukraine Free Trade Agreement (CUFTA) which the two countries signed on July 11.
The CUFTA exempts 98% of Ukrainian  and 72% of Canadian commodities from trade restrictions and taxes, and allows Ukrainian and Canadian companies to participate in public tenders of both countries on preferential terms.
Nowadays, a free trade zone establishment is just the first regular step towards any kind of global economic partnership, so experts urge not to overestimate the significance of agreement. On the other hand, it is hard not to do so, since CUFTA for the first time in history simplifies access to Canada's export market for Ukraine, which being part of North American trade zone remained absolutely unreclaimed by Ukraine until now.
For example, Ukraine's volume of exports to North America reached only $0.9 bn in 2014 versus $5.1 bn to Africa or $13.9 bn to Asia, aside export to the CIS countries and the EU. Thus, CUFTA enables Ukraine not only to increase export volumes but also to diversify its sales, which is a strategic goal under conditions of Russian aggression.
Canada is known as one of Ukraine's main supporters on the international arena. It was the first to recognize the independence of Ukraine in 1991 and around 1.5mn of Canadians have Ukrainian origin, including the Minister of International Trade of Canada Chrystia Freeland, who signed the agreement from the Canadian side.
But, despite such a powerful lobby overseas, negotiations regarding CUFTA setting lasted for 7 years and the process of full domestic implementation will take each country at least the same time. Euromaidan Press investigates what kind of prospects can CUFTA bring to Ukraine.
Waiving import duties
In general, the CUFTA allows Ukraine and Canada to trade a wide range of goods without paying import duties. As a rule, duties significantly raise the selling price of the goods and make them uncompetitive. The infographic below shows examples of products categories that have been already fully exempted from import customs.
Asymmetrical trade zone
From the outset of negotiations, the Ukrainian side insisted on an asymmetrical trade zone establishment that, according to experts, was the only chance to make CUFTA profitable for both countries. The desire to secure national economic market lays at the core of this strategy and it is often used when as parties to the contract are the countries with different levels of economic development (e. g.: free trade agreement between Ukraine and the EU).
For Ukraine, it is encouraging that the final version of the agreement suggests an asymmetrical export liberalization, namely a 98% market opening for Canada and only 72% for Ukraine. Some of the products categories which are the most sensitive for Ukrainian economics (like sugar) were completely excluded from the agreement. For particular commodities, the transition period for full liberalization is provided. For instance, Ukraine is obliged to remove duties on building materials, hand tools, industrial machinery, and aircraft parts during next 3 years, on some other goods – during 5 or 7 years.
At the same time, Canadian requirements regarding CUFTA were also taken into account. The free trade agreement will not fully affect 22 groups of products covered by the quotas principle. According to this system, Ukraine, as well as many other Canadian partners, can sell only a limited amount of listed goods, such as meat, eggs, and dairy products, without import duties. When a quota is used, products can be sold on a general basis. However, Canadian tariffs in relation to Ukrainian meat, eggs, and dairy products are the highest in the world (214, 89 and 183 percent respectively). So it would be rather unpleasant not to sell enough goods to fill the provided quotas, which already happened in the frame of the EU-Ukraine free trade agreement.
High hopes are also placed on the part of the agreement related to virtual trading. CUFTA contains a commitment to waive duties on digital products transmitted electronically, which will facilitate appropriate processes for Canadian and Ukrainian businesses trading online. Such conditions motivate the relatively developed Ukrainian IT-market to expand more confidently and encourage Ukrainian businesses to switch from trading raw materials to selling goods with high added value.
This is especially important as the traditional trade with Canada needs complex logistics that makes wholesale transportation of some products unprofitable.    
Experts also underline that CUFTA is a progressive agreement when compared with similar treaties which Ukraine signed with almost all former Soviet countries over 1994-1998.
The Canada-Ukraine agreement was not hurried through and was designed specifically for trade between Canada and Ukraine. Right now, a project called CUTIS (Canada-Ukraine Trade and Investment Support Project) is being developed to support Ukraine's entrance to the Canadian market.
Prof. Svitlana Pysarenko, expert on international economics:
"I have already heard a share of skepticism in relation to CUFTA, but I want to emphasize that we can't wait for better times to establish economic partnerships. Little Singapore partially owes its success to dozens of free trade agreements while Ukraine still has a very closed market and passive foreign policy.
CUFTA is an occasion not for joy but for hard work. Canada together with Mexico and the United States is a part of the NAFTA free trade zone. These countries have a coherent cooperation, their market is isolated from many global dangers, so Ukraine has to offer Canada something really special to be competitive.
This requires structural reform and modernization of enterprises since the cost of many our products is too high due to outdated technology.
We also can not enjoy all the benefits of the agreement without specific legislative initiatives. Though the contract assumes economic cooperation and investment flows, these will not happen until we have an appropriate law to protect foreign investment.
Now Ukraine has a negative trade balance – in other words, our import is much bigger than our export. So we need be very active, so that when imports from Canada increase even more, the national market is not flooded."
Tags: Canada, Economy, International, Ukrainian economy