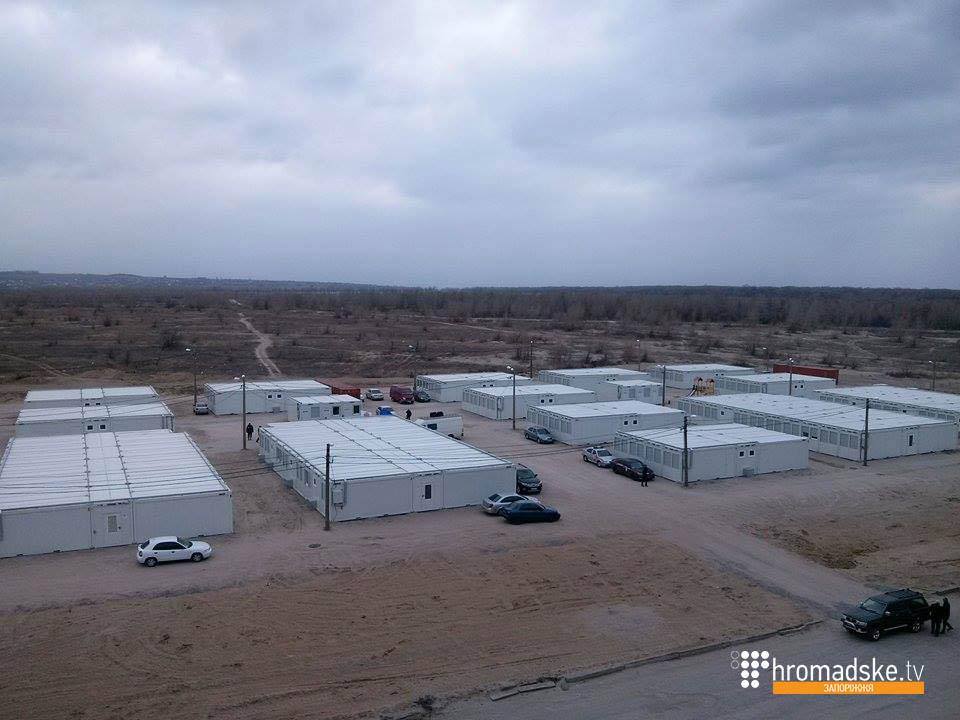 Photo: Hromadske 
ZAPORIZHIA, Ukraine – On Monday, February 16 the German Consul General in Ukraine, Detlef Walter opened a transit camp for internally displaced people. The total cost of the construction was 2.5 million EUR. The project was approved by German Chancellor Angela Merkel and Ukrainian President Petro Poroshenko.  The construction was implemented by Deutsche Gesellschaft für Internationale Zusammenarbeit with the support  from State Emergency Service of Ukraine.
This slideshow requires JavaScript.
Photos: Hromadske
The opening of the camp was delayed for almost two months. Originally it was scheduled to open in December 2014, however the local municipality could not agree on utility tariffs. Currently, the living cost is standing at  UAH 319 (less than USD 12) per month, per person.
This camp is considered to be a transit facility for refugees and the length of stay varies from one to six months. During this time, refugees have to find employment and their own living accommodations.
The 2.47 acres camp can accommodate 544 people. Currently, it is already partially populated, mostly by large families and disabled from Luhansk and Donetsk oblasts which have been forced to evacuate to escape fighting in East Ukraine.
All these modular homes are equipped with beds, wardrobe closets, mattresses, bedding sets, necessary furniture, free internet access, refrigerators, and bathrooms. There is also a children's playground on the premises.
Similar camps opened in Kharkiv and Dnipropetrovsk.
Watch the video from Hromadske here:
Tags: Donbas, Donbas war (2014-present), refugees, Zaporizhzhia