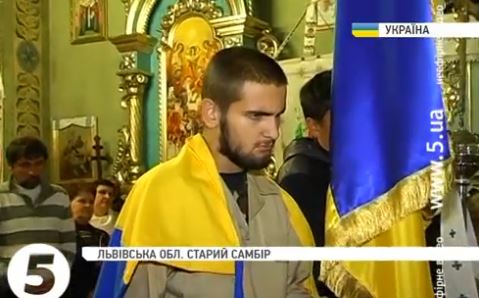 Article by: Yevhen Radion & Marichka Kuzhyk
This video describes the return of an Aidar Battalion fighter from the depths of hell. Vasyl Pelysh returned to his home in the Lviv oblast after having fallen captive to terrorists. This young man, only 19 years old, suffered a month of torture as a prisoner of war. The separatists were outraged at the discovery of the phrase "Glory to Ukraine" tattooed on his arm, and for this they punished him by cutting off his hand.
The video clip is presented by Ukraine's Channel 5. It begins by showing an assembled crowd at night, awaiting Vasyl Pelysh's arrival. The female narrator, Marichka Kuzhyk, describes him as quiet and carefree. He steps out of a car and, looks around, and is first embraced by his mother, "a strong woman who waited patiently for over a month without so much as a word about her son's whereabouts." A teenage girl wearing a Ukrainian embroidered outfit greets him nervously with a traditional presentation of bread and salt, as well as a few words of welcome and thanks. Flowers and other symbols of gratitude are part of large welcome home assembly at Staryi Sambir.
"In the East this young man fought with the Aidar Battalion. On August 24 he was caught in an ambush of enemy tanks as he attempted to drive a wounded brother in arms to safety in a vehicle that was marked with a red cross." In his own words, Pelysh explains that "I went in that direction expecting to find our position. They tricked me." Casting his eyes downward and speaking in an even tone, he revealed that "I wish I at least had had a grenade in my possession so that I could have destroyed them with me. I started yelling for Aidar, but instead they came after me with automatic rifles, demanding my identity. I told them, Aidar, and they replied they have others like me."
The narrator continues that "Vasyl explained how much the terrorists hate Aidar, and then when they noticed on his right arm a tattoo with the words, 'Glory to Ukraine,' they were enraged so much that they cut off his hand."
Vasyl added that "When they took me under guard to the hospital, the medics couldn't believe that I was still alive, because they know how much hatred there is for the battalion. We have been very successful against the terrorists and prevent them from staging military actions."
The narrator explains how "he recovered in hospital from his wounds. He was treated well by the doctors, except for the daily and painful interrogations to which he was subjected by the terrorists. Just a few days ago arrangements were made for his release in a prisoner exchange."
The video includes comments by a resident of Staryi Sambir, who states that she feels connected to Vasyl as if he were family. Then she tearfully adds a sound piece of advice that has been repeated countless times in many wars: "My main wish is that he not be forgotten tomorrow, because today everyone is showing such great respect for him, chanting that he is a hero; just that he be supported by the state and by his hometown. "
Following this welcoming at the town centre, another gathering was organized, this time at the local church. "There prayers were offered in thanksgiving for the safe return of this countryman of theirs, and also prayers for the safety of other Ukrainian soldiers who continue to defend Ukraine against the terrorists and Russian invaders in Eastern Ukraine."
Translated by: Jeffrey D. Stephaniuk
Tags: Aidar Battalion, Donbas, Donbas war (2014-present), heroes, Russian mercenaries, Russian military crimes, Russian war crimes, torture, treatment of Ukrainian prisoners, Ukrainian prisoners of war (POWs)