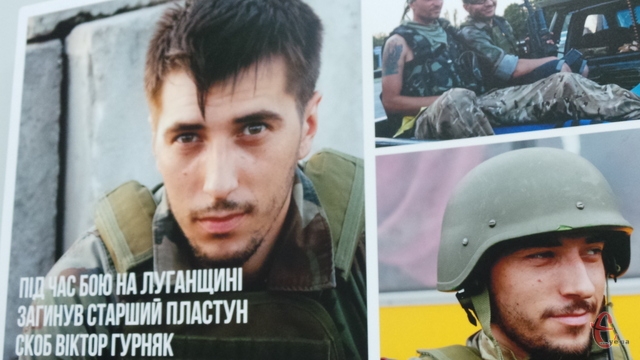 Khmelnytsky opens an exhibit featuring photos taken by Viktor Hurnyak on Maidan and ATO zone.
Viktor Hurnyak was a photographer and a volunteer in the Aidar Battalion. He exchanged his camera for a machine gun and never returned. "From Maidan to War" opens in Khmelnytsky – life on Maidan, killings on Hrushevskoho and Instytutska, daily life in the ATO zone and combat missions.
"I remember what Viktor wrote to me on October 12 – "Mom, I really want people to remember the heroes who laid their lives down for you and me." He himself became a hero on October 19, 2014 and we must remember him." says his mother, Mariya Hurnyak.
Mariya remembers that everything started for her son when students were violently beaten by Berkut on Maidan. He went to Kyiv as a journalist, but did not return.
"First he took pictures, and then decided to volunteer. He spent a lot of time with Aidar, so he soon took up arms." adds Mariya. "He carried so many soldiers from the battlefield! People called and thanked us… When we got the terrible news, I wondered why no one had carried him out in time."
The photo exhibit is currently travelling around the world – Munich, Warsaw, Chicago. Another exhibit is touring Ukraine – Kyiv, Lviv, Ivano-Frankivsk, Ternopil and Khmelnytsky.
Oleksandr Symchyshyn, mayor of Khmelnystsky: "It's difficult to say something after seeing these photos. Some photos show faces of people I knew. I saw a man I knew from the age of five – former Starosynyavsky village head, Oleksandr Romanenko. He died in Ilovaisk. I also saw photos of many familiar Maidan Heroes. To understand the dignity and strength of these men, just look into their eyes. You can see everything… Maidan continues today. We must implement all the tasks that were set out for us. We must remember each person who died on Maidan and in the Donbas. We must act so that they did not die in vain. We must build a Ukraine that they died for."
Tags: Aidar Battalion, Donbas war (2014-present), Maidan, photographer