The destruction of the Kakhovka Hydroelectric Power Plant dam significantly changes the geography and topography of the Kherson frontline sector in southern Ukraine. Russian and Ukrainian forces reportedly engaged in skirmishes in western Zaporizhzhia Oblast. Russian and Ukrainian officials each accused the other state of damaging an ammonia pipeline that runs through Kharkiv Oblast and causing an ammonia leak.
Daily overview — Summary report, June 7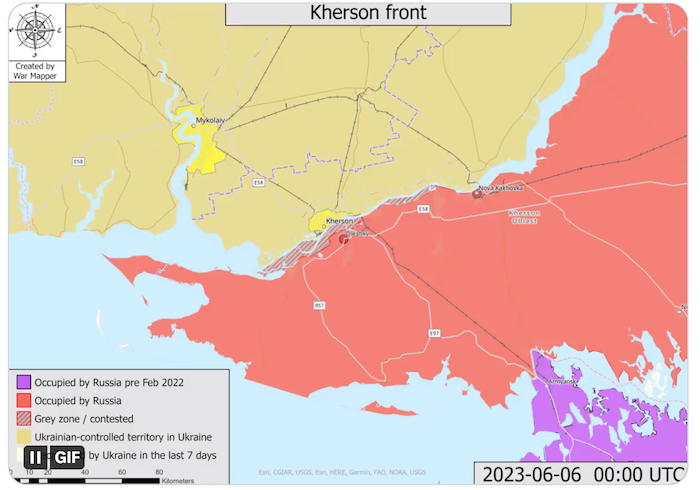 The General Staff's operational update regarding the Russian invasion as of 18.00 pm, June 7, 2023 is in the dropdown menu below: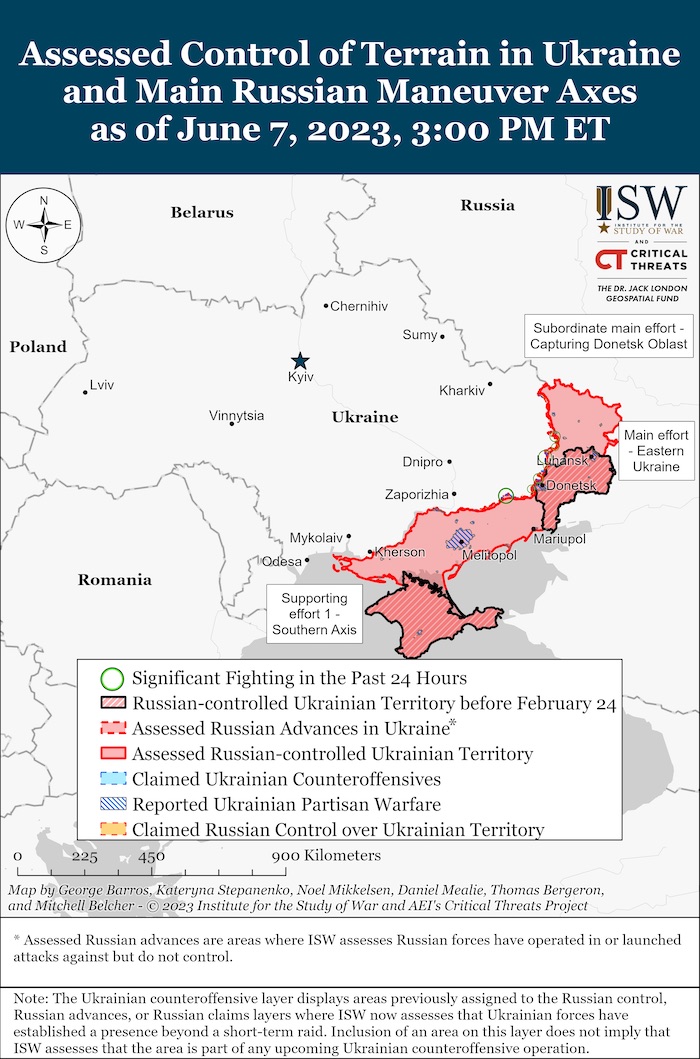 [toggle]
The Russian Federation continues to wage its war of aggression disregarding the losses. In order to achieve its goals, Russia continues to use terror tactics, launches strikes and shells civilian targets, including residential areas.
On June 7, the adversary launched 5 missiles and 48 air strikes, and 70 MLRS attacks. Unfortunately, the attacks caused civilian casualties on top of the destroyed infrastructure.
The likelihood of missile and air strikes across Ukraine remains very high.
The adversary continues to focus its main efforts on attempts to fully occupy Luhansk and Donetsk oblasts. On June 7, there were 30 combat engagements.
Volyn and Polissya axes: no significant changes.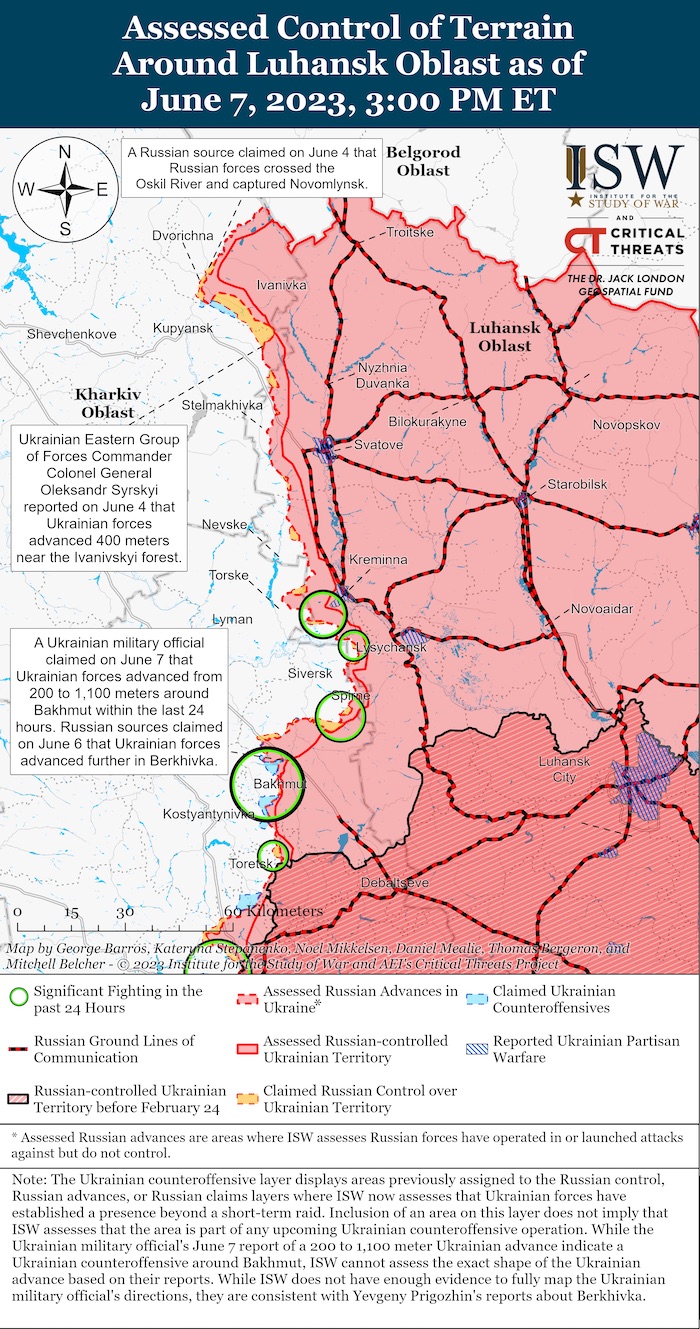 Sivershchyna and Slobozhanshchyna axes: the adversary continues to maintain a military presence in the areas of Russia bordering Ukraine. On June 7, the enemy launched an airstrike in the vicinity of Strilecha (Kharkiv oblast). The invaders fired mortars and artillery at the settlements of Halahanivka, Leonivka (Chernihiv oblast), Novovasylivka, Volfyne, Rozhkovychi, Vovkivka, Yablunivka (Sumy oblast), Udy, Veterynarne, Hraniv, Morokhovets', Ternova, Starytsya, Vovchans'k, Hatyshche, Pokalyane, Budarky, Zemlyanky, Zarubynka, Chuhunivka, and Milove (Kharkiv oblast).
Kupiansk axis: the adversary launched airstrikes in the vicinity of Kyslivka (Kharkiv oblast) and Stel'makhivka (Luhansk oblast) On June 7. The invaders fired artillery and mortars at Kam'yanka, Topoli, Krasne Pershe, Petro-Ivanivka, Fyholivka, Novomlyns'k, Dvorichna, Zapadne, Kindrashivka, Kyslivka, Tabaivka, Berestove (Kharkiv oblast), and Novoselivs'ke (Luhansk oblast).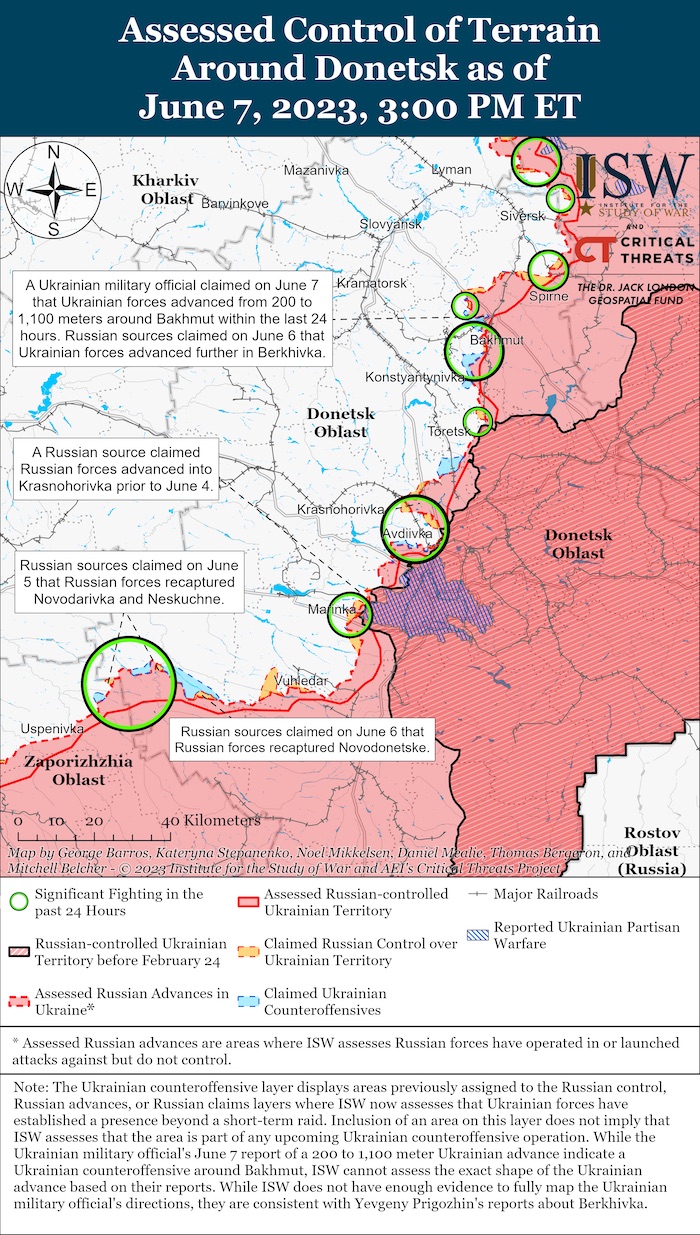 Lyman axis: On June 7, the adversary conducted unsuccessful offensives in the vicinity of Vesele (Donetsk oblast). The invaders launched airstrikes in the vicinities of Zarichne, Yampolivka, Bilohorivka, Sivers'k, Zvanivka, Ivano-Dar'ivka, Spirne, Vesele, and Nykyforivka (Donetsk oblast). Makiivka, Nevske, Bilohorivka (Luhansk oblast), Verkhn'okam'yans'ke, Tors'ke, Spirne, and Rozdolivka (Donetsk oblast) were shelled with artillery.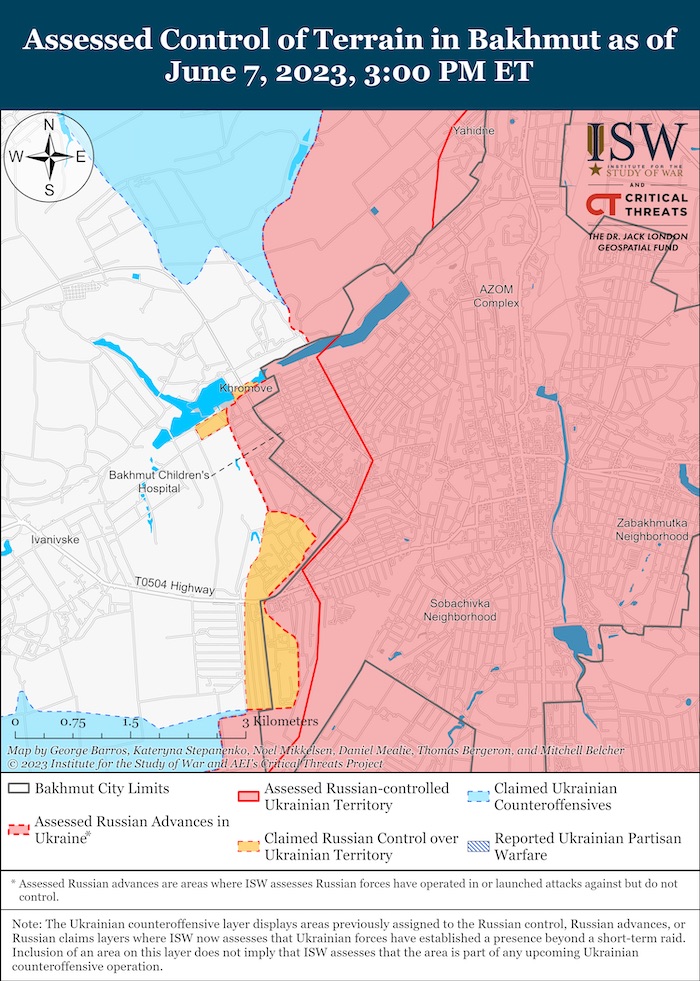 Bakhmut axis: the adversary conducted offensive operations towards Orikhovo-Vasylivka Ivanivske, and Pivnichne, to no success. Russian aircraft launched airstrikes in the vicinities of Dyliivka and Bila Hora (Donetsk oblast). Vasyukivka, Orikhovo-Vasylivka, Hryhorivka, Bohdanivka, Ivanivske, Stupochky, Oleksandro-Shul'tyne, Bila Hora, Toretsk, and Pivnichne (Donetsk oblast) came under enemy artillery fire.
Avdiivka axis: the adversary made an unsuccessful attempt to advance towards the settlements of Avdiivka and Pervomaiske. Russian forces launched airstrikes in the vicinity of Avdiivka. The invaders fired artillery at the vicinities of settlements of Berdychi, Stepove, Avdiivka, Pervomaiske, and Karlivka (Donetsk oblast).
Marinka axis: Ukrainian defenders repelled numerous enemy attacks in the vicinity of the city of Marinka, inflicting major casualties on the enemy. At the same time, the enemy launched airstrikes on Krasnohorivka and fired artillery at the settlements of Ukrains'k, Hostre, Maksymil'yanivka, Heorhiivka, Mar'inka, Pobjeda, Novomykhailivka (Donetsk oblast).
Shakhtarske axis: the enemy launched airstrikes in the vicinities of Prechystivka, Zolota Nyva, and Shakhtars'ke. The occupiers shelled the settlements of Vuhledar, Shakhtars'ke, Zolota Nyva, and Vremivka (Donetsk oblast).
Zaporizhzhia and Kherson axes: the adversary stays on the defensive. The invaders launched airstrikes in the vicinities of Novopil' (Donetsk oblast), Ol'hivs'ke, and Poltavka (Zaporizhzhia oblast). The occupant forces fired artillery at Burlats'ke, Novosilka, Novopil', Temyrivka (Donetsk oblast), Ol'hivs'ke, Poltavka, Hulyaipole, Charivne, Bilohir'ya, Novoandriivka, Shcherbaky, Stepove, Kam'yans'ke (Zaporizhzhia oblast), Nikopol' (Dnipropetrovsk oblast), Beryslav, Vesele, Tokarivka, Sadove, Bilozerka (Kherson oblast), and the city of Kherson.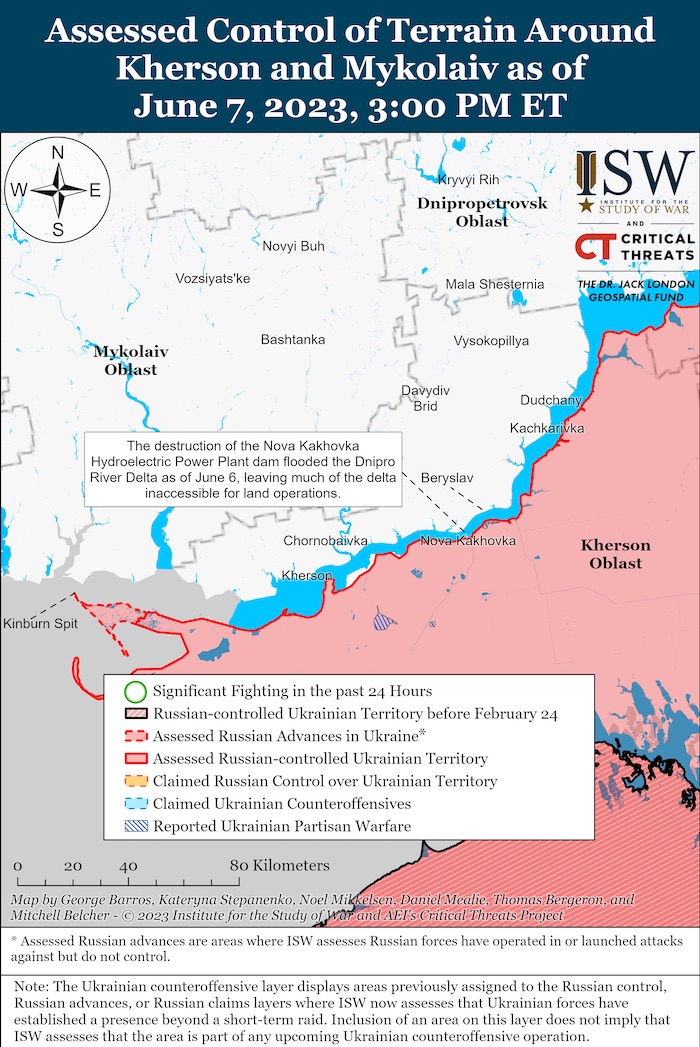 The occupiers were unprepared for the effects of the Kakhovka hydroelectric power station dam blowing up, which caused their casualties and losses in weapons and military equipment. In particular, the units of the 7th Air Assault Division and the 22nd Army Corps of the Russian Armed Forces have been injured, killed and missing. In addition, these units have lost several field ammunition depots and food storages, soft-skinned vehicles and armoured vehicles, as well as other military property.
At the same time, civilians were evacuating en masse from the town of Kakhovka on June 6, during which people used their own vehicles. The Russian occupiers used the evacuation routes along with the civilians. During this movement, the invaders used local residents as human shields.
[The Russian Federation does not care about the problems of the local population in the occupied territories, it is capable of any crimes and large-scale destruction. Thus, after Russian terrorists blew up the dam of the Kakhovskaya HPP, the residents of the Kozachi Lageri village, who found themselves in the flooding zone, did not wait for help from the so-called occupying authorities and tried to leave the partially flooded settlement on their own. However, Russian servicemen, while intoxicated, blocked all possible ways to leave the city and forbade evacuation.]
[At the same time, in the city of Hola Prystan, the occupiers drive the owners of two-story buildings out of their apartments and settle in them themselves. The invaders set up firing positions on the roofs of these buildings.]
On June 7, Ukrainian Air Force launched 23 air strikes on the concentrations of troops and 4 air strikes on the anti-aircraft missile systems of the adversary.
On June 7, the Ukrainian defenders intercepted 4 reconnaissance UAVs of the enemy.
The Ukrainian missile and artillery troops hit 4 command posts, 9 concentrations of troops, weapons and military equipment, 5 ammunition depots, 2 anti-aircraft missile systems, and 1 radar station the adversary on June 7.
[/toggle]
Military Updates
The number of Russian troops in Belarus has significantly decreased, Ukrainska Pravda reports, citing Andrii Demchenko, the spokesperson for the State Border Guard Service of Ukraine, at a briefing for Ukrinform. "The situation in this area remains fully controlled. The creation of the necessary [offensive] grouping that could be located on the territory of Belarus to invade Ukraine has not been recorded at the moment.
Russian military personnel stationed in Belarus are mainly involved in exercises or training at training fields. According to our data, their number there now is no more than 1,000, and this is significantly less than it was at the beginning of this year, when the number of Russian troops in Belarus could reach 10-11,000; later, it decreased to 2,500; and now it is down to 1,000."
According to British Defence Intelligence, (last 48 hours):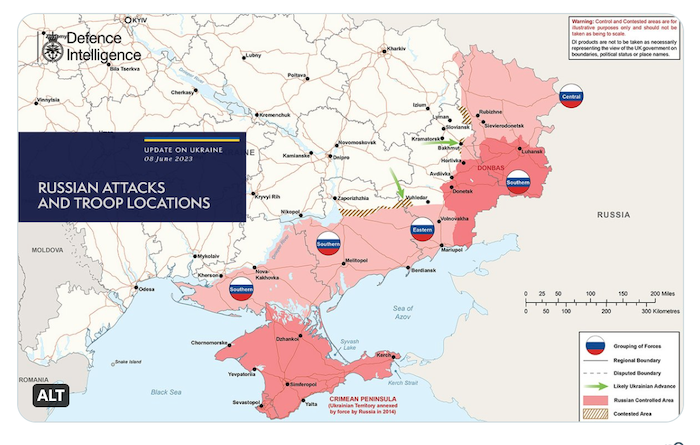 Amidst a highly complex operational picture, heavy fighting continues along multiple sectors of the front. In most areas Ukraine holds the initiative.
Russian forces are likely still being ordered to return to the offensive as soon as possible: Chechen units have led an unsuccessful attempt to take the town of Marivka, near Donetsk city, where the front line has changed little since 2015.
Through 07 June 2023, flood levels continued to rise in the lower Dnipro, following the collapse of the Kakhovka Dam, but will likely start to recede during 08 June 2023. Shelling has complicated some attempts to evacuate displaced civilians from inundated areas.
The Russian-controlled Kakhovka dam partially failed just before 0300hrs local time on 06 June 2023. By 1200hrs, the entire eastern portion of the dam and much of the hydro and utilities infrastructure was swept away. The water level in the Kakhovka Reservoir was at a record high before the collapse, resulting in a particularly high volume of water inundating the area downstream.
Zaporizhzhia Nuclear Power Plant, which sits 120km away from the dam, is highly unlikely to face immediate additional safety issues as a result of the dropping water levels in the reservoir.
The dam's structure is likely to deteriorate further over the next few days, causing additional flooding.
Losses of the Russian army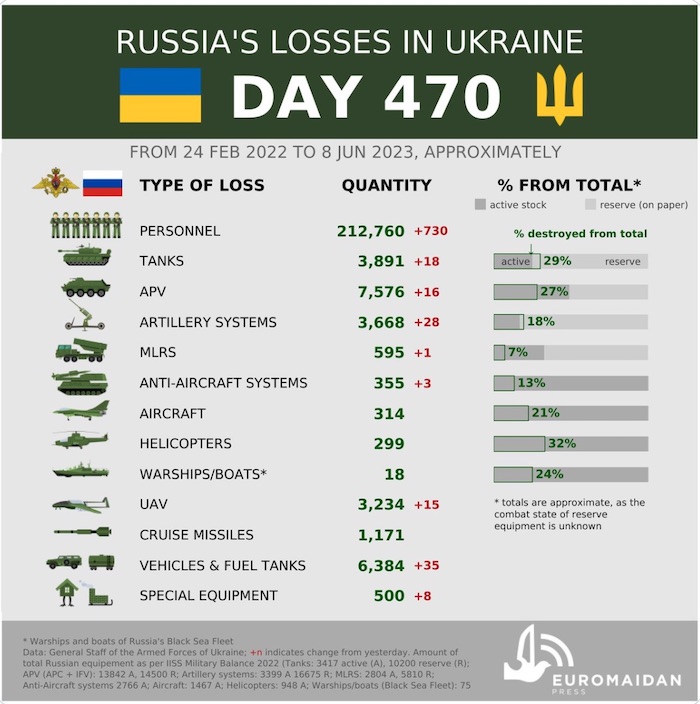 Personnel – about 212760 (+730)
Tanks – 3891 (+18)
Armoured combat vehicles – 7576 (+16)
Artillery systems – 3668 (+28)
Multiple rocket launchers –MLRS – 595 (+1)
Air defence means – 355 (+3)
Aircraft – 314 (+0)
Helicopters – 299 (+0)
Automotive technology and fuel tanks – 6384 (+35)
Vessels/boats – 18 (+0)
UAV operational and tactical level – 3234 (+15)
Special equipment – 500 (+8)
Mobile SRBM system – 4 (+0)
Cruise missiles – 1171 (+0)
Humanitarian 
Kakhovka HPP blowing up: Zelenskyy shocked by reaction of UN and Red Cross, Ukrainska Pravda reports, citing BILD. "Ukraine's President Volodymyr Zelenskyy has stated that he is shocked by the reaction of the UN and the Red Cross to the blowing up of the Kakhovka Hydroelectric Power Plant (HPP) by the Russian occupiers. We have not received a single response [to Ukraine's requests for help – ed.]. I am shocked. He added that if there was a reaction, it was very diplomatic.
Zelenskyy stressed that despite the tragedy that occurred many hours ago, neither the UN nor the Red Cross are there, although they should be the first to save lives, as this is what these structures were created for. What is happening right now is a tragedy. An environmental disaster and human tragedy…People and animals have died. People stuck on the roofs of their houses can see those who have drowned flowing past them. It can be seen on the other side. It is extremely hard to evacuate people from the occupied part of Kherson Oblast. When our people try to save them, the occupiers launch attacks, Zelesnkyy added.
Zelenskyy added that the consequences of the catastrophe will only be seen in a few days when the water recedes a little."
Ukrainians face homelessness, disease risk as floods crest from burst dam, Reuters reports. "Ukrainians abandoned inundated homes on Wednesday as floods crested across the south after the destruction of a huge hydroelectric dam on front lines between Russian and Ukrainian forces, with their presidents trading blame for the disaster. Residents slogged through flooded streets carrying children on their shoulders, dogs in their arms and belongings in plastic bags while rescuers used rubber boats to search areas where the waters reached above head height.
Ukraine said the deluge would leave hundreds of thousands of people without access to drinking water, swamp tens of thousands of hectares of agricultural land and turn at least 500,000 hectares deprived of irrigation into "deserts". Ukrainian President Volodymyr Zelenskyy said in a video address that it was impossible to predict how many people would die in Russian-occupied areas due to the flooding, urging a clear and rapid reaction from the world to support victims.
The situation in occupied parts of the Kherson region is absolutely catastrophic. The occupiers are simply abandoning people in frightful conditions. No help, without water, left on the roofs of houses in submerged communities, he said.
Visiting the city of Kherson downstream from the dam, Deputy Prime Minister Oleksandr Kubrakov said over 80 settlements had been affected by the disaster, and that the flooding had released chemicals and infectious bacteria into the water. The Nova Kakhovka dam collapse on Tuesday happened as Ukraine prepares a major counteroffensive against Russia's invasion, likely the war's next major phase. Both sides traded blame for continued shelling across the populated flood zone and warned of drifting landmines unearthed by the flooding. […]
Kyiv said several months ago the dam had been mined by Russian forces that captured it early in their 15-month-old invasion, and has suggested Moscow blew it up to try to prevent Ukrainian forces crossing the Dnipro in their counteroffensive.
Russian President Vladimir Putin accused Ukraine of destroying the dam at the suggestion of Western supporters, saying it was a barbaric war crime that escalated the conflict with Moscow. Putin described the incident as an environmental and humanitarian catastrophe, according to a Kremlin read-out. […]
Zelenskyy said he was "shocked" at what he called the lack of U.N. and Red Cross aid so far for victims of the disaster. Shortly afterward, President Emmanuel Macron of France said on Twitter that within the next few hours we will send aid to meet immediate needs. The U.N.'s humanitarian affairs office said a team was in Kherson to coordinate relief efforts. Access to drinking water was a major concern and around 12,000 bottles of water and 10,000 purification tablets had been distributed so far.
Ukraine expects the floodwaters will stop rising by the end of Wednesday after reaching around five metres (16.5 feet) overnight, presidential deputy chief Oleksiy Kuleba said. Two thousand people have been evacuated from the Ukrainian-controlled part of the flood zone and waters had reached their highest level in 17 settlements with a combined 16,000 people."
About 10% of Ukrainian refugees will remain abroad after the war, Ukraine Business News reports. "According to Ministry of Economy estimates, there are currently 5.3 to 6.2 million Ukrainians displaced abroad, including about 1.5 million in the aggressor country. The majority are women aged 25-49, the vast share of whom have higher education and were working before the start of the full-scale invasion. At the same time, most refugees are inclined to return to Ukraine, mainly after victory, but 7-10% have already decided to stay abroad.
Given these statistics, the Ukrainian government is already developing a policy for returning lost human capital. "The return of our citizens is important for ensuring Ukraine's quick and sustainable economic recovery. After the victory, the need for labor resources will increase significantly", noted Economy Minister Yuliya Svyridenko.
The government believes that the end of the war, the development of the economy, and the reconstruction of infrastructure and housing, as well as employment opportunities, are the main factors in persuading Ukrainians to return home."
Environmental
Fields in Ukraine's south could turn into deserts due to power plant's destruction – Ministry of Agrarian Policy, Ukrainska Pravda reports, citing Ministry of Agrarian Policy and Food of Ukraine. "The fields in Ukraine's south could turn into deserts by as early as next year as a result of the occupiers' destruction of the Kakhovka Hydroelectric Power Plant (HPP). The man-made disaster will cut off the water supply to 31 field irrigation systems in Dnipropetrovsk, Kherson and Zaporizhzhia oblasts. In 2023, only 13 irrigation systems are operating on the right bank of the Dnipro River. The act of terrorism at the Kakhovka HPP has effectively left 94% of irrigation systems in Kherson, 74% in Zaporizhzhia, and 30% in Dnipropetrovsk oblasts without a source of water.
The destruction of the Kakhovka HPP could cause the fields in Ukraine's south to turn into deserts by as early as next year. Without the Kakhovka Reservoir, not only farmers and water users will suffer, but also the sources of drinking water supply to populated areas.
According to preliminary estimates by the ministry, approximately 10,000 hectares of agricultural land on the right bank of Kherson Oblast will be flooded. An area several times larger will be flooded on the left bank of the oblast, which is currently under occupation. The ministry reports that detailed information will be known in the coming days, after data and images showing the extent of the flooding has been analysed.
The destruction of the Kakhovka HPP will also have negative consequences for fisheries. As noted by the Ministry of Agricultural Policy, an unusually high morbidity of fish is already being recorded, and the caviar will dry up in the areas where the water level has dropped.
In addition, the wildlife of the reservoir that has been carried away by the water flow into the floodplains formed below the Kakhovka HPP dam will also perish – because in the future, when the "flood" wave subsides, these biological resources will end up on dry land.
Another problem will be the entry and death of freshwater fish and other biological resources in the salt waters of the Black Sea. In turn, Black Sea wildlife may also die from the massive influx of fresh water. […] The ministry adds that the negative impact of the devastation of aquatic biological resources will persist for several years in a row, even if the bed of the Kakhovka reservoir is filled in the near future. The Ministry of Agrarian Policy emphasised that all data is based on preliminary estimates only."
Legal 
Explosion from inside is the most likely cause of Kakhovka HPP collapse – NYT, Ukrainska Pravda reports, citing The New York Times. "The New York Times, having talked to experts, has concluded that the most likely cause of the destruction of the Kakhovka Hydroelectric Power Plant was an explosion from the inside. Experts say the available evidence suggests that an internal explosion caused the dam's destruction. As the NYT stresses, local residents reported on social media that they heard a huge blast at around 02:50 when the dam was breached.
A blast in an enclosed space, with all of its energy applied against the structure around it, would do the most damage. Even then, the experts said, it would require hundreds of pounds of explosives, at least, to breach the dam. An external detonation by bomb or missile would exert only a fraction of its force against the dam, and would require an explosive many times larger to achieve a similar effect.
Nick Glumac, a professor of engineering and explosives expert at the University of Illinois, stressed that the amount of explosives a warhead can carry is limited. He said that even a direct hit might not destroy the dam. This takes a significant amount of energy. You think about the forces on the structure in operation — they are immense. You have the water force, which is massive.
Gregory Baecher, a professor of engineering at the University of Maryland and a member of the National Academy of Engineering who has studied dam failures, called the case of the Kakhovka HPP suspicious. However, photographs and video footage indicate that the Kakhovka dam was breached first in the centre, next to the power plant adjacent to the Russian-controlled shore. Both ends of the dam initially appeared to be intact, although as the day progressed, increasingly more of the dam collapsed. Even with the previously damaged sluice gates and high-water levels, the NYT emphasises that it was not expected that such a large dam could be ripped apart."
Support
"That was a happy day": Zelenskyy on F-16 offer from partners, Ukrainska Pravda reports. "President Volodymyr Zelenskyy has noted that Ukraine will receive a large number of modernised F-16 multi-purpose fighter jets from international partners. As of today, our last important meeting (was) in Moldova, where I had a closed meeting with the countries that have definitely confirmed that they will give us the F-16s. For this [to happen], we need a joint agreement with the USA.
The head of state noted that he could not disclose any details, including the number of fighter jets, but assured the press that he has received a hint from some European partners that the quantity will be substantial.
I just had a happy day. Because sometimes, you know, something needs to be negotiated one at a time, two at a time (planes), and in this matter there was a serious, powerful offer. It is important that this coalition on paper is an agreement on Ramstein or on another platform, God willing, that we push through it and then the preparation of the entire infrastructure will begin, and it will not be fast.
At the same time, Zelenskyy added that Ukraine's Air Force has an understanding of the infrastructure for the F-16s, and Air Force Commander Mykola Oleschuk knows where and what to do."
Ukraine gets its F-16s, The Economist reported 1 June. "The political backing may matter even more than the elderly fighter jets. The first batch of the f-16 fighter jets that Ukraine is preparing to receive is expected to arrive in late September—too late to play a role in the counter-offensive that could begin at any moment. However, the decision, made by Joe Biden just before the g7 meeting in Hiroshima in May, still has immediate significance.
The Ukrainians have been asking for Western fighter jets almost from the day of Russia's invasion. But the answer from the Pentagon, which can block other f-16 user countries from supplying the American-made aircraft, was always negative. The reasons given were of two sorts. The first set were supposedly practical. It would take 18 months to train Ukrainian pilots and ground crew to fly and maintain aircraft as sophisticated and unfamiliar as the f-16. Ukrainian runways were not of a high enough standard. The cost would be prohibitive. So Ukraine, the chairman of America's Joint Chiefs of Staff, General Mark Milley, patronisingly averred, should focus on other priorities.
The second set of reasons involved worries that Russia would regard such a move as an escalation, an excuse that had also been used to delay providing Ukraine with long-range weapons (such as himars missiles) and with tanks. The fear of escalation was always the main consideration, but it was both contradictory to the first, and specious. If the f-16s would not do much to enhance Ukraine's capabilities, why would they concern the Russians? And anyway, what was the Russian response likely to be? Giving the Ukrainians an aircraft that first entered service nearly 50 years ago was hardly likely to push Vladimir Putin into taking the catastrophic step of using nuclear weapons.
Two things changed the American position. The first was growing pressure from allies. The British were particularly hawkish and the Dutch announced they were forming a coalition to get the f-16s to Ukraine and would start training its pilots. The second was a shift in war aims within the administration, moving from ensuring that Russia could not defeat Ukraine to backing a Ukrainian victory. It is this that should worry the Kremlin even more than the arrival of the f-16s themselves.
Whether the jets really are the game-changer that the Ukrainians appear to believe is questionable. There is no doubt that if Ukraine gets 40 to 60 f-16s they will provide real capability benefits. The version of the f-16 it will receive is known as the Mid-Life Update (mlu), which has been operated by several European air forces for the past 25 years. Among the mlu upgrades are a data link that will enable Ukraine's aircraft to combine with NATO's ground-based air-defence radars, such as the Patriot. This will improve effectiveness against Russian cruise missiles, and generally help defend Ukraine's airspace better than its diminishing fleet of Soviet-era mig-29s, Su-27s and Su-24s. Unlike those planes, the f-16 can carry the full suite of air-to-air and air-to-ground missiles used by America and its allies.
But those expecting the f-16s to provide a quick ticket to air superiority may be disappointed. In the first place, any fourth-generation fighter that lacks stealth characteristics will be highly vulnerable to Russia's fearsome S-400 surface-to-air missiles, one reason why within NATO all such aircraft are being phased out in favour of fifth-generation f-35s. Another is the obsolescent an/ag66 pulse-Doppler radar of the f-16 mlu, which cannot match either the range or target acquisition of the radars carried by later versions of Russian Su-35s and mig-31s.
At least one problem previously cited as a reason for holding back the f-16s has not gone away. Ukrainian pilots, we now know, can be trained in four months, while contract ground crews can keep the planes flying. But with gaping air intakes that suck up debris, the f-16s will struggle to take off from rough or damaged runways.
It is what the f-16s represent in terms of Western commitment, as much as what they can contribute to the war effort, that matters. They will help Ukraine win, but they are not the Wunderwaffe that many are fervently hoping for."
Australia plans to transfer F/A-18 Hornet fighters and Hawkei armored vehicles to Ukraine, Ukraine Business News reports. "The plan is to transfer 41 decommissioned F/A-18 Hornet aircraft to Kyiv, the Australian Financial Review reports. Australian military expert Robert Potter confirmed that negotiations are taking place but emphasized that the parties have not yet reached a concrete agreement.
The discussions are ongoing with the US and Ukraine, but Washington positively evaluates the aircraft transfer. US consent in this matter is necessary because they have the intellectual property rights of these fighters. If the planes are transferred to Ukraine, they will be scrapped or sold to a private company for pilot training. The publication's sources say that the fighter jets can be put into operation within four months.
However, some aircraft can only be used for spare parts. In addition, Australia plans to send Hawkei armored vehicles to Kyiv as part of a new aid package."
Germany shipped armoured vehicles and ammunition for Gepard to Ukraine, European Pravda reports. "Germany delivered another batch of military assistance to Ukraine last week, including eight highly mobile tracked vehicles Bandvagn 206. According to the German government, Ukraine has also received 2,000 rounds of ammunition for the anti-aircraft systems Gepard, 14 reconnaissance drones Vector, 14 border protection vehicles, and three drone detection systems.
Additionally, the German assistance includes two 8×8 HX81 truck tractor trains, two semi-trailers, and 11,000 group module rations.
Previously, the German Federal Defence Ministry commissioned the arms manufacturer Rheinmetall to prepare over 20 infantry fighting vehicles Marder for transportation. Furthermore, the first shipment of 10,000 35-millimeter ammunition rounds for the Gepard anti-aircraft tank, which is highly necessary for Ukraine, is expected to be shipped by the end of July. In total, Rheinmetall has a contract for 300,000 rounds."
The US plans a new military aid package, and the new Bulgarian government promises to continue defense support for Ukraine, Ukraine Business News reports. "Soon, the US intends to provide Ukraine with additional packages of military support, National Security Council Coordinator John Kirby said. According to him, if Russia is concerned about Ukraine's military potential, the best thing it can do is to leave Ukraine.
At the same time, he added that the US is concerned about strikes deep into Russia. However, Ukrainian leadership has assured the US that it will not use American weapons for attacks on Russian soil. The US is convinced that, together with its allies and partners, they have done everything possible to prepare Ukraine's troops for a counteroffensive that will liberate Ukrainian territories from the Russian invaders.
It is worth noting that the new Minister of Defense of Bulgaria, Todor Tagarev, announced the continuation of military support to Ukraine upon taking office. Bulgaria has already spent about $1B on aid to Ukraine's Armed Forces, a significant part of which was provided secretly."
Ukraine's Air Force: 50 Patriot batteries is ambitious but realistic goal, Ukrainska Pravda reports. "Colonel Yurii Ihnat, the spokesperson of the Air Force of the Armed Forces of Ukraine believes it a very real goal for Ukraine to obtain five dozen Patriot surface-to-air missile systems to protect the skies from Russian missile attacks. The officer recalled the words of President Volodymyr Zelenskyy who said Ukraine needed 50 batteries of Patriots.
This, of course, is a very ambitious goal, but we will go for it in any case. Both Patriot and SAMP-T work on ballistics, and we also can't make it without other systems. This is both IRIS-T and NASAMS; these all are the basis of [Ukraine's] air defence, which should replace the old Soviet weapons. Therefore, numbers such as 50 batteries should not scare anyone. Yes, it is expensive, but it all will not come true at once. We will gradually strengthen our air defence of the Air Force, the Ground Forces and so on."
Switzerland supports allows arms re-export to Ukraine, European Pravda reports. "Switzerland's Council of States, the upper house of parliament, has approved an amendment that will allow arms re-export to Ukraine. "Countries that purchase Swiss war material should be allowed, subject to conditions, to re-export it to countries involved in armed conflicts," the parliament press service stated. […]
On June 1, the National Council, the lower house of the Swiss parliament, voted against an amendment that would allow the re-export of Swiss-made weaponry to third countries, such as Ukraine. Since the Russian invasion of Ukraine, several countries have approached Switzerland requesting permission to re-export Swiss weapons from their arsenal to Kyiv.
For example, Germany wanted to provide ammunition for Gepard anti-aircraft systems and machine gun ammunition to Ukraine. Denmark approached Bern for permission to supply Piranha III armoured personnel carriers to Ukraine. However, Switzerland rejected both requests, which drew international criticism.»
New Developments
Assessment 
https://www.understandingwar.org/backgrounder/russian-offensive-campaign-assessment-june-7-2023*
On the war. 
The Institute for the Study of War has made the following assessment as of  June 6, 2022:
Russian and Ukrainian officials each accused the other state of damaging an ammonia pipeline that runs through Kharkiv Oblast and of causing an ammonia leak. Geolocated footage shows a large cloud of ammonia leaking from a section of the Togliatti-Odesa ammonia pipeline just south of Masyutivka, Kharkiv Oblast (12km northeast of Kupiansk). Ukrainian Kharkiv Oblast Head Oleh Synehubov reported that Russian forces fired six shells at the pipeline and that Russian forces previously targeted the pipeline with artillery fire on June 5 and 6. The Russian Ministry of Defense (MoD) claimed that Ukrainian forces deliberately mined the area at night on June 5. Russian Ministry of Foreign Affairs (MFA) Spokesperson Maria Zakharova claimed that repairs to the pipeline will take one to three months. Russian and Ukrainian forces have recently conducted engagements near Masyutivka. ISW has previously reported that Russian officials have set informational conditions to accuse Ukraine of using chemical weapons or of conducting false flag attacks using chemical or radiological weapons.
Russian forces continued to conduct ground attacks around Kreminna on June 7. The Ukrainian General Staff reported that Russian forces conducted unsuccessful offensive operations near Kreminna itself and south of Kreminna near Bilohorivka (10km south), Berestove (30km south), and Vesele (32km south). A Russian source claimed that Russian forces attacked Novoselivske (13km northeast of Svatove) and advanced near Bilohorivka on June 6.
Ukrainian officials indicated that Ukrainian forces are conducting offensive operations in the Bakhmut direction as of June 7. Ukrainian Deputy Defense Minister Hanna Maliar stated on June 7 that Ukrainian forces near Bakhmut have transferred from defensive to offensive operations and have advanced from 200 to 1,000m in various unspecified areas over the past day. Maliar also noted that Russian forces are deploying reserves to Bakhmut to prepare to conduct a defense-in-depth and that some Wagner elements are remaining in the Russian rear. Ukrainian Eastern Group of Forces Commander Colonel General Oleksandr Syrskyi stated that Ukrainian forces are advancing on the flanks of Bakhmut and that Russian forces are losing certain unspecified positions. Russian milbloggers claimed that Ukrainian troops are conducting counterattacks southwest of Bakhmut near Klishchiivka (6km southwest), northwest of Bakhmut near Orikhovo-Vasylivka (10km northwest) and in the Berkhivka area (6km northwest), and northeast of Bakhmut near Yakovlivka (15km northeast). […] The Ukrainian General Staff reported that Russian forces conducted unsuccessful offensive operations towards Klishchiivka, Orikhovo-Vasylivka, Ivanivske (5km southwest of Bakhmut), and Pivnichne (20km southwest of Bakhmut).
Russian forces continued limited ground attacks along the Avdiivka-Donetsk City line on June 7. The Ukrainian General Staff reported that Russian forces conducted unsuccessful offensive operations towards Avdiivka and that Ukrainian forces repelled 13 Russian ground attacks in Marinka (on the southwestern outskirts of Donetsk City). Russian milbloggers claimed that Ukrainian forces counterattacked on the northwestern outskirts of Donetsk City near Nevelske, Vodyane, and Opytne and that Ukrainian forces retreated from near Opytne with losses. […]
The destruction of the Kakhovka Hydroelectric Power Plant (KHPP) dam is significantly changing the geography and topography of the Kherson frontline sector in southern Ukraine. Near-infrared (NIR) imagery captured at 0400 am ET on June 7 indicates that the flooding is heavily disrupting Russian prepared defensive positions on the east (left) bank of the Dnipro River – especially affecting Russian first-line positions in Hola Prystan and Oleshky. Various sources reported that Oleshky, Hola Prystan, Kozacha Laheri, and Dnipryany are almost entirely flooded with water levels rising to the height of a one-story buildings in some areas. The Ukrainian headquarters established to remediate the consequences of the dam's destruction reported that as of June 7 29 settlements are partially or fully flooded, 19 of which are located on the Ukrainian-controlled territory and 10 on Russian occupied territories. Russian sources published footage indicating that water had begun receding in Nova Kakhovka and had dropped by 30cm. Russian sources also claimed that water levels decreased by three to four meters in some areas from a high of 10 meters. Water levels in nearby Mykolaiv City reportedly increased by 70cm as of June 7. Flooding will likely worsen and further change the geography in Kherson Oblast over the next 72 hours.
The destruction of the KHPP dam is affecting Russian military positions on the eastern bank of the Dnipro River. The flooding has destroyed many Russian first line field fortifications that the Russian military intended to use to defend against Ukrainian attacks. Rapid flooding has likely forced Russian personnel and military equipment in Russian main concentration points in Oleshky and Hola Prystan to withdraw. Russian forces had previously used these positions to shell Kherson City and other settlements on the west (right bank) of Kherson. Ukrainian Southern Operational Command Spokesperson Nataliya Humenyuk stated that Russian forces relocated their personnel and military equipment from five to 15 kilometers from the flood zone, which places Russian forces out of artillery range of some settlements on the west (right bank) of the Dnipro River they had been attacking. The flood also destroyed Russian minefields along the coast, with footage showing mines exploding in the flood water. Kherson Oblast Occupation Head Vladimir Saldo, however, claimed that the destruction of the KHPP is beneficial to the Russian defenses because it will complicate Ukrainian advances across the river. Saldo's assessment of the situation ignores the loss of Russia's first line of prepared fortifications. The amount of Russian heavy equipment lost in the first 24 hours of flooding is also unclear.
Ukrainian officials continued to accuse Russian forces of destroying the KHPP dam out of fear that Ukrainian forces would land on the east (left) bank Kherson Oblast. Representative of the Ukrainian Main Military Intelligence Directorate (GUR) Andriy Yusov stated that only Russian forces could have detonated the dam given its structural and engineering features and noted that Russians are "very happy that the islands, on which [Ukrainian forces] were allegedly based, were flooded." Humenyuk states that Russian forces did not consider the consequences before destroying the dam and were too concerned over a Ukrainian counteroffensive. The Ukrainian General Staff similarly claimed that Russian forces detonated internal structures of the KHPP to damage the dam and thereby prevent the advance of Ukrainian forces. Russian milbloggers had expressed concern about claimed Ukrainian river crossings onto the east bank the day before the destruction of the KHPP dam and on numerous occasions in the past. A Kremlin-affiliated milblogger claimed that there were active engagements between Ukrainian and Russian forces in the Dachi area on the east bank of the Dnipro River (11km southwest of Kherson City) and on the contested islands near Kherson City as of June 5. The milblogger claimed that the number of Ukrainian speedboats also increased in the Dnipro Delta as of June 5. Another milblogger speculated that Ukrainian forces were attempting to establish a bridgehead by seizing the KHPP dam. ISW offers no assessment of whether the Ukrainians were attempting to cross the river or for what purpose they might have sought to do so. The clear concern in the Russian military information space, however, shows that the fear of such a crossing and belief that it was either underway or imminent was present in the minds of Russians closely following the war shortly before the dam was destroyed.
The New York Times (NYT) reported that engineering and munitions experts believe that a deliberate explosion was the likely cause of KHPP dam's collapse on June 6. NYT reported that a blast within an enclosed space would cause the most damage, whereas external detonations – such as by targeted missile or artillery strikes – would only exert a fraction of the force necessary to breach the dam. The NYT quoted the experts as acknowledging that the KHPP sustained damage from military operations prior to the collapse but questioning whether this prior damage alone was sufficient to collapse the dam. NYT reported that the dam was first breached in its middle, close to the KHPP on the Russian-held east (left) riverbank, and that more of the dam collapsed throughout the day, a pattern that one expert characterized as inconsistent with the dam failing due to prior damage.
Russian forces and occupation authorities are responding to the flooding in Kherson Oblast with a great degree of disorganization and thereby exacerbating harm to the civilian population of occupied areas. Kherson Oblast Occupation Head Vladimir Saldo claimed that Russian authorities have evacuated about 1,500 people from flooded areas and established 48 temporary accommodations in occupied Zaporizhzhia Oblast to house them. Saldo also claimed that the Kherson Occupation Administration is "almost mandatorily" sending children living in flooded areas to "recreation camps" located deeper in Russian-occupied Kherson Oblast and in occupied Crimea. Saldo's reports of proactive efforts on the part of occupation authorities do not cohere with reports by Ukrainian officials and anecdotal evidence from the occupied east (left) bank of Kherson Oblast, however. The Ukrainian General Staff reported that Russian military personnel near Kozachi Laheri (30km southwest of the KHPP on the Russian-occupied east bank of the Dnipro River) purposefully prevented civilian populations from fleeing the area despite flooding. Ukrainian Kherson Oblast Administration Advisor Serhiy Khlan stated that residents of east bank settlements are waiting on their roofs with no food or water for the occupation administration to provide aid and evacuate them, while Russian soldiers abandoned their positions and fled. Russian opposition outlet Verstka reported that civilians in Russian-occupied Oleshky (53km southwest of KHPP) have waited for almost two days on roofs for volunteers and Russian Ministry of Emergency Situations employees to arrive after which they helped civilians evacuate to dry areas of Oleshky, but that Russian forces did not permit civilians to evacuate outside of Oleshky. Russian forces' and occupation authorities' varied responses and slow reaction time indicate that they were unprepared to deal with civilian evacuations.
Civilian accounts about the lack of evacuations in Belgorod Oblast in response to the pro-Ukrainian all-Russian Russian Volunteer Corps (RDK) and Freedom of Russian Legion's (LSR) raids suggest a similar pattern of Russian authorities struggling to coordinate evacuations even on their own territory.
Select Wagner Group-affiliated Russian senior military officers continue to posture as effective commanders to appeal to Russian President Vladimir Putin by capitalizing on high-profile military events. A Russian milblogger published a long interview with Russian Colonel "K. Zalessky" in which Zalessky claimed that Russian Airborne Forces (VDV) Commander Colonel General Mikhail Teplinsky played a decisive role in Russian forces' ability to defend against the ongoing Ukrainian localized counterattacks near Velyka Novosilka, Donetsk Oblast. Zalessky confirmed prior claims that Teplinsky became an overall theater deputy commander responsible for southern Ukraine as of April 1 and praised Teplinsky for being intimately involved in Russian defensive preparations west of Vuhledar and throughout the south. The interview notably portrays the Russian defense against these localized Ukrainian attacks as a significant undertaking, contrasting with some Russian milblogger claims that these Ukrainian operations constitute a reconnaissance-in-force and were not part of a main counteroffensive effort.
The pro-Teplinsky interview is likely part of an information operation aimed at undermining the Russian Ministry of Defense (MoD). Zalessky claimed that Teplinsky praised the commanders of the 5th Combined Arms Army and 36th Combined Arms Army (both of the Eastern Military District) for their defensive efforts in the Velyka Novosilka area but claimed that not all of the Russian military command displayed similar bravery. Zalessky claimed that Teplinsky personally arrayed Russian formations across their defensive lines, inspected battalions, and trained personnel, echoing Wagner Group financier Yevgeny Prigozhin's June 6 criticisms that MoD officials need to visit the front lines. The interview was published almost immediately after the MoD claimed that Chief of the Russian General Staff Army General Valery Gerasimov took command of Russian operations in the south on June 5, and after Russian Defense Minister Sergei Shoigu characterized the defense as an MoD success on June 6. Shoigu notably also praised elements of the 5th and 36th Combined Arms armies but failed to visit them on the frontlines as Teplinsky reportedly did. Teplinsky notably had to use a Russian milblogger to claim credit for repelling claimed Ukrainian attacks in eastern Zaporizhzhia and western Donetsk oblasts. The MoD has previously blocked Wagner-affiliated commanders from being featured on official platforms. It is noteworthy that Russian commanders and senior military leaders appear to prioritize public posing in the midst of ongoing significant military operations and major catastrophes.
Wagner-affiliated commanders' reactive public relations campaigns may not be sufficient to deflect from battlefield realities. Though some large milbloggers amplified the Teplinsky interview on June 7, the broader Russian information space remained saturated with tactical claims of Ukrainian count-erattacks near Velyka Novosilka and with the Kakhovka Hydroelectric Power Plant (KHPP) dam disaster.
Key Takeaways
The destruction of the Kakhovka Hydroelectric Power Plant (KHPP) dam is significantly changing the geography and topography of the Kherson frontline sector in southern Ukraine.
Ukrainian officials continued to accuse Russian forces of destroying the KHPP dam out of fear that Ukrainian forces would land on the east (left) bank Kherson Oblast.
The New York Times (NYT) reported that engineering and munitions experts believe that a deliberate explosion was the likely cause of KHPP dam's collapse on June 6.
Russian forces and occupation authorities are responding to the flooding in Kherson Oblast with a great degree of disorganization and thereby exacerbating harm to the civilian population of occupied areas.
Select Wagner Group-affiliated Russian senior military officers continue to posture as effective commanders to appeal to Russian President Vladimir Putin by capitalizing on high-profile military events.
The pro-Teplinsky interview is likely part of an information operation aimed at undermining the Russian Ministry of Defense (MoD).
Wagner-affiliated commanders' reactive public relations campaigns may not be sufficient to deflect from battlefield realities.
Russian and Ukrainian officials each accused the other state of damaging an ammonia pipeline that runs through Kharkiv Oblast and causing an ammonia leak.
Russian forces continued to conduct ground attacks around Kreminna.
Ukrainian officials indicated that Ukrainian forces are conducting offensive operations in the Bakhmut direction as of June 7.
Russian forces continued limited ground attacks along the Avdiivka-Donetsk City line.
Russian sources continued to claim that Ukrainian forces conducted ground attacks on the administrative border between Donetsk and Zaporizhzhia oblasts on June 7.
Russian and Ukrainian forces reportedly engaged in skirmishes in western Zaporizhzhia Oblast.
Russian authorities continue to restrict international travel for those eligible for military service.
Russian officials and occupation authorities continue to establish patronage programs between Russian regions and occupied territories in order to integrate occupied territories into Russia.
Moscow-backed official says Russian army gains advantage from Ukraine dam breach, Reuters reports. "A top Moscow-backed official in part of Ukraine controlled by Russia has said that the collapse of the giant Kakhovka Dam has handed the Russian military a tactical advantage, but a prominent US military analyst saw little immediate impact. The vast Soviet-era Kakhovka dam, under Russian control, was breached in the early hours of Tuesday, unleashing floodwaters across a swathe of the battleground in southern Ukraine. […]
In military terms, the situation has worked out in a way that is operationally and tactically in favour of Russian forces, [Vladimir Saldo, the Russian-installed governor of part of Ukraine's southern Kherson region controlled by Moscow], told pro-Kremlin TV presenter Vladimir Solovyov. He said the dam's destruction and resulting floodwaters would make it easier for Russia to defend against any Ukrainian counter-offensive in the area. […]
Our armed forces now have an open space in front of them across which they can see who is trying to cross the Dnipro River and how. And it will be impossible for them to get through via the Kakhovka reservoir if they try.
Moscow controls the left (east) bank of the Dnipro while Ukrainian forces are deployed on its right (west) bank. Michael Kofman, an expert on the Russian military at the US-based CNA think-tank, said he was sceptical the disaster would hamper Ukraine's near term military plans for a counter-offensive.
I doubt it will have a significant impact on Ukrainian military operations. The Khakovka dam is at least 100 miles from where much of the activity might take place at its closest point, Kofman said on Twitter. A Ukrainian cross-river operation in southern Kherson, below the dam, was always a risky and therefore low-probability prospect. There is no evidence that such an operation was underway, or would have necessarily been a part of the Ukrainian offensive plans, he said.
Nor did the dam's destruction substantially shorten Russian lines, he added, and the ensuing floods would probably also destroy the first line of Russia's own defensive entrenchments on the side of the river it controls."
Scorched Earth – Have the Russians Shifted Goal to Sheer Destruction of Ukraine, Anders Åslund asks in Kyiv Post? "In the early hours of June 6, the Russian military blew up the giant Nova Kakhovka dam on the Dnipro with explosives planted underwater on their side of the river. Thereby, Russia's war on Ukraine has entered a new phase. The Russian aims have gradually moved from conquest to the destruction of Ukraine.
Initially, for the first week of his full-scale invasion, Putin intended to seize the whole of Ukraine and did not want to destroy its infrastructure. The Russian military focused on purely military targets. […] In April, the Russian troops gave up on their original objective, withdrawing from Kyiv, Chernihiv and the rest of Northern Ukraine. On September 10, the Ukrainian Armed Forces surprised the Russians by swiftly recovering Kharkiv oblast. During that month, Putin limited his endeavors to capture the four regions of Luhansk, Donetsk, Zaporizhzhia, and Kherson. […]
After somebody […] blew up a chunk of the bridge over the Kerch Strait from Crimea to Russia, Putin got furious. So, beginning on October 10 Russia went after Ukraine's crucial infrastructure. It started regularly bombing Ukraine's power grid. Despite great efforts, Ukraine's power grid continues to function most of the time with only minor breaks. Then in January, Russia proceeded to bomb the power plants. Fortunately, Russia did not bomb the nuclear power plants that generate most of Ukraine's electricity, concentrating on coal-heated power plants. But that did not break Ukraine's power supply. Ukraine has even restarted electricity export to Europe.
In the last month, Russia has bombed Kyiv more than every second night. Because of the now excellent Ukrainian air defenses, few people are being killed, though some are, and city dwellers can no longer sleep at night. […]
By blowing up the important Nova Kakhovka dam, Russia has reached a new stage in its war on Ukraine. To judge from his actions, Putin has given up on trying to seize Ukraine and probably even to hold onto parts of it. Unfortunately, he appears to want to destroy it instead.
In 1991, when the Allies chased Saddam Hussein out of Kuwait, he set the Kuwaiti oil wells on fire. We should expect Putin to behave similarly. He has already instigated mass deportations of Ukrainians. Now he is likely to go for general destruction of the country. Militarily, Russia blowing up the Nova Kakhovka dam makes little sense. I have visited this area twice, and my memory is that the left, Russian-occupied bank of the Dnipro is lower and would thus be hit the worst by the flooding.
The Russians have built three lines of fortifications and laid plenty of mines there, much of which is likely to be flooded now, which should make it easier for Ukrainian troops to proceed. But tens of thousands of civilian Ukrainians on both sides of the river will have to evacuate, so Ukrainian citizens suffer.
The North Crimean Canal runs from the Kakhovka Reservoir to Crimea. Since 1976, it has delivered 85 percent of the water used in Crimea. Without this water, agriculture in Crimea is no longer sustainable. The dry peninsula is condemned to draught. By blowing up this dam, Putin appears to have given up on Crimea. He had better evacuate his troops as soon as possible.
While that is all very good, the question arises: What sabotage will the Russians carry out next? We should expect the worst from the bloody-minded Putin. The possibility of the Russians blowing up the Nova Kakhovka dam has been discussed since the spring of 2022. The same is true of the Russians possibly blowing up the Zaporizhzhia nuclear power plant, the largest nuclear power station in Europe. Most worrisome is that Ukrainian officials have reported that the Russians have already put explosives around all its six reactors in a possible preparation to blow them up and cause a nuclear catastrophe.
This must not happen! The West (that is, the United States) must put its foot down and raise its threats to such a level that it stops the ruthless Putin. […] Besides, the West needs to move to asymmetric warfare, hitting where it is strong and Russia weak. Most obviously, the collective West should now seize all Russian Central Bank reserves in the West, allegedly $316 billion according to the Central Bank of Russia. These funds should be transferred to an escrow account to be used as Russian war reparations to the benefit of Ukraine, just as Iraq was forced to pay $52 billion in war reparations after its assault on Kuwait."
Consequences and what to do?
World Bank to assess damage after Ukraine dam destruction, Reuters reports. "The World Bank will support Ukraine by conducting a rapid assessment of damage and needs after Tuesday's destruction of a huge hydroelectric dam on the front lines between Russian and Ukrainian forces, a top bank official said on Wednesday.
Anna Bjerde, the World Bank's managing director for operations, said on Twitter the destruction of the Novo Kakhovka dam had many very serious consequences for essential service delivery and the broader environment. […]
Ukraine said the deluge would leave hundreds of thousands of people without access to drinking water, swamp tens of thousands of hectares of agricultural land and turn at least 500,000 hectares deprived of irrigation into "deserts".
Bjerde said the new damage assessment would build on the bank's previous analysis of damage to Ukraine's infrastructure and buildings, which estimated that it would cost $411 billion to rebuild Ukraine's economy after Russia's invasion. The International Monetary Fund on Wednesday said it is very concerned about the social, economic and environmental impact from the destruction of the dam."
Zelenskyy comments on Washington Post investigation claiming Ukraine planned to blow up Nord Stream pipelines, Ukrainska Pravda reports, citing an interview with Axel Springer media outlet. "On Wednesday 7 June, President Volodymyr Zelenskyy stressed that Ukraine is not related to the sabotage of the Russian Northern Streams gas pipelines in the Baltic Sea in September last year. Commenting on recent media reports about the alleged plan of the Ukrainian military to destroy the Nord Stream pipelines, Zelenskyy stressed that "Nothing of the sort has been done by Ukraine". […]
Earlier, The Washington Post published an article according to which Western intelligence agencies allegedly knew about the plan to destroy Nord Stream 1 and Nord Stream 2 with the participation of the Ukrainian military. Kyiv's goal was allegedly to prevent Russia from resuming gas exports to the EU. This plan, WP claims, was discovered by intelligence from one of the European allies of the US and handed over to the Central Intelligence Agency in June 2022. Its participants allegedly had to report to Valerii Zaluzhnyi, Commander-in-Chief of the Armed Forces of Ukraine. But it seems that the existing plan was suspended, and there is no evidence that Ukraine did implement it. […]
At the end of April, Danish media received data from military sources that there was a Russian ship SS-750 near the Northern Streams four days before the explosions. In May, a joint investigation of journalists from Northern Europe was published, according to which Russian ships visited the areas of explosions on the branches of the Russian Nord Stream gas pipeline at least three times, one of them five days before the incident."
Hans Petter Midttun: Nations do not wage war for war's sake but in pursuance of policy in which a better state of peace is the main objective. That is at least an accepted theory.
Russia faces major demographic challenges that in the long run will affect both its economy and its ability to project military power globally. If Ukraine is successfully defeated and Belarus fully integrated (and swallowed up by Russia), the "Russian World" will grow by more than 800,000 square kilometres and up to 52 million people.
The new empire would consist of nearly 200 million people, supporting the economy and military power needed for global influence.
A strong economy is another precondition for its quest for global influence. 117 of the 120 most widely used minerals and metals are found in Ukraine. It has some of the world's largest reserves of titanium and iron ore, fields of untapped lithium and massive deposits of coal. As of July 2022, Russia occupied Ukrainian territories with approximately $12.4 trillion worth of energy deposits, metals and minerals. Last summer, about 20% of all of Ukraine's wealth in resources was in the hands of Russia, While it has since lost control of some, it still aims to control it all.
It already controls oil and gas resources in the Black Sea assessed to be equal to that of the North Sea basin in scope and scale. It would control the "breadbasket of Europe", the richest agricultural area on the continent. In addition, it would gain access to Ukrainian innovation and technology across all sectors. It would not least, allow Russia to reconnect its defence industries to the Ukrainian "missing link". Russia badly needs the Ukrainian defence industry to build the Armed Forces needed to become a Great Power.
By defeating Ukraine, it would create the economic, technological, demographic and, therefore, military preconditions to become and remain a Great Power.
That's why its indiscriminate destruction of Ukrainian critical infrastructure, industry, agricultural areas and whole cities hardly makes any sense. According to the Kyiv School of Economics, as of 17 May 2023:
"The total amount of direct documented damages inflicted upon Ukraine's infrastructure due to the full-scale invasion by Russia as of April 2023 stands at $147.5 billion (at replacement cost). Ongoing destruction of residential buildings, enterprises, educational institutions, and agro-sector infrastructure continues to contribute to the overall damages.
As of April 2023, the damages incurred by the residential sector have increased by $1.2 billion compared to February of the same year, from $53.6 billion to $54.4 billion. The total number of damaged or destroyed residential buildings […] has reached almost 158,000.
Infrastructure and industrial sectors remain in second and third place, respectively, in terms of damages. The infrastructure damages remain unchanged at $36.2 billion, while the destroyed or damaged assets of enterprises have increased by another $100,000, with the total damages in this sector amounting to $11.4 billion.
The damages inflicted upon the education sector have increased by $9.1 billion, with educational institutions continuing to suffer from damages and destruction caused by the war. As of April 2023, the total number of damaged or destroyed educational facilities has reached 3,200, including over 1,500 secondary schools, almost 1,000 kindergartens, and 538 higher education institutions.
Damages caused by damage to the energy infrastructure have also increased by $200 million, with the total damages now amounting to $8.3 billion.
The damages incurred by the healthcare sector have also increased by $0.9 billion. As of April 2023, the damages in the healthcare sector have increased from $1.8 billion in February to $2.7 billion. In total, 806 healthcare facilities have been destroyed or damaged, including 367 hospitals and 341 clinics. It should be noted that the current report reflects a decrease in the number of medical facilities due to updated information received from local authorities."
Its recent destruction of the Kakhovka hydroelectric power station dam is just the latest in a series of horrendous war crimes. The destruction will have enormous consequences on people, wildlife, biological resources, industry and not least, the environment. Hundreds of thousands will be left without fresh water and a greater part of the rich agricultural area in Kherson, Zaporizhzhia, and Dnipropetrovsk oblasts risk turning into a desert within years.
That's why Anders Åslund's question "Have the Russians shifted their goal to sheer destruction of Ukraine?" is very timely.
Ukraine is being destroyed in front of our eyes. Every time we believe Russia has done its worst it comes up with something worse still.
It frames the Western words of support "We will support Ukraine as long as it takes" in an odd perspective. President Biden, President Marcon, Federal Chancellor Scholz, NATO Secretary General Stoltenberg, Chair of the NATO Military Committee, Admiral Rob Bauer with Supreme Allied Commander Europe, General Christopher Cavoli and Supreme Allied Commander Transformation, General Philippe Lavigne have all made the same pledge. Last month the G7 stated that "Our support for Ukraine will not waver. We will not tire in our commitment to mitigate the impact of Russia's illegal actions on the rest of the world."
They all have one thing in common: They resign to the idea of a protracted war and, consequently, grudgingly but inevitably, the slow and incremental destruction of Ukraine (and the ever-increasing "tsunami of ripple effects" from the war). They do not signal a timeline or an end to the war.
They all want the war to end. A clear strategy to achieve peace, stop the destruction of Ukraine, evict Russian forces, and re-establish Ukrainian control of its internationally recognised borders is, therefore, becoming increasingly urgent.
If the West wants to change the timeline and stop Russia's destruction of Ukraine – as well as stop the "tsunami of ripple effects" from the war threatening to change the political landscape in the US and Europe – it needs to revise its present strategy.
It can no longer offer slow and incremental defence support as the country is being devastated. It can no longer deny Ukraine the opportunity to use its weapons against the weapon platforms that are causing the destruction because they are located on or over Russian territory. Most importantly, it can no longer remain uncommitted while Ukraine is defending European security and stability.
Europe needs a fundamental shift in policy: From risk aversion to risk willingness. From financial, humanitarian and defence support only to Western intervention. We need to demonstrate resolve and strength – not necessarily through direct warfighting – but through showing that military power is back on the table.
As previously and repeatedly argued, a Ukrainian NATO membership (e.g. with sufficient lead-time for Russia to withdraw), military diplomacy (e.g. stationing military units in Ukrainian bases and airports to stop Russian attacks), or a military intervention (e.g. closing the sky), will fundamentally shift the military balance.
After all, according to its strategic concept, "NATO is determined to safeguard the freedom and security of Allies. Its key purpose and greatest responsibility are to ensure our collective defence, against all threats, from all directions."
After nearly 16 years of Russian transgressions of international law – including attacking Georgia in 2008 and Ukraine in 2014, as well as waging a hybrid war against the USA and Europe for years – the Alliance has finally concluded that "the Euro-Atlantic area is not at peace. It is high time NATO acknowledge what the EU has long stated: Its member states are exposed to a Russian Hybrid War.
After 16 years; in the face of continuous and open aggression and after constant calls for action by the Eastern European countries. As NATO is fast approaching yet another Summit, it is worthwhile to reiterate the words of the Lithuanian President, Gitanas Nauseda on the eve of the NATO summit in Madrid:
"The war [in Ukraine] has fundamentally challenged the security architecture of the West. Russia has been publicly challenging the West for at least the past 15 years. It has tried to gain the upper hand through aggressive action, first in Georgia in 2008, then in Ukrainian Crimea and Donbas in 2014. Despite all this, some Western countries have continued business as usual with Moscow, some even expanding their cooperation. For decades, the West has failed to understand what Russian President Vladimir Putin's regime is about — namely expansionism, revisionism, violence, and rule by fear and coercion.
Russia is not interested in creation or cooperation, but rather in destruction and rule by force. The time has come to understand that Russia cannot be stopped by persuasion, cooperation, appeasement or concessions. Russia takes such gestures as a sign of weakness, as permission to expand and intensify its onslaught.  Putin is clear in his desire to subvert Western values, cut the links between North America and Europe, and subdue Europe to Russia's will."
He concluded that NATO must make sure Ukraine wins. He echoes the sentiments of most European leaders who have experienced the "Russian world". This is why Poland submitted a proposal for a peacekeeping mission in Ukraine, why Poland, the Czech Republic and Slovenia in March put forward a plan to save Ukraine, and why Eastern Europe is offering defence support above their weight. Poland has delivered more tanks than anyone else, while the Baltic countries have emptied their stockpiles of certain weapons in support of Ukraine's defence of Euro-Atlantic security.
They all recognise that Ukraine is fighting for us, for Europe, for freedom, and for peace in Europe. But still, NATO does not fully acknowledge the Ukrainian contribution to European security. It does not establish the obvious link between its mission to safeguard the freedom and security of its member states, and the war Ukraine is fighting on our behalf.
As the Russian devastation of Ukraine is increasing in scale and scope, the West urgently needs a new and more assertive and resolute strategy.
Risk aversion and appeasement have turned peace into a full-scale war in Europe. Accepting the risks of actions cannot possibly end worse.