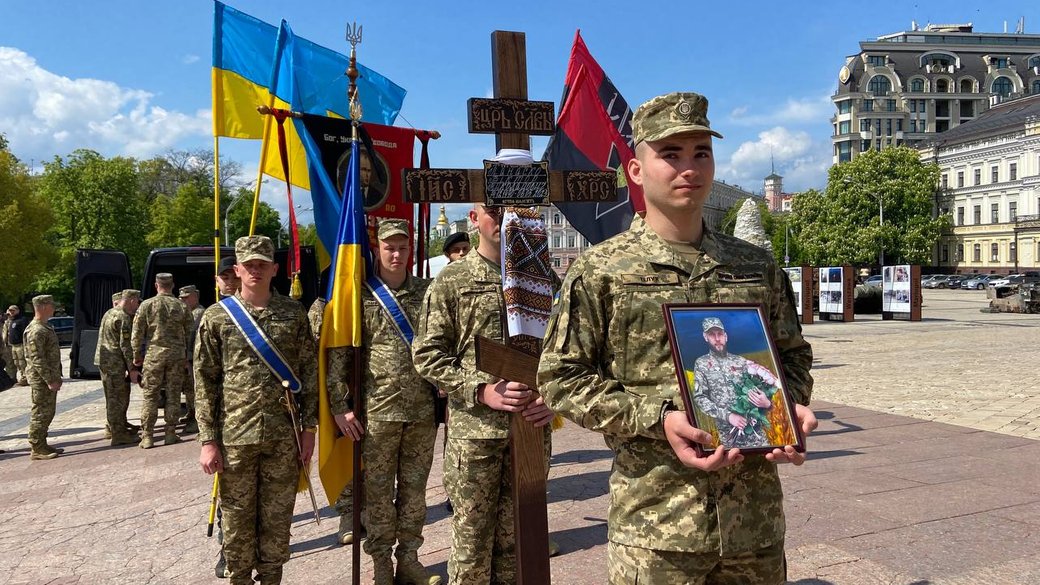 Soldiers hold an image of a fallen Ukrainian soldier, Victor Panasko, during a funeral ceremony in Kyiv, on 10 May. Source: Daryna Kolomiiets/Suspilne 
On 10 May, more than 200 people, including friends, comrades, and family, gathered in central Kyiv to honor a fallen Ukrainian soldier, Victor Panasko, who was killed in action near Bakhmut in Donetsk Oblast.
The funeral service took place at St. Michael's Golden-Domed Monastery, following a farewell ceremony, held at Independence Square.
Victor Panasko, 33, known as "Iranets", was a soldier of the Ukrainian Volunteer Corps and officer of the "Tryzub" military movement named after Stepan Bandera, who fought for freedom and independence of Ukraine since the EuroMaidan revolution in 2014. He also took part in a battle for Sloviansk during the Donbas War.
"Victor enjoyed life and did everything he could for Ukraine and its people. He died as a hero in battle, just as he wanted," his comrade Oleksandr said during the funeral.