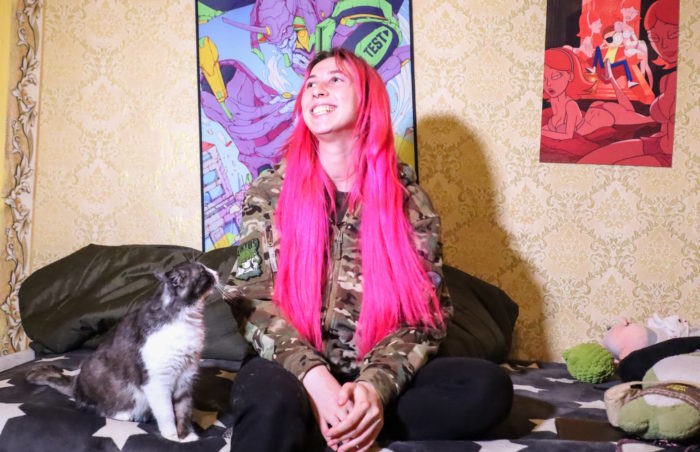 Junior Sergeant Valeriya "Osa" with her war cat Sonia. Photo: Olena Maksymenko/Novynarnia 
Junior Sergeant Valeriya, call sign "Osa" (Wasp) resembles more of an anime character than a leader of an anti-tank squad.
Osa has a petite build, sports a shock of bright pink hair, and often breaks out in bubbly laughter. Despite her frail appearance, she has destroyed three enemy tanks since the start of the full-scale invasion, easily operating Corsar and Stugna ATGM missile systems.
Osa is currently deployed in the Zaporizhzhia sector, serving as part of the 15th Battalion of the 128th Separate Mountain Assault Brigade. Osa and her family are from the town of Vesele, Zaporizhzhia Oblast, so she is actually defending her native territory.
Osa enlisted in 2020 and completed the Young Soldier Course (YFC). She was initially supposed to train on other anti-tank weapons, such as NLAWs, M141 Bunkers, and Javelins, but the Russian invasion disrupted her career plans.
"When Russia invaded, I asked the commander to send me to my unit, but they didn't want to let me go… maybe because I'm a woman, I don't know! I used all my connections to get to Zaporizhzhia with the reserves."
First days on the frontline
Osa recalls her arrival on the frontline… Rain and cold enveloped the soldiers as they huddled like rats in a tube beneath the road. There was hardly any space to move around, so when someone went on duty, another person took their place to sleep.
The radio transmitter crackled and a distant voice informed that a column of Russian vehicles would be passing by soon. They were probably refueling somewhere, and Osa's unit was waiting for them with three Corsar anti-tank missile systems and a Fagot anti-tank guided missile. Their task seemed simple, but things quickly become complicated. First, an intense artillery bombardment began, and everything was a blur. Osa quickly positioned the Corsar on the road.
Suddenly, Russian flags appear about 300 meters away on the road, and their vehicles approach. At first, Osa feels nervous, and her body shakes incessantly. Then, a massive tank emerges. Her comrades aim and try to hit it with an RPG, but it's like throwing pebbles at a wall; they will just bounce off.
As the tank draws nearer, Osa gives the command: "Launch!" But her voice is drowned out by the deafening explosions, making it impossible for her to hear herself. Suddenly, her fellow soldiers erupt in cheers, shouting "You hit it! You hit it!" Osa watches with satisfaction as the tank begins to smoke and eventually topples into a nearby ditch. It's a significant victory for her.
The other tanks are no longer moving. Only the top of the turrets are visible. The Russians must have already realized that a Ukrainian anti-tank unit is stationed here. They retaliate with a barrage of artillery fire. Suddenly, Osa sees a missile from a Corsar lying in the road with its launcher next to it.
"I had to try again… so, I ran out into the road, grabbed that rocket, dragged it to the Corsar, set it up – and bang, hit it square on! I get out of there as fast as possible, leave the Corsar as it didn't make sense to try and pull it away. We would have just been targeted and shot."
However, the victory is short-lived as Osa's unit is eventually forced to retreat and abandon their position. Concerned for her family's safety in Zaporizhzhia, Osa contacts them and advises them to evacuate the area immediately.
"That day, despite my personal success with bringing down those enemy tanks, I felt defeated. This is my region, and now it was in the hands of the Russians."
When you get wounded, you realize that you're mortal
Osa's unit was getting ready for the next battle when the shelling began and bullets started whistling around. As Osa lay down on the road with her Fagot anti-tank missile system, suddenly something hit her, causing a bright flash before her eyes and a dull pain in her knee.
"I shouted to my men that I was wounded. One of them applied a tourniquet and dragged me to cover," Osa recalls.
Despite the continuing sound of whistling bullets, they managed to put her on a ZIL army truck.
"It was terrifying, but we had to get out!" she says.
Thus began the long evacuation road from Huliaypole to the local hospital, where a medical team tended to Osa's shattered knee. Following that, they moved her to Zaporizhzhia, Dnipro, Lviv, and finally Mukachevo for further evacuation.
"I call my injury 'the Joker smile'"
Osa considers herself fortunate that only her tissues were damaged and not her ligaments, which would have required a longer rehabilitation period. She now sports an unsightly scar on her knee, which she affectionately refers to as her "Joker smile".
During her recovery, Osa underwent rigorous training, massages, and exercise routines. However, this was one of the most challenging phases of her life as she not only had to deal with physical injuries but also unresolved mental traumas.
"I spent a significant amount of time with a psychotherapist, revisiting my past traumas and experiences of war. It was necessary to address my internal wounds as well, as so few of our regular contract soldiers had survived without injury. Many of them were killed or wounded. That's just the reality of war."
Returning to the brigade
After completing her rehabilitation, Osa rejoined her brigade in late May and was deployed to Yakovlivka at the beginning of summer. She was given a new anti-tank guided missile system, the Stugna, and her platoon leader taught her how to use it. Osa appreciates the Stugna because of its longer range and safety compared to the Corsar. She can stay farther away from the enemy, hide in a trench, or simply wait.
"I recently hit another tank. We were moving with our platoon leader when we suddenly stumbled upon an enemy IFV. I launched my Stugna and took it down."
Nowadays, the enemy is less active, and the fighting is not as intense. It's challenging to find good enemy equipment because they often work from hidden positions, making them difficult to spot. But, their artillery and infantry are more active, often working together in packs, coming at the Ukrainian divisions wave after wave, like a horde.
What we know about the "light anti-tank weapons" UK started supplying to Ukraine
"I intend to serve even after our victory!"
Osa smiles and her eyes light up as she talks about her past life before the army. She graduated from Zaporizhzhia National University with a degree in tourism and was an avid traveler, leading expeditions in Crimea and the Carpathian Mountains.
However, everything changed in 2014 when her instructor went to war, and all of their adventures abruptly ended. With Crimea occupied and Donbas under siege, Osa felt compelled to join the army, where she found herself traveling to different regions like Donetsk and Kherson. Despite the challenges, Osa has no regrets.
"Really and truly, I have no regrets about joining the army. The only thing that bothers me is the Soviet mentality of some of the officers. This needs to change. I think it will happen after our inevitable victory."
Osa's eyes shimmer with emotion as she speaks about her son, who is just six years old. With a heavy heart, she had to leave him with her mother in Zaporizhzhia. The separation was unbearable, and tears would often stream down her face in the evenings. Even now, it's a struggle to hold back her emotions, but she does so with unwavering determination. She knows that they need to win this war, and when they do, she plans to take her son with her. It's his dream to become a soldier just like his mother and grandfather.
Despite the distance between them, Osa's son remains proud of his mother's courage and sacrifice. He knows that she is sometimes in difficult situations, so he tries not to distract her. They communicate through voice mail on telegram.
Osa's father serves in the Territorial Defense Force, while her stepbrother is in the border guards. It seems like almost everyone in her family has answered the call to serve their country.
Osa finishes off with a heartwarming story about her beloved cat, Sonia. One day, Osa and her unit were stationed near the village of Bilbasivka in Donetsk Oblast when Sonia wandered into their midst. It was love at first sight for Osa, who took the cat in and allowed her to sleep on her mattress.
As Sonia the cat got accustomed to the soldiers, she began to enjoy their company, and even allowed them to pet her. Osa's attachment to Sonia grew stronger by the day, and the two of them have become inseparable.
Despite the hardships of war, Osa has found solace in her army service and plans to continue serving even after victory is achieved. She firmly states that while nobody likes war and nobody wants to die, she genuinely likes the army and intends to stay. However, she does have aspirations beyond the military, such as pursuing other interests, perhaps photography or something else entirely.
Osa believes that having other interests and hobbies is essential in staving off PTSD, as they help one to cope with the difficulties of war and pull themselves out of a negative headspace. With her positive attitude and her dedication to freedom and victory, Osa is an inspiration to others.
Tags: Russian tanks, severely wounded, tank squad, Ukrainian Armed Forces, Zaporizhzhia Oblast