Dnipro, Ukraine's fourth-largest city, is just 100 km from the front line, to the south, and 200 km, to the east. Trenches still can be seen at the city's entrances, prepared for defense in spring 2022, in the event of a Russian advance. Ukrainian flags wave in the wind above nearly every cemetery and are visible from train windows on the 500-km trip from Kyiv to Dnipro, signifying the new graves of the country's soldiers. Now, Dnipro is Ukraine's closest base to the front.
Wounded soldiers are brought to Dnipro's hospitals, where the most urgent operations are performed. Further, many Ukrainians who lived in territories that are now occupied, or who lived in areas that are close to the frontline, have chosen Dnipro as their second home.
In March 2023, a year after the full-scale war started, the city appears vibrant and alive, with a lot of kids from relocated families walking in the streets. Here, sirens may wail more quietly than in many other Ukrainian cities farther from the front, but the sirens are turned on more often. While air raid alerts are announced every few hours, and sometimes, several times in an hour, missile attacks occur about twice per month. Many residents have chatbots installed notifying them if the threat is tangible, or is more likely to be a training flight close to Ukraine's border. While another siren blares in the park on a Saturday morning, people do not hurry to go to a shelter, but continue walking, drinking coffee, and playing with their kids.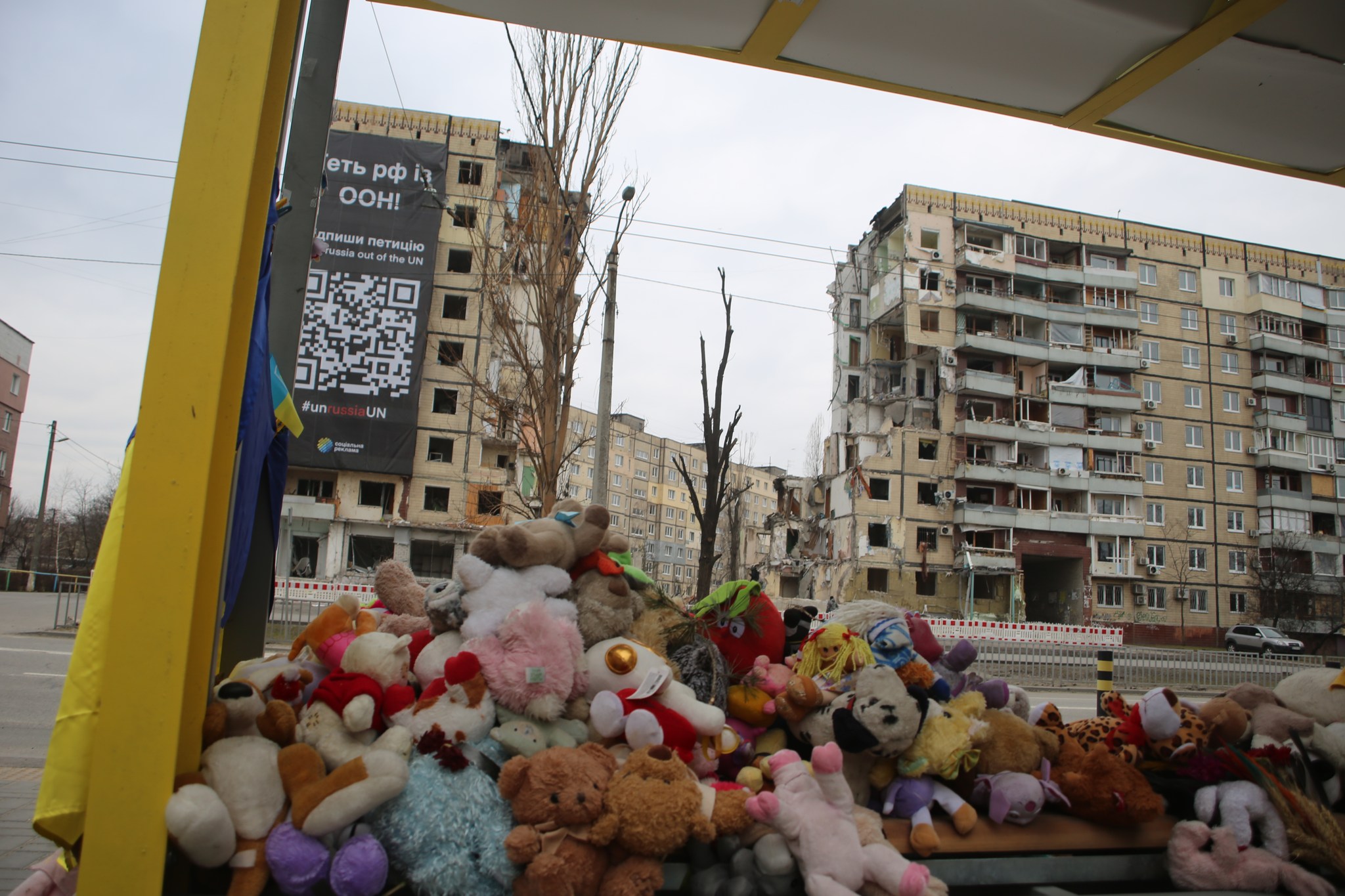 Not far from the park, in Residential Building 118, on one of the streets near the Dnipro River, the smell of smoke from the shelling has not yet cleared out, almost two months after the immense missile attack that destroyed a large part of the complex. Cupboards, some with food left, are still hanging on the last remaining walls of kitchens that no longer exist.
On 14 January 2023, at 3.30 p.m., a Russian missile hit the building, completely destroying several dozen flats. The attack killed 46 people and injured 86. Fourteen residential buildings nearby were damaged. We met with the victims of the attack, as well as people who helped them.
"We can handle it somehow, but what about the children?" 
For Serhiy, 14 January started as an ordinary morning. With his 16-year-old son, the man decided to visit friends who live nearby. At about 3:25 p.m., Serhiy was leaving, saying goodbye to his wife who stayed at home, because she was not feeling well that day.
The father and son had only made it a few dozen meters from the building when the explosion rang out. "It was like the ground was shifting beneath our feet, like on a trampoline." The yard was filled with smoke, with wreckage flying through the air.
At the moment of the explosion, Serhiy's wife was standing near the window watching her close ones leave. The shock wave propelled her and the window frame four meters away. She lost consciousness.
Serhiy sent his son to shelter and hurried to his wife. He tried to call her. Only after five long minutes did she reply. As Serhiy approached the entrance to help his wife out, the parts of the building hit by the missile loudly collapsed. The couple managed to get out of the building which was in complete darkness, caused by the smoke.
Serhiy's wife however was seriously injured, having suffered an open-brain injury. Blood was streaming from her temporal artery. A stranger on the street tried to bandage her wound, but blood continued to flow like a fountain. Several ambulances were already near the road, and there were long queues near each one. Fortunately, Serhiy saw another ambulance on the road and stopped it. The ambulance took his wife to a reanimation theater.
Serhiy waited for three hours to hear that his wife would live. Doctors told him that they had not managed to save several people with the same wounds. "You were lucky to be in close proximity to your wife, and to see that ambulance in the road," a doctor told Serhiy.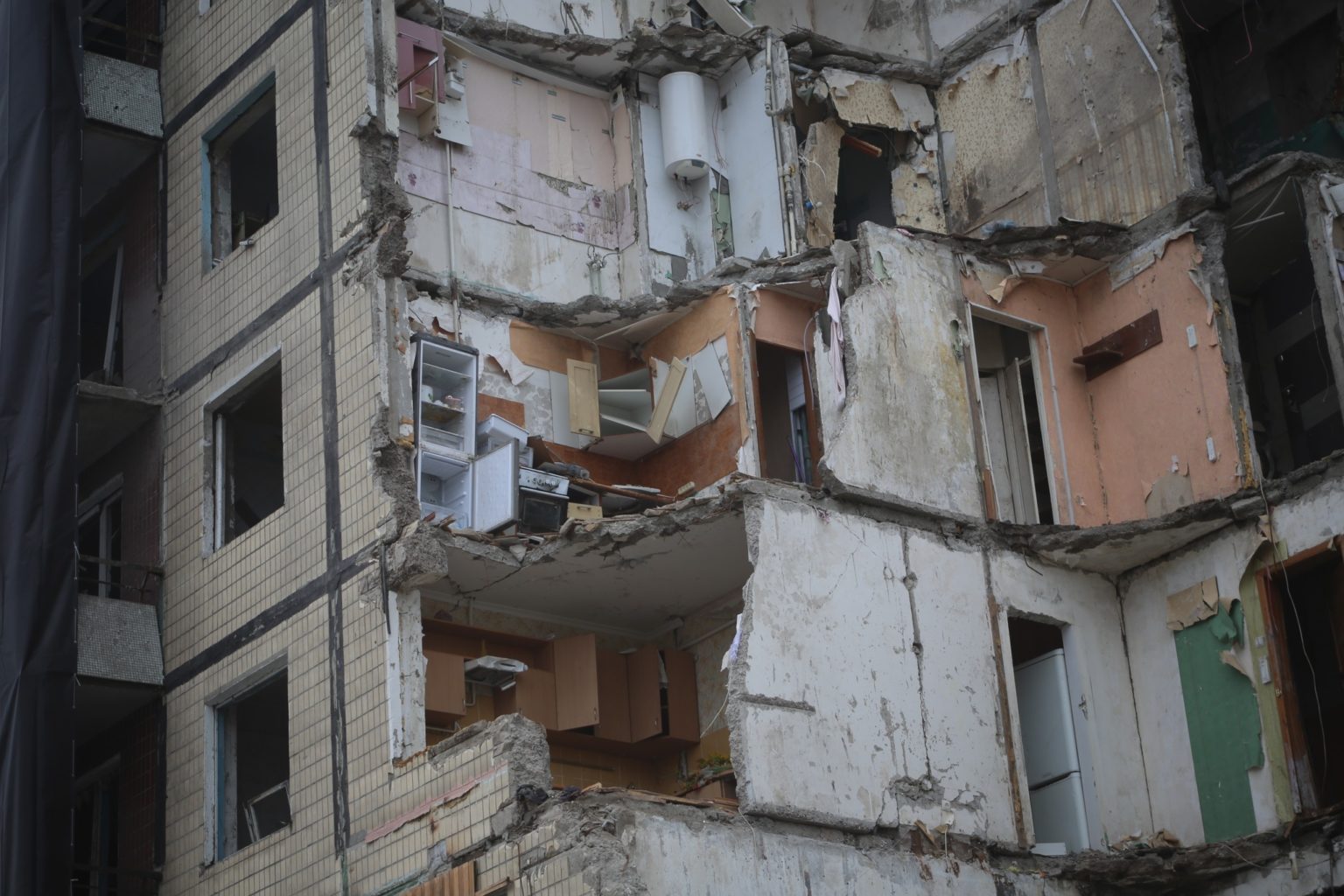 The next five days passed almost without sleep. Every day, Serhiy and his son helped to clear the rubble, searching for people at the site. "It was impossible to fall asleep for the first two days. We slept only two or three hours for the next five days." Clearing proceeded from the upper floor, downwards. "On the fifth day, hopes of finding anyone on the lower floors were fading away."
"The situation keeps reminding me of the people I lost. It's tough to cope with it because such moments in life leave an indelible mark, and I'm not sure how it will affect me in the future … We are adults and can cope somehow, but our children … children are the most important thing, and how it will all affect them later, that's really hard to say here," Serhiy says.
As Serhiy remembers 15-year-old Mariya – a close friend of his family and son – he starts to cry. At the moment of the explosion, she was right under an arch walking to a yard. A shock wave threw her into the air and the girl died on the spot. She and her family had moved to Dnipro after their home town Nikopol was occupied by Russia.
"Of course, our soldiers, our guys, many of whom are my age, and even friends' children, are brave and courageous. I would like to believe that the war will end. I think that if we were given more weapons by our partners, we would have ended the war a long time ago. Because donating "four tanks a year" I think, is enough only to keep us afloat," Serhiy says.
You can support Serhiy's family here:
IBAN
UA153052990000026207735489479.
Beneficiary:
Khlibtsevych S.
Account:
26207735489479.
Bank:
JSC CB PrivatBank Kyiv, Ukraine.
TIN:
2629803775.
SWIFT/BIC:
PBANUA2X
The birthday party they never went to
Several minutes after 3 p.m. on 14 January, Maksym and Iryna were getting ready to go to a birthday party. Their son, nine-year-old Tymur, and daughter, 12-year-old Karolina, were ready and waiting for them in the yard of Building 118.
At the same time, just three streets away, Tymur's football coach Illia was at home watching the news with his girlfriend. When they heard the explosion, they did not think it was in their neighborhood, assuming that it had happened near the power station located in a nearby town. However, just three minutes later, social media exploded with posts about the tragedy.
Because the parents of Illia's students live in the area affected, Illia first contacted the parents via the Viber group chat to check if everyone was alive. He didn't hear anything from the family who lived in the building that had been struck. "It was quite worrisome," Illia says. He arrived at the site of the disaster in late evening. There, he discovered that the parents of his trainee Tymur, Maksym and Iryna, had been killed by the Russian missile. Their son and daughter survived.
"It was scary to be here on the evening of the attack. People, stuck in their half-destroyed flats, shouted from under the rubble. The death toll was rising as rescue and clearing operations were ongoing," Illia says.
At the same time, hundreds of people from the neighborhood came to help: some to remove rubble; others distributing tea and sandwiches to those who were helping. When Illia and his girlfriend arrived, they saw a lot of rescuers, trucks, volunteers, and cars blocking off the street. There were a lot of tents too. For several nights in a row, while clearing was ongoing, people stayed near the building overnight, relieving each other.
Illia decided to help Tymur and Karolina by collecting donations from among the football community, separate from the all-Ukrainian collection. The local football federation and football teams of all ages participated, and the donations were given to Tymur's guardians. Tymur's football team visited the boy to support him. Illia's former teammate, now world-famous Ukrainian football player Olexander Zinchenko, recorded a video to support Tymur. "It was heartwarming to see how even an ordinary child could receive such support," Illia says. In several weeks the boy, coping with his grief, returned to football training.
Psychological scars that don't fade
Six-year-old Zhenia was playing together with Tymur minutes before the explosion. The boy was bored staying at home since there was a scheduled power outage and there was no internet or electricity at home. His mother, Anastasiya, says she was not afraid to let him play in the yard because their neighborhood was friendly and safe, where everyone knew everyone else. Besides, she could see him through the window.
She was standing there at the moment of the explosion. She found herself on the floor under the window frame.
"I didn't understand what had happened at first. Then I saw that there was no window in the room. And I had one thought – that my child was on the street. And I was just running, headlong, in a robe and slippers. First, I couldn't get out. The apartment door was jammed. I knocked it out somehow, I don't remember how," Anastasiya says.
On the third floor, Anastasiya started screaming the name of her son. At that moment, the yard was filled with screams.
"I heard 'mom' twice. But I knew it might not be my son. I ran out of the building. Everything was engulfed in smoke. And the children were already coming to me. My son and his friend, Tymur. I did not understand where my child was, because they were hooded and dusty. And I hugged them both, I grabbed them, and we went to the entrance to the elevator … I looked at their ears, because if suddenly deafened, there might be blood. My son was not wounded. But Tymur had an arm injury."
The family still deals with problems caused by the Russian missile attack. Zhenia now works with a psychologist and neurologist because he has developed a nervous tic. Anastasiya's father, who was in the flat at the moment of the explosion, suffered a concussion and then a minor stroke. "Now he's recovering, he had lost his speech. He doesn't speak well. He can no longer work, although he had such a good profession as a turner. Well, he will be home with the child, and will help him with homework." Anastasiya herself asked for help from a psychiatrist. "I'm strong but I understood that I needed help, a medication treatment. I'm on antidepressants now," Anastasiya says. "But we believe in the armed forces of Ukraine. We hope the war will end soon."
Anastasiya says that during the first moments after the explosion she couldn't believe that her son was alive. "You understand what happened, and automatically the brain sets you up for the worst, for something bad. And when you go out and see that everything is really all right … and you can't believe it."
You can support Anastasiya's family here:
PayPal
[email protected]
or IBAN UA163052990000026201692055102
Russian missile turns Ukrainian soldier's home into nothing
Today, where Serhiy's flat used to be, is now fresh air. While Serhiy was fighting against Russian soldiers on the front line, a Russian missile hit his home, destroying his flat completely.
Serhiy's sister, Tetiana, had found out about the tragedy from her neighbors. She did not dare call her brother to tell him that he no longer had a home. The same evening when the missile strike happened, Tetiana's husband and son went to the house to help clear the rubble.
Tetiana remembers Building 118 from the times when it had just been built. She used to live there when she was a child. Tears come to her eyes as she talks about her past home of which nothing is left.
"This is pure grief, because people's family members died, and they cannot be brought back," Tetiana says.
Two weeks after the missile attack, when Serhiy was finally allowed to leave the front for Dnipro, he stayed at his family's place. Now the family has applied for aid, hoping that it will arrive so they can buy accommodation for him.
You can support Tetiana's family here: UA933220010000026202330769892. TIN: 2931703887. Recipient: Носенко Тетяна Миколаївна. Bank address: АТ "УНІВЕРСАЛ БАНК" Телефон: 0 800 205 205 Адреса: 04082, м. Київ, вул. Автозаводська, 54/19 Ліцензія НБУ на право надання банківських послуг №92 від 20.01.1994 р.
"Mom, don't cry. Everything will be alright"
Three windows of Vlada's flat face a courtyard, while another in the biggest room faces the road, the direction where the Russian missile came from. Anastasiya returned home shortly before the explosion, after helping injured soldiers in the hospital as a volunteer. She was having lunch in the kitchen when she heard the explosion. "It was not loud," Anastasiya says. "At least, that's how it seemed to me."
At that time, her daughter and husband were in the room facing the road. The glass from balcony windows flew over the head of Anastasiya's husband and split their daughter's forehead.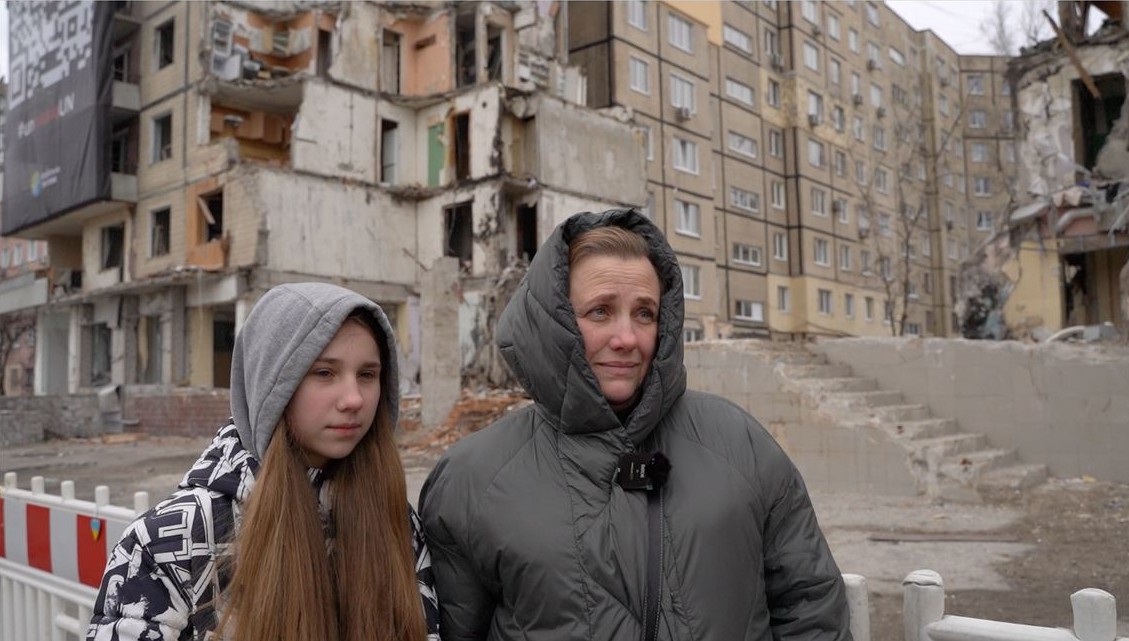 "I am bleeding," the little one said. First, Nastia felt pain and covered her forehead with her hands. The worried parents grabbed her in their arms and went straight to the hospital. "We did not even know that it was our building that had been hit," Anastasiya says. "And just as we were coming out of the driveway, I saw from the corner of my eye that it was our house." Nastia adds they were driving as fast as they could, "Thankfully, everyone let us through."
"Nastia is a fighter," her mother comments. "Dad and I were far more stressed. And she said, 'I'll do it myself, I'll do everything.' She could not see where she was going. 'Mom, don't cry. Everything will be fine,' she said to me."
"And when medics brought out our goddaughter [who lived in the same building], crushed by a concrete block, we realized how lucky we were. She's nine years old and she's still in the hospital, still in the Elizarov device. And no one knows how much longer it will continue, sadly."
For the next four days, the family stayed in the hospital. "We didn't hear any screaming; we didn't see the damage being dealt with. God saved us from that. Because otherwise, I don't know how we could come back here. After you've been through all that, I don't know how much pain is in the heart to come back here."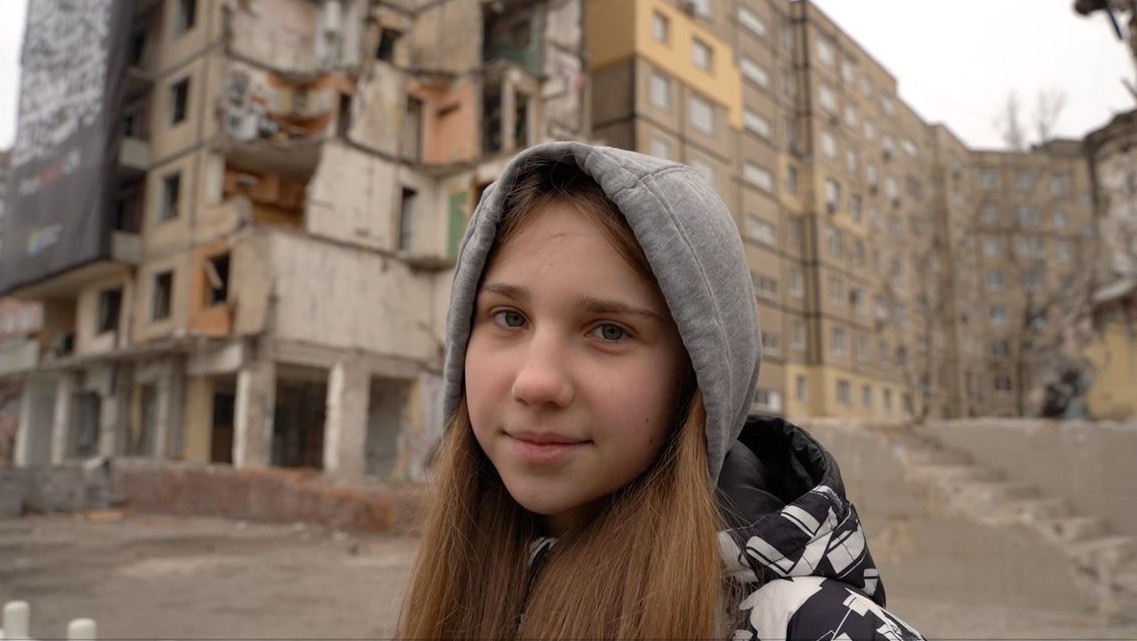 Volunteers gave the family an apartment to live in for two months. Because there is not much smoke in the block where they live, they can go home soon. "But I don't have the strength for that yet," Anastasiya admits. "Hopefully, when it gets warmer, we'll be able to move out to our cottage outside the city. For now, we don't have the courage to come here and live here, knowing that this has happened here, unfortunately."
Anastasiya says that on the night of the explosion, she realized that all the horrors that could happen to her – had already happened. "Now I understand that this is our life," the woman adds. "Although we have been living in this horror for a year now, this is our life now, and we have to keep living. We have no other choice. The guys over there [on the front line] have it much harder. Yesterday, I showed my daughter a video of them driving back from the front line in a car. They were completely covered in dirt and mud. It's terrifying. I've been with them for a year now [volunteering in a hospital], and I watch over them. These are young guys who have their whole lives ahead of them and haven't done anything yet. They have to do something good. And now they're sacrificing themselves so we can sleep in our beds."
You can support Vlada's family here:
IBAN
UA213052990000026209908791055.
Account
26209908791055. Bank: 305299, PrivatBank. Recipient: Samarina Volodymyra Viktorivna
Related:
[editorial]Russia's attack on a residential building in Dnipro, in January, killed 46 people and destroyed dozens of flats, having become the war's deadliest missile strike. Two months later, the survivors of Building 118 still cope with physical and psychological wounds.[/editorial]