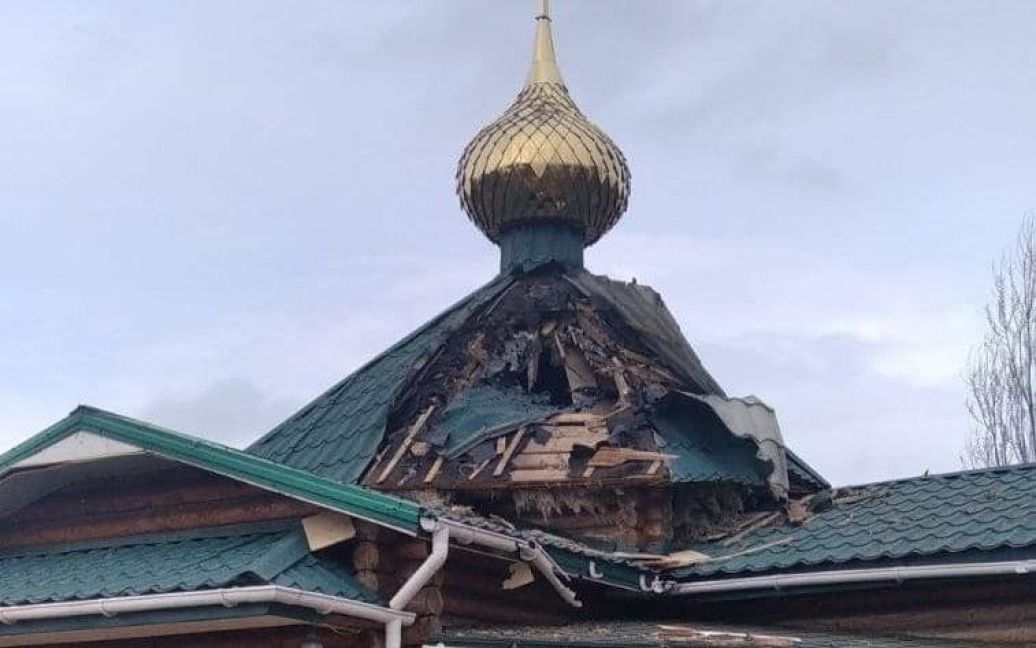 Church in Rubizhne, Luhansk Oblast, after Russian bombardment during which two priests were injured. 4 April 2022.
Photo: TSN/Serhyy Haidai 
Editor's Note
In its April 9 special edition
Russian campaign assessment
, the US-based think tank Institute for the Study of War (ISW) discusses Russia's religious repressions throughout occupied Ukraine since the start of the full-scale Russian invasion of Ukraine more than a year ago.
ISW notes:
"Russia continues to weaponize religion in an effort to discredit Ukraine in the international arena and is using information operations about religion to advance military objectives despite itself committing gross violations of religious freedom in occupied Ukraine."
Russia may use the upcoming Orthodox Easter holiday on 16 April "in an effort to delay Ukrainian counteroffensives by calling for a ceasefire out of respect for the Orthodox religion despite the fact that Russia has shown no such respect for religion in areas its forces occupy."
"Russian religious persecutions are likely also part of an ongoing Russian cultural genocide and ethnic cleansing campaign aimed at extirpating the idea of an independent Ukrainian nationality or Ukrainian Orthodox Church."
The report specifically does not include all 494 religious buildings that the Russian military reportedly wholly destroyed, damaged, or looted, according to the independent Kyiv-based Institute for Religious Freedom as of February 2023 "because ISW cannot assess intentionality in all those cases."
Here are the key highlights of the report:
Russian occupation authorities are likely conducting a campaign of systematic religious persecution in occupied Ukraine.  Since Russia's full-scale invasion of Ukraine in February 2022 Russian soldiers or occupations authorities have reportedly committed at least 76 acts of religious persecution in Ukraine. Russian authorities have closed, nationalized, or forcefully converted at least 26 places of worship to the Kremlin-controlled Russian Orthodox Church of the Moscow Patriarchate, killed or seized at least 29 clergy or religious leaders, and looted, desecrated, or deliberately destroyed at least 13 places of worship in occupied Ukraine. These cases of religious repression are not likely isolated incidents but rather part of a deliberate campaign to systematically eradicate "undesirable" religious organizations in Ukraine and promote the Moscow Patriarchate.
Russian authorities systematically repress religious liberty in Russia as a matter of state policy.
Russia is exporting its state policies of systematic religious persecution to Russian-occupied Ukraine. 
Russian occupation officials have been repressing Ukrainian religious communities in proxy republics in eastern Ukraine and in illegally occupied Crimea since 2014.
Moscow's religious persecution campaign seeks to eradicate the Autocephalous (independent) Orthodox Church of Ukraine (OCU), which Moscow views as schismatic despite the decision by the Ecumenical Patriarch of Constantinople in 2019 granting the Ukrainian Orthodox Church its independence from the Moscow Patriarchate.
Russian occupation forces have also targeted other denominations that are distinctly culturally Ukrainian.
Russia's campaign also represses Ukraine's Protestant minority. Available open-source reporting indicates that the most common victims of Russian religious persecution after Ukrainian Orthodox are Protestants, particularly evangelical Baptists. Protestants of all denominations were the victims of 34 percent of the reported persecution events that ISW observed. Baptists made up 13% of victims – the largest single group after Ukrainian Orthodox.
Witness reports indicate that Russian soldiers' conduct towards Protestants in occupied Ukraine is brutal.
Russia's systematic religious persecution supports a larger Russian campaign of cultural genocide against Ukraine.
The Kremlin continues an information operation aimed at falsely portraying Russia as a religiously tolerant state while deliberately repressing religious freedoms in Ukraine.
 The Kremlin continues to use long-standing false narratives that the Ukrainian government is oppressing religious liberties as a moral justification for its refusal to negotiate with Ukraine, likely in the hopes of turning international public opinion against Ukraine.
The UOC MP is not an independent religious organization but rather an extension of the Russian state and an instrument of Russian hybrid warfare. The UOC MP is the Kremlin-controlled Russian Orthodox Church's subordinate element in Ukraine.
Russia will continue to weaponize the UOC MP and religion to incite social tensions in Ukraine and influence battlefield realities.
The Kremlin may call for a ceasefire around Orthodox Easter on April 16, as it did for Orthodox Christmas in January 2023.
Supporters of international religious liberty should support Ukraine's efforts to liberate its territories. Religious freedom in Ukraine – especially the freedom of religious minorities – is far better defended in Ukrainian-controlled territories than in Russia or Russian-occupied Ukrainian lands.
Read also:
Tags: Religion, Russian aggression