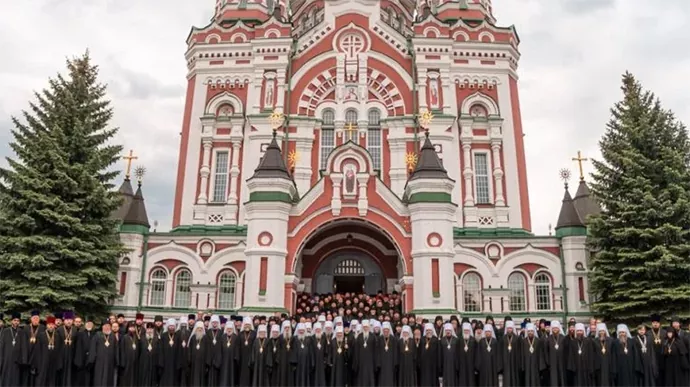 A conference of the Ukrainian Orthodox Church of the Moscow Patriarchate on 27 May 2022 in Kyiv claimed to have severed ties with the Russian Orthodox Church. Photo: UOC MP 
In a major change from the past, religious expert Roman Lunkin
says
, the Kremlin's new Foreign Policy Concept paper makes "Orthodoxy part of Russian foreign policy," although he says that the new document is silent on how Moscow will realize this or prevent the government's involvement from backfiring, especially in the West.
The revised Foreign Policy Concept paper the Kremlin released this week has declared that the defense of the Moscow Patriarchate abroad, "including in the interests of security the unity of Orthodoxy" and of the traditional values it and the three other traditional faiths of Russia, Islam, Judaism, and Buddhism key features of Moscow's foreign policy agenda.
Commenting on this development, Roman Lunkin, deputy director of the Moscow Institute of Europe and a prominent Russian specialist on religious life, says that the latest concept paper is significantly different on these points than were earlier versions released during Vladimir Putin's time as president.
Putin's Patriarch Kirill spied for USSR in 1970s Switzerland – Swiss media
In the 2000 text, Lunkin notes, religion wasn't mentioned at all. In 2008, it was mentioned in the context of the Putin-orchestrated union of the ROC MP and the Russian Orthodox Church Abroad. But in the text issued in 2016, there again was no word about the ROC MP, and instead the focus was on combatting extremism.
The language of the current text means that "Orthodoxy has become part of foreign policy," Lunkin says.
What is unclear is just what this will mean or whether the ROC MP will benefit. If the Russian state gives the ROC MP support abroad, that may help in some countries, but in the West, it will simply reinforce the view that the ROC MP is Moscow's agent in place.
Moscow Patriarchate's war in the Kyiv-Pechersk Lavra: church turmoil in Ukraine, explained
In reporting Lunkin's observations, Andrey Melnikov, editor of NG-Religii, points out that the latest concept paper's defense of traditionalism is not new but one aspect of Moscow's view about it is. The Russian government apparently has no plans to use churches to reach out to conservatives in the US, where they are strong but will do so in Europe, where they aren't.
Read also:
Tags: Moscow Patriarchate, Orthodox, Russian Orthodox Church