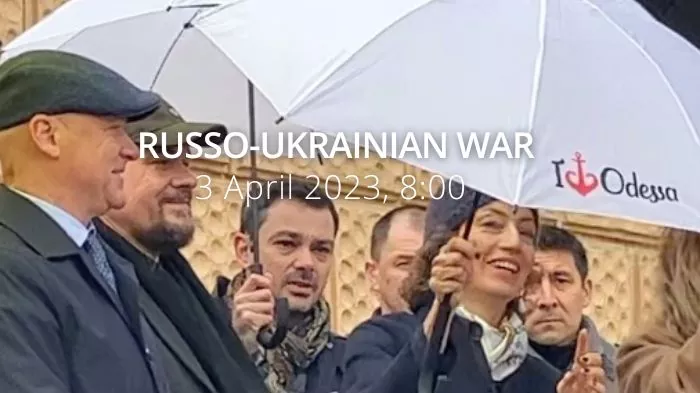 Ukrainian air defense downs 14 out 17 Russia's Iranian-made Shahed-series drones over Odesa overnight. Next morning, UNESCO Director-General visits Odesa. Hundreds of houses flooded in Kramatorsk due to destroyed gateway. Finland joins NATO.
#Odesa Mayor Trukhanov, #UNESCO Director-General Azoulay opened a memorial plaque dedicated to the inclusion of the historical center of Odesa in the UNESCO World Heritage List.

Overnight, Ukrainian air defense destroyed 14 out of 17 drones over the Odesa region. https://t.co/YWNaONjr1p

— Euromaidan Press (@EuromaidanPress) April 4, 2023
Daily overview — Summary report, April 5
A map of the approximate situation on the ground in Ukraine as of 00:00 UTC 05/04/23. pic.twitter.com/8Ocp1t7sMF

— War Mapper (@War_Mapper) April 5, 2023
The General Staff's operational update regarding the Russian invasion as of 18.00 pm, April 5, 2023 is in the dropdown menu below:
During the past day, Russian forces launched 3 missiles and 47 air strikes, that inter alia involved 17 "Shahed-136"-type UAVs. 14 of them were intercepted by our defenders. Moreover, Russian forces conducted 42 MLRS attacks. The attacks caused casualties among the civilian population.
The probability of missile and air strikes remains high across Ukraine, while Russia continues to use terror tactics.
Russian forces focus their main efforts on offensive actions on Lyman, Bakhmut, Avdiivka, and Maryinka axes, where more than 60 enemy attacks were repelled by the Ukrainian Defense Forces during the day. Bakhmut and Maryinka remain at the epicentre of the hostilities.
Volyn', Polissya, Sivershchyna and Slobozhanshchyna axes: the operational situation has not changed significantly; there are no signs of formations of enemy offensive groupings. Certain units of the Armed Forces of the Republic of Belarus continue to perform tasks in the areas bordering Ukraine. The Russian Federation will continue to use the airspace, territory, and military infrastructure of the Republic of Belarus. Russian maintains a military presence in the border areas of its Kursk and Belgorod oblasts. During the day, Russian occupiers shelled Leonivka (Chernihiv oblast); Seredyna-Buda, Bachivsk, Volfyne, Zapsilya, and Myropyllya (Sumy oblast); as well as Veterynarne, Strilecha, Pishchane, Ohirtseve, Vovchansk, Rublene, Dvorichanske, and Topoli (Kharkiv oblast).
Kupyansk axis: Masyutivka, Kupyansk, Kam'yanka, and Pershotravneve (Kharkiv oblast); Novoselivs'ke and Krokhmalne (Luhansk oblast) came under enemy fire.
Lyman axis: during the day, Russian forces conducted unsuccessful offensive actions in the areas south of Kreminnaya and south of Spirne (Donetsk oblast). More than 20 settlements, including Stelmakhivka, Tors'ke, Sivers'k, Rozdolivka, and Spirne (Donetsk oblast) were subject to artillery attacks.
Bakhmut axis: Russian forces makes further attempts to seize the town of Bakhmut. The occupiers carried out unsuccessful offensive actions in the vicinities of Bohdanivka (Donetsk oblast). During the day, Ukrainian Defense Forces repelled about 30x attacks. More than 15 settlements, including Vasyukivka, Minkivka, Orihovo-Vasylivka, Novomarkovo, Bakhmut, Chasiv Yar, Hryhorivka, Ivanovs'ke, Severne, and Shumy (Donetsk oblast) suffered enemy attacks.
A timelapse of the Russian advances inside Bakhmut over the past month. pic.twitter.com/4OYBYcl99N

— War Mapper (@War_Mapper) April 5, 2023
Avdiivka and Maryinka axes: Russian forces carried out unsuccessful offensive actions in the vicinities of Novokalynove, Severne, Pervomaiske, and Maryinka (Donetsk oblast). At the same time, Russian forces shelled Novobakhmutivka, Novokalynove, Avdiivka, Vodyane, Pervomaiske, Krasnohorivka, Heorgiivka, and Maryinka.
Shakhtarske axis: Russian forces stays on the defensive. Russian forces made active use of UAVs to adjust artillery fire. They shelled Pobieda, Novomykhailivka, Vuhledar, Prechistivka, and Velika Novosilka (Donetsk oblast).
Zaporizhzhia and Kherson axes: Russian forces continue to build up their defensive Russian forces shelled more than 30 settlements, including Novodanylivka, Orihiv, Shcherbaki, and Mali Shcherbaki (Zaporizhzhia oblast); Kachkarivka, Zmiivka, Kozats'ke, Mykolaivka, Ivanivka, and Dniprovs'ke (Kherson oblast); as well as the city of Kherson.
Russian occupiers continue to exert psychological pressure on local population of Melitopol (Zaporizhzhia oblast) through the distribution of leaflets calling for them to be evacuated to Russia. Russian forces intimidate people with the alleged offensive of the Armed Forces of Ukraine.
Velyka Kardashivka (Kherson oblast), due to the movement of heavy equipment of the occupiers around the settlement, the entry and exit of all local residents are almost completely restricted, and people are forbidden to leave their homes. Verification of documents and mobile phones has been strengthened.
[The Russian occupiers continue to steal from civilian citizens of the temporarily occupied territories, appropriating their private houses. For example, the so-called occupation "authorities" of Starobil's'k town (Luhansk oblast) use public service workers to move Russian militaries into apartments and houses temporarily abandoned by the Ukrainian citizens. This happens under the guise of preventive inspections of utility meter readings by utility companies.]
[Also, cases of civilians being taken away to unknown destinations without no explanation after random checks of their mobile phones have become more frequent.]
During the day, Ukrainian Air Force launched 9 air strikes on the concentrations of Russian troops and military equipment. Ukrainian Defense Forces shot down 1 "Cube" high-precision UAV.
Ukrainian missile and artillery troops attacked 3 command posts, 2 concentrations of Russian troops, 2 BM-21 "Grad" MLRS, and 1 Russian electronic warfare station.
Military Updates
Ukrainian attacks on supply lines have already constrained Russian offensive operations, says Tavria front spox. Russians can't open a fifth front because logistics are already strained, and they are forced to take equipment out of Mariupol after strikeshttps://t.co/6pRtVuO3nF

— Euromaidan Press (@EuromaidanPress) April 5, 2023
Ammunition shortage of Wagner Group quickly ends, Russians redouble attacks on Bakhmut, Ukrainska Pravda reports, citing Ukraine's Special Operations Forces (SOF). "Russian forces had enough problems with ammunition, the head of Wagner was saying that they had no ammunition, so they could not continue their assaults. This was a great moment for us to raid and ambush their units. But it all ended quickly, ammunition was delivered to them, and artillery and airstrikes became twice as strong now."
According to the soldier of the SOF, Russian artillery works non-stop: the shelling does not stop for a second. Drones (Russian Orlan), which track the movement of Ukrainian troops, also fly overhead, and the occupiers launch an air or artillery attack there immediately after [they spot the troops].
The occupiers are sending entire assault units to the city of Bakhmut itself. Russians suffer great losses, but new forces rush into battle to replace those killed, sometimes even during the battle. That is, the invaders use their own "as stepping stones".
According to Sokil, the Wagnerites use hard drugs or some other stimulants, because, despite the landing of shells from several tens of metres away during battles, they go into battle without even ducking. There were cases when they stormed even without weapons, they simply tried to overpower with sheer numbers, Sokil describes the events.
According to the soldier, one should not underestimate Russians, who also have their own "motivation", planted by powerful Russian propaganda – the destruction of Ukraine. […] The special officer notes that the situation in Bakhmut is currently the most difficult."
Last night, 17 Russia's Iranian-made Shahed-series drones targeted Odesa, Ukrainian air defenses downed 14 of them – Air Force Command, Operational Command South

One hit an industrial facility in the city starting a fire.https://t.co/Q9i7VAMKmt

— Euromaidan Press (@EuromaidanPress) April 4, 2023
Line of active hostilities in Ukraine is over 1,200 km long, Ukrinform reports, citing President Zelensky. "The line of active hostilities in Ukraine now is more than 1,200 kilometers long. It's like from Washington, D.C., to Chicago and back! The total frontline is even more than that, Zelensky told.
According to the President of Ukraine, the Kremlin dreams of humiliating America and Europe, and the whole free world, as well as of splitting NATO and provoking a conflict that will force the American nation to choose whether to fight or not. […]The Head of State noted that Ukraine is capable of preventing the expansion of the war and defeating Russia."
Russia deploys six missile carriers in the Black Sea – OC South, Ukrinform reports, citing Operational Command South. "Amid enemy aircraft activity in the southeastern sector, the naval group in the Black Sea grew to 15 warships, including as many as 6 missile carriers, 2 of which are submarines, which may indicate an extremely high threat of a missile strike, the report says.
The operational command specified that the total volley of Kalibr missiles can reach 40. The operational command also added that although it is quite likely that not all missile carriers are equipped, air raid sirens should not be ignored."
https://twitter.com/EuromaidanPress/status/1643350476623159296
According to British Defence Intelligence, (last 48 hours): 
https://twitter.com/DefenceHQ/status/1643537322535706624
On the 28th March 2023, Russian Prime Minister Mikhail Mishustin said that a move to issuing some of Russia's sovereign debt in foreign currencies was 'under development'. The move is almost certainly an indication that Russia anticipates external financial support from foreign states it deems 'friendly'.
Once the development is completed, investors from other countries will be able to purchase Russia's sovereign debt and therefore finance some of Russia's future budget shortfalls. Such investors would be indirectly financing Russia's invasion of Ukraine.
In recent months, Russia's own banks have been the main entities purchasing Russian state debt. However, they are unlikely to have the capacity to fully fund anticipated future budget deficits. Russian officials likely see external debt issuance as one way to plug gaps in Russia's finances as they plan for a long war in Ukraine. However, it remains unclear whether Russia will succeed in implementing the measures.
Russia is likely seeking to sponsor and develop alternative private military companies (PMCs) to eventually replace the Wagner Group PMC in its significant combat role in Ukraine.
This takes place in the context of the high-profile feud between the Russian Ministry of Defence and Wagner Group. Russia's military leadership likely wants a replacement PMC that it has more control over. However, no other known Russian PMC currently approaches Wagner's size or combat power.
Russia likely sees continued utility for PMCs in Ukraine because they are less constrained by the limited pay levels and inefficiency which hamper the effectiveness of the regular army. Russia's leadership probably believe heavy casualties amongst PMCs will be better tolerated by Russian society compared to regular military losses.
Losses of the Russian army 
As of Wednesday 5 April, the approximate losses of weapons and military equipment of the Russian Armed Forces from the beginning of the invasion to the present day:
Personnel – about 176240 (+550)
Tanks – 3629 (+2)
Armoured combat vehicles – 7005 (+6)
Artillery systems – 2707 (+10)
Multiple rocket launchers –MLRS – 532 (+4)
Air defence means – 280 (+0)
Aircraft – 306 (+0)
Helicopters – 291 (+0)
Automotive technology and fuel tanks – 5573 (+11)
Vessels/boats – 18 (+0)
UAV operational and tactical level – 2283 (+6)
Special equipment – 299 (+1)
Mobile SRBM system – 4 (+0)
Cruise missiles – 911 (+0)
Humanitarian 
Almost 1,900 Ukrainian settlements need reconstruction, Ukrinform reports, citing President Zelensky. "Almost 1,900 Ukrainian cities and villages need reconstruction due to Russian armed aggression. Schools and churches, residential buildings and enterprises, transport and power plants… […] In his words, Ukraine's reconstruction will be the largest economic project in Europe in lifetime of several generations. […]
Millions of Ukrainian families are now torn by the war, millions are forced to seek protection from Russian terror in other countries. Hundreds of Ukrainian cities and villages have been burned by Russian artillery, missiles, aircraft and Iranian drones used by Russia. […]
The President of Ukraine stressed that thousands of fields had been mined in the country, a significant portion of economy had been broken, and thousands of people had been forcibly deported to Russia."
Hundreds of houses flooded in Kramatorsk due to destroyed gateway, water rising, Ukrainska Pravda reports, citing Pavlo Kyrylenko, Head of the Donetsk Oblast Military Administration. "A sluice gate on a pond in the city of Kramatorsk in Donetsk Oblast has been partially destroyed, which resulted in an uncontrolled release of water. Nearly 260 private houses on 30 streets were flooded. The water level is still rising.
Rescue workers from the State Emergency Service of Ukraine are working on site, same as the members of profile departments of the Donetsk Oblast State Military Administration and the Kramatorsk City Military Administration."
Shelling of Donetsk region: 6 civilians killed, 7 more injured, Ukrinform reports, citing a statement from the Prosecutor General's Office. "On April 4, Russian forces shelled populated areas in the north of Donetsk region with missiles, artillery and Grad multiple launch rocket systems, killing six civilians and injuring seven more.
Residential quarters were the epicenter of Russian strikes. During the attacks, two mine workers in Toretsk were killed: a mine dispatcher and a nurse. A shop assistant was killed in Krasnohorivka, and three men were killed in Lastochkyne village, Pokrovsk district.
During the shelling of Bakhmut, Hirnyk and the village of Ocheretyne, seven civilians received injuries of varying degrees of severity. Blast waves and projectile fragments damaged an administrative building, apartment blocks, private residential houses, and farm buildings."
Canadian Red Cross transfers more than $220M to support Ukraine, Ukrinform reports. "The Canadian Red Cross has already transferred more than $220 million to support Ukraine and will continue to provide assistance."
Environmental
https://twitter.com/EuromaidanPress/status/1643360291349233665
Nuclear and radiation safety threats, as reported by EcoZagroza. "On March 25, the Russian dictator announced that the construction of a storage facility for Russian tactical nuclear weapons would be completed in Belarus by July 1. In response to this announcement, the German Ministry of Foreign Affairs stated that Russia was using nuclear intimidation and reminded about the international obligations of Belarus under several declarations to be a nuclear-weapon-free zone. Ukraine demands that the UN Security Council be convened in connection with Russia's intentions to place tactical nuclear weapons in Belarus.
Since the start of the full-scale war, the terrorist country has made Ukrainian civilian nuclear facilities the central target of its military strategy. Jennifer Granholm, the US Secretary of Energy, reminded in a column for The Hill about the outrageous actions of Russian occupiers against Ukrainian nuclear facilities and called for more resolute action against Russian terrorism.
Over the past year, Russia has launched a campaign that grossly disregards the basic principles of nuclear security. Such unlawful and reckless behavior of the occupiers requires the attention of the whole world and our actions.
Russia seized and later looted the Chornobyl nuclear power plant, and then used the site as a foothold for its attempt to capture Kyiv. In addition, the aggressors attacked the Kharkiv Institute of Physics and Technology. In September 2022, a Russian missile damaged the buildings of the South Ukrainian nuclear power plant.
On March 29, Rafael Grossi, the Director General of the International Atomic Energy Agency, arrived at the Zaporizhzhia Nuclear Power Plant. This is the second visit by the head of the IAEA to the largest nuclear plant in Europe since it was occupied by Russian forces. The visit lasted several hours. Rafael Grossi returned to the territory under Ukraine's control with experts from the Agency's Permanent Mission, who had been stationed at the Zaporizhzhia plant until the current rotation. Other representatives of the IAEA will continue to monitor the situation at the nuclear facility."
Ukraine has already received €15M from donor countries to restore Chornobyl zone, Ukrinform reports. "Ukraine has received EUR 15 million from donors for the reconstruction of the Chornobyl zone, and a total of EUR 225 million is expected to arrive from international partners. […]
The official clarified that the restoration plan consisted of nine points, it was designed for EUR 225 million, although the damage from the occupation was about EUR 100 million. It is about not only restoring normal functioning, but also improving the operation of the Chornobyl Nuclear Power Plant and creating a scientific hub in the territory of the exclusion zone.
The plan also provides for mine clearance operations in the entire territory, restoration of computer and office equipment, infrastructure and equipment for handling radioactive materials.
According to the head of the State Agency of Ukraine on Exclusion Zone Management, as of today, it was possible to obtain EUR 15 million for these purposes. The European Commission, the EBRD, the US Department of Energy, Norway, Great Britain, and Germany are among the main donors."
Legal 
11-year sentence for free thinking and civic activism in #Russia 'political reprisals against the entire #CrimeanTatar people' in occupied #Crimea #Ukraine #Vadim_Bektemirov #LetMyPeopleGo #StandWithUkraine #StopRussiahttps://t.co/B7A03U3LzO pic.twitter.com/oXEeZlF8FJ

— Euromaidan Press (@EuromaidanPress) April 4, 2023
Russian colonel and 2 soldiers raped a Ukrainian woman in Kharkiv Oblast, Ukrainska Pravda reports, citing the Security Service of Ukraine; Kharkiv Oblast Prosecutor's Office, and Dumka.media. "Ukrainian law enforcement has identified three members of the Russian military who raped a young Ukrainian woman during the occupation of Kharkiv Oblast in 2022. One of them is a colonel, one a junior sergeant, and one a private. The three of them were served suspicion notices in absentia. […]
Ukraine's Security Service conducted an investigation and identified the three Russian occupiers who committed the gang rape: all of them were members of the 99th Artillery Regiment of the Russian Armed Forces.
According to the evidence obtained by the Security Service, the three perpetrators were served notices of suspicion under Art 28.2 and Art 438.1 of the Criminal Code of Ukraine (violation of the laws and customs of war committed by a conspiring group of persons)."
U.N. rights body extends Ukraine inquiry into crimes since Russia's invasion, Reuters reports. "The United Nations Human Rights Council overwhelmingly voted in favour on Tuesday of extending the mandate of an investigative body probing possible war crimes committed since Russia's invasion of Ukraine. […] The scope and brutality of Russia's atrocities in Ukraine are simply beyond any human comprehension, Ukraine's ambassador to the United Nations in Geneva, Yevheniia Filipenko, told the Council ahead of the vote. We strongly believe that the continued work of the Commission in further investigating, documenting and reporting human rights violations and international crimes committed against the people in Ukraine could save more innocent lives (and) could contribute to accountability for perpetrators and justice for victims.
In a report published last month, the commission found that crimes committed by Russian forces in Ukraine, including the use of torture and attacks against the country's energy infrastructure, could constitute crimes against humanity. Russia, which refused to address the Human Rights Council on Tuesday, vigorously denies committing atrocities or targeting civilians in Ukraine.
China, a Russian ally, voted against the initiative, which was backed by more than 50 states. South Africa abstained, saying the initiative could drive a "deeper wedge" between the sides. Still, observers said the number of favourable votes – just four fewer than at the inquiry's creation in March 2022 – was promising, more than a year into the war. Only two countries opposed this which is quite remarkable, said Olaf Wientzek, director of the Geneva office of the German Konrad Adenauer Foundation think tank.
The commission found that some 16,000 children have been unlawfully transferred and deported from Ukraine, citing a Ukrainian government figure. Russia denies the accusation, arguing it has evacuated people voluntarily from Ukraine. Putin's war has caused dire humanitarian consequences in Ukraine, throughout Europe and around the world, and the forcible transfer and deportation of Ukraine's children is truly sickening, US Permanent Representative to council, Michèle Taylor, said. Germany's ambassador Katharina Stasch called the deportations an attempt to steal Ukraine's future."
Support
Ukraine needs F-16s due to Russia's aerial superiority – Air Force spox, Ukrinform reports, citing Yuriy Ihnat, the spokesman for the Ukrainian Air Force. "Russia outnumbers us […] by five to six times. This is the grouping that today is located at those 40 airfields around Ukraine and in occupied Crimea alone. In addition, technologically, they are several times better. They carried out deep modernization of the Su-27 aircraft, today it is the Su-30, and there is also a Su-35 variant, as well as a Su-34 fighter-bomber, and what these aircraft fire off is a new threat," Ihnat said, adding that the Russian Federation launches about 10 guided aerial bombs over Ukraine almost every day, without entering the zone protected by Ukraine's air defenses. […]
Ukraine desperately needs F-16s, which have undergone several stages of modernization, spokesman emphasized. The F-16, which is the same age as the MiG-29, has undergone several stages of deep modernization. This includes the replacement of its main equipment: it is an on-board radar that can see far and a wide range of weapons – cruise missiles, guided air missiles capable of hitting air, ground, and water surface targets – everything is there in the F-16 aircraft. That is why we need such a multi-purpose warplane. The MiG-29, which is handed over to us by our partners, doesn't have this. There, a small modernization of the communication system, navigation system, friend-or-foe system, and that's pretty much it. But we do understand that this is the first step, and we thank our partners for such support, spokesman emphasized.
Commenting on the issue of training for Ukrainian pilots, he said that some pilots had already completed training on F-16s, but the preparation of technical documentation and engineers who would service the F-16 is no less important. The adaptation of the infrastructure of Ukrainian airfields is also critical, Ihnat said."
NATO countries to discuss readiness of Ukrainian pilots to operate F-16 jets, Ukrinform reports. "Ukrainian Foreign Affairs Minister Dmytro Kuleba has been assured by partners that NATO countries will discuss the readiness of Ukrainian pilots to operate the F-16 fighter jets. […]
In particular, the head of Ukrainian diplomacy raised the issue of delivering the F-16 fighter jets to Ukraine at some bilateral meetings in Brussels. According to Kuleba, the Ukrainian side dispelled some arguments of those claiming that providing Western aircraft to Ukraine would be too long, too difficult and nearly impossible from a practical point of view.
Kuleba mentioned that the information he had provided about Ukraine's readiness to operate the F-16 fighter jets, which is much higher than some believe, would be discussed with the political leadership of NATO countries. The head of Ukrainian diplomacy expressed confidence that a decision on providing Western fighter jets to Ukraine will be endorsed, but it is a matter of time."
Kuleba on results of NATO-Ukraine Commission: AFU to receive everything needed for counteroffensive, Ukrinform reports. "At a meeting of the NATO-Ukraine Commission, partners agreed to increase financing for Ukraine's projects and speed up the supply of certain weapons. The relevant statement was made by Ukrainian Foreign Affairs Minister Dmytro Kuleba at a briefing, following the meeting of the NATO-Ukraine Commission in Brussels.
According to Kuleba, there is absolutely no weariness that some media outlets predict from time to time. Today, there have been clear not only words of support, but also the announcements of new commitments, Kuleba noted."
US allocates $2.6 billion in military aid to Ukraine, Ukrainska Pravda reports, citing European Pravda. "The US Department of Defence on Tuesday announced another package of military aid to Ukraine worth of US$2.6 billion.
The package consists of two parts: the first, worth of US$2.1 billion, is funded by the Ukraine Security Assistance Initiative, under which weapons are ordered from manufacturers, rather than taken from the stockpiles of the US Armed Forces. These funds will finance additional ammunition for NASAMS systems, nine 30-mm anti-drone guns, 10 C-UAS laser-guided mobile missile systems, three air surveillance radar stations, 30-mm and 23-mm anti-aircraft munitions, 130-mm and 122-mm artillery shells, 122-mm rockets for Grad systems, multiple launcher rocket systems and ammunition for them, 120-mm and 81-mm mortar systems and mortar bombs for them, as well as 120-mm tank ammunition.
Also provided are Javelin anti-tank systems, high-precision aviation munitions, approximately 3,600 small arms and more than 23 million rounds of ammunition, seven tactical vehicles for the evacuation of equipment, eight heavy fuel tankers and 105 fuel trailers, armoured bridge systems, four logistics vehicles, trucks, and ten trailers for the transportation of heavy equipment, means of secure communication, including satellite, as well as training and funds for the maintenance of the mentioned equipment.
The remaining $500 million, which is primarily for munitions, will come under the President's Arms Reduction Initiative, which allows the US leader to transfer weapons from the US stockpile in emergencies. Within this package, Ukraine will receive additional ammunition for Patriot anti-aircraft missile systems and HIMARS systems, 155-mm and 105-mm artillery shells, 120-mm mortar bombs, 120-mm and 105-mm tank ammunition, 25-mm ammunition, heavy TOW anti-tank guided missiles, approximately 400 grenade launchers and 200,000 rounds for them. In addition, these funds will fund 11 tactical equipment evacuation vehicles, 61 heavy fuel tankers, 10 heavy equipment trucks and 10 trailers, vehicle maintenance and repair support equipment, as well as spare parts and other field equipment."
Norway and Denmark to deliver 8,000 artillery shells to Ukraine, Ukrinform reports. "The governments of Norway and Denmark agreed together to provide Ukraine with 8,000 artillery shells. Oslo will send 155-mm artillery shells and Copenhagen will provide appropriate fuses."
Western Allies to plan assistance to Ukraine for a longer period of time, Ukrinform reports. "Since the beginning of the year, Ukraine has received fewer new promises, with some exceptions, to supply arms, but the commitments become more long-term. This is revealed from a new Ukraine Support Tracker study prepared by the Kiel Institute of World Economics, Ukrinform reports.
Compared to December 2022, there has been an overall decrease in the amount of new aid pledged to Ukraine. During the new period covered by the study, from January 16 to February 24, 2023, Ukraine received €12.96 billion, with a significant majority of these funds coming from just a few donors. For example, Japan and the Scandinavian countries promised to provide significant support to Ukraine in early 2023. The most notable are the Scandinavian countries: Norway (€1.11 billion, an increase of 90%), Sweden (€0.33 billion, plus 41%), Denmark (€0.24 billion, plus 33%), and Finland (€0.56 billion, plus 165%). Japan has pledged significant new financial assistance worth €5.1 billion in loans, and the Netherlands has pledged €2.5 billion, earmarked, among other things, for a new Patriot system for Ukraine.
A new trend in aid to Ukraine is the adoption of "longer planning horizons." Previously, aid commitments were short-term and difficult to predict. Only the United States made commitments for an entire fiscal year. Now other countries, such as the United Kingdom and the Netherlands, follow this model, pledging the same amount of aid in 2023 as in 2022. Norway has even announced a multi-year program to support Ukraine with financial and military assistance worth approximately 7 billion euros over the next five years, the study concluded.
The development towards one-year or multi-year plans in the Ukraine aid is to be assessed very positively. So far there has been a tangle of individual national commitments. This greatly complicated budget and military planning in Ukraine. It is gratifying that some Western governments are now going ahead and making medium-term commitments, Christoph Trebesch, leader of the team creating the Ukraine Support Tracker and research center director at IfW Kiel said.
The Ukraine Support Tracker provides a list and quantitative assessment of military, financial and humanitarian assistance pledged to Ukraine since January 24, 2022 (currently through February 24, 2023). The analysis covers 40 countries, including the EU, and other G7 members, as well as Australia, South Korea, Norway, New Zealand, Switzerland, Türkiye, China, Taiwan, and India. In addition, the EU institutions are included as separate donors. The tracker lists government-level commitments; private donations or donations from international organizations such as the IMF are not included in the main database."
New Developments
Shoigu announced that Belarus now has access to assault aircraft and Iskander-M missile systems capable of delivering tactical nuclear strikes https://t.co/GPUoScnzDa

— Euromaidan Press (@EuromaidanPress) April 4, 2023
Russia Suspends Paying Fees to OSCE Parliamentary Assembly, European Pravda reports. "The Parliament of the Russian Federation on Monday decided to suspend paying fees to the Parliamentary Assembly of the Organisation for Security and Cooperation in Europe (OSCE). […] Back in January, the head of the Russian delegation to the OSCE PA, Pyotr Tolstoy, said that Russia was to reconsider the issue of payments to OSCE PA if their delegation was not allowed to participate in its work. From November 2022, the permanent delegation of the Verkhovna Rada of Ukraine to the OSCE Parliamentary Assembly has been boycotting the organisation's work after its Standing Committee could not change the rules in order to expel Russia. […] Last year, Ukrainian President Volodymyr Zelenskyy criticised OSCE for insufficient efforts to make Russia stop its war against Ukraine. Zelenskyy pointed out that Russia is still a member of the OSCE PA even after nine months of constant crimes."
Assessment 
https://www.understandingwar.org/backgrounder/russian-offensive-campaign-assessment-april-4-2023*
On the war. 
The Institute for the Study of War has made the following assessment as of  April 4, 2022:
Russian forces conducted limited ground attacks along the Svatove-Kreminna line on April 4. The Ukrainian General Staff reported that Russian forces conducted unsuccessful offensive operations near Kreminna, Nevske (20km northwest of Kreminna), Dibrova (5km southwest of Kreminna), and Serebrianska forest area (10km south of Kreminna). Russian milbloggers claimed on April 3 that Russian forces attacked Ukrainian positions near the Zhuravka gully (18km west of Kreminna) and that elements of the 1st Guards Tank Army (Western Military District) attacked Ukrainian positions near Kuzemivka (14km northwest of Svatove). A milblogger claimed on April 4 that Russian forces unsuccessfully attempted to advance near Nevske, Torske (14km west of Kreminna), and Bilohorivka (10km south of Kreminna). Geolocated footage published on April 4 indicated a limited Ukrainian advance northeast of Verkhnokamianske (18km south of Kreminna). Ukrainian Eastern Group of Forces Spokesperson Colonel Serhiy Cherevaty stated that Russian conventional and mobilized forces operating in the Kupyansk-Lyman direction are using more armored vehicles and act more cautiously in ground battles than Russian personnel in other sectors of the frontline. Russian forces may be attempting to conserve forces in the Kupyansk-Lyman direction ahead of an anticipated Ukrainian counteroffensive.
Russian forces continued offensive operations within Bakhmut on April 4. Geolocated footage published on April 3 indicates that Russian forces likely advanced in southern Bakhmut closer to the Avangard stadium. Russian milbloggers claimed on April 4 that Wagner forces captured the Bakhmut-1 railway station, although ISW has not observed visual confirmation of this claim. Russian sources claimed that Wagner forces completely cleared the territory of the AZOM industrial complex in northern Bakhmut, advanced in northwestern Bakhmut, and continued fighting in Bakhmut city center. A Russian milblogger claimed that Wagner fighters completely control central Bakhmut, although ISW has not observed visual confirmation of this claim, and it is unclear how the milblogger defines "central Bakhmut." Russian sources claimed that Ukrainian forces are gradually transferring personnel to the western part of Bakhmut from elsewhere in the city and that Wagner fighters are currently probing Ukrainian defenses in the city in search of the most favorable areas for future assaults. A Ukrainian withdrawal to secondary lines of defense in the city and a Wagner focus on probing attacks would likely result in a temporary decrease in Russian forces' operational tempo within Bakhmut.
Russian forces continued offensive operations around Bakhmut on April 4. Russian sources claimed that battles took place near Orikhovo-Vasylivka (11km northwest of Bakhmut), Khromove (2km west of Bakhmut), and Ivanivske (6km west of Bakhmut). A Russian source claimed that Russian forces transitioned to positional defensive tactics near Orikhovo-Vasylivka in preparation for expected Ukrainian counterattacks. A Russian milblogger claimed that recent Ukrainian counterattacks to push Wagner fighters away from Ivanivske and the T0504 have been unsuccessful. The milblogger also claimed that Russian forces conducted assaults west of Klishchiivka (6km southwest of Bakhmut) and Kurdyumivka (13km southwest of Bakhmut). The Ukrainian General Staff reported that Russian forces conducted unsuccessful offensive operations near Orikhovo-Vasylikva, Bohdanivka (6km northwest of Bakhmut), and Ivanivske. Ukrainian Eastern Grouping of Forces Spokesperson Colonel Serhiy Cherevaty reported that Russian forces conducted 32 attacks in the Bakhmut area with 26 combat clashes in Bakhmut City and its surroundings. Cherevaty also reported that Russian conventional forces are continuing to reinforce Wagner fighters in the Bakhmut area because of Wagner's extensive losses, likely in an effort to maintain Russian forces' current tempo of offensive operations in and around the city.
Russian forces continued offensive operations along the Avdiivka-Donetsk City frontline on April 4. Geolocated footage published on April 4 indicates that Russian forces made marginal gains west of Novobakhmutivka (13km northwest of Avdiivka). Russian milbloggers claimed that Russian forces attempted to advance towards Avdiivka from the southwest and east and conducted assaults near Sieverne (6km west of Avdiivka) and Pervomaiske (11km southwest of Avdiivka) as well as within Marinka (27km southwest of Avdiivka). Russian Southern Grouping of Forces Spokesperson Ivan Bigma claimed that an unspecified motorized rifle unit of the Southern Grouping of Forces repelled a Ukrainian reconnaissance-in-force operation near Marinka. The Ukrainian General Staff reported that Russian forces conducted unsuccessful assaults near Avdiivka itself, within 13km north of Avdiivka near Novokalynove and Krasnohorivka, and within 27km southwest of Avdiivka near Sieverne, Pervomaiske, and Marinka.
Ukrainian forces likely conducted a counterattack northeast of Avdiivka. Geolocated footage published on April 2 indicates that Ukrainian forces likely recaptured positions northwest of Novoselivka (17km northeast of Avdiivka) and advanced close to the settlement. It is unclear if Ukrainian forces still hold these positions or if Ukrainian forces conducted reconnaissance-in-force operations and subsequently left the area. A Russian milblogger claimed on April 3 that Ukrainian forces are preparing for counterattacks in the Avdiivka area after several unsuccessful counterattack attempts.
Russian forces did not conduct any confirmed ground attacks in western Donetsk Oblast on April 4. A Russian milblogger claimed that Russian forces resumed assault operations near Mykilske (27km southwest of Donetsk City) in an attempt to bypass Vuhledar (30km southwest of Donetsk City) from the east.
The Kremlin will likely attempt to coerce Belarus into further Union State integration when Russian President Vladimir Putin and Belarusian President Alexander Lukashenko meet in Moscow on April 5 and 6. The Kremlin announced on April 4 that Putin and Lukashenko will meet for private bilateral discussions on April 5 and attend a meeting of the Supreme State Council of the Union State in Moscow on April 6. The Kremlin stated that the Union State Supreme State Council meeting will address the implementation of the Union State Treaty through 28 different Union State programs from 2021 to 2023 —likely the package of 28 integration roadmaps that Lukashenko ratified in November 2021. The Kremlin stated that Russian and Belarusian officials also plan to agree on other unspecified "practical issues of further integration," possibly in the area of intelligence sharing, as Russian Foreign Intelligence Service (SVR) Director Sergey Naryshkin met with Lukashenko in Minsk and discussed Russian-Belarusian intelligence sharing on April 4. The Kremlin may pressure Belarus for more integration concessions under the rubric of defending the Union State from claimed Western military and/or terrorist threats.
The Kremlin continues to attempt to employ nuclear threats to deter Western military aid provisions to Ukraine ahead of Ukraine's planned counteroffensive. Russian Defense Minister Sergey Shoigu justified Russia's decision to deploy tactical nuclear weapons to Belarus by accusing NATO of intensifying combat training and reconnaissance activities near the Russian and Belarusian borders and accused the West of escalating the war in Ukraine by providing additional military aid to Ukraine on April 4. Shoigu reinforced existing Russian nuclear threats by stating that Belarus has nuclear-capable attack aircraft and nuclear strike-capable Iskander-M systems. Shoigu also stated that Belarusian missile forces began training in Russia to operate Iskander-M systems, including the use of tactical nuclear weapons, on April 3. Shoigu's statements do not present any new information on Belarusian training and are likely part of an information operation. ISW previously reported that Belarusian servicemen were training with Iskander systems in Russia as of February 2023. Shoigu's reinvigorated nuclear blackmail rhetoric coincides with Finland joining NATO and a new US aid package to Ukraine. ISW continues to assess that the risk of nuclear escalation remains extremely low and that Russian deployments of tactical nuclear weapons to Belarus are highly unlikely to affect battlefield realities in Ukraine. Russian-deployed nuclear weapons in Belarus additionally will almost certainly remain under the control of Russian personnel permanently deployed in Belarus.
Wagner Group financier Yevgeny Prigozhin's demonstrative response to the assassination of Russian milblogger Maxim Fomin (Vladlen Tatarsky) indicates Prigozhin likely believes that the attack was in part directed at himself. Prigozhin held an event on April 4 at the remnants of the restaurant where Fomin was killed by an improvised explosive device on April 2. Prigozhin claimed that he arrived at the scene from the Bakhmut frontline as quickly as he could to commemorate Fomin. Prigozhin announced that he intends to expand "Kiber Front Z"—the Wagner-affiliated ultranationalist group that held Fomin's fatal event—into a social movement that fights against external threats. Prigozhin stated that the Wagner Group has been thwarting attempts by unnamed actors to eliminate the group since 2014. Prigozhin also noted that he will offer financial compensation to the event's attendees. Prigozhin's publicly demonstrative response and vague accusations of a campaign against Wagner suggest that Prigozhin is likely attempting to indirectly frame the incident as an attack on him. Prigozhin's response also shows that he intends to continue to pursue a central position within the Russian pro-war ultranationalist community, despite the threat of violence and pushback.
The Kremlin continued efforts to (falsely) reassure the Russian public that the war in Ukraine will not have significant long-term economic consequences. Russian President Vladimir Putin visited the Tula Railway Engineering Plant and attempted to address workers' economic concerns on April 4. Putin later held a State Council Presidium meeting to discuss developing Russian industry in the face of sanctions pressure, during which he claimed that sanctions are having positive outcomes by forcing Russian firms to embrace import substitution, an argument the Kremlin has made sporadically since the 2014 annexation of Crimea. Putin suggested in both meetings that Russian industry as a whole will be able to grow like the Russian agricultural sector did following the imposition of Western sanctions in 2014. Putin has previously relied on the example of post-2014 Russian agricultural growth to assuage Russians of their economic anxieties but has yet to offer concrete proposals for how Russian industry would increase domestic production in a similar way. ISW previously assessed that the Kremlin will likely struggle to reassure Russians about their economic concerns while also setting informational conditions for a protracted war in Ukraine and mobilizing a wider portion of Russia's defense industrial base (DIB).
The Kremlin is likely trying to shift responsibility for expanding Russian industry onto regional bodies to insulate itself from possible criticism about Russia's deteriorating economic situation. Putin emphasized the need for regionally based industrial development funds to assume a greater role in supporting Russian industry and stated that the Russian government should consider refinancing regional funds for these efforts, including from federal reserve funds. Russian Finance Minister Anton Siluanov also attempted to reassure the Russian public on April 3 by stating that there will be no problems financing budget obligations and that reserves will cover falling oil and gas revenues for the federal budget. Siluanov stated that Russian officials are unlikely to replenish reserves in the National Welfare Fund in 2023. A growing Russian overreliance on funding through reserves could lead to further economic instability.
Key Takeaways 
The Kremlin will likely attempt to coerce Belarus into further Union State integration when Russian President Vladimir Putin and Belarusian President Alexander Lukashenko meet in Moscow on April 5 and 6.
The Kremlin continues to attempt to employ nuclear threats to deter Western military aid provisions to Ukraine ahead of Ukraine's planned counteroffensive.
Wagner Group financier Yevgeny Prigozhin's demonstrative response to the assassination of Russian milblogger Maxim Fomin indicates that Prigozhin likely believes that the attack was in part directed at himself.
The Kremlin continues to attempt to (falsely) reassure the Russian public that the war in Ukraine will not have significant long-term economic consequences.
The Kremlin is likely trying to shift more responsibility for growing Russian industry onto regional bodies to insulate itself from possible criticism about Russia's deteriorating economic situation.
Russian forces conducted limited ground attacks along the Svatove-Kreminna line.
Russian forces continued offensive operations in and around Bakhmut, and along the Avdiivka-Donetsk City frontline.
Russian forces continue to prepare for a rumored pending Ukrainian counteroffensive in the southern direction.
Russian Defense Minister Sergei Shoigu claimed that Russia's ongoing spring conscription cycle is going according to plan, progressing as quickly as planned, and has completed initial military registration.
Russian occupation officials denied Ukrainian reports that Russian occupation authorities are preparing evacuation plans from occupied regions of Ukraine.
Belarusian state media claimed that the Belarusian State Security Committee (KGB) reportedly arrested two men under the suspicion of attempted terrorist attacks in Grodno.
New weapons aren't enough: the challenges of Ukraine's coming assault, The New York Times reports. "With powerful Western weapons, newly formed assault units and even a reconstituted Azov battalion, Ukraine is poised for a critical spring counteroffensive. But overcoming casualties and keeping war-weary troops motivated will be stern tests. In vicious but mostly static fighting in snowy, artillery-cratered fields and ruined cities, Ukraine rebuffed a Russian offensive over the winter. Now, it is Ukraine's turn to go on the attack. […]
New Western weapons that could prove critical in assaults, like German Leopard 2 tanks and American mine-clearing vehicles, are arriving in Ukraine. Thousands of recruits are training in newly constituted units tailored for offensives. And the military command is holding back elite soldiers from the worst of the fighting in the east, in and around the city of Bakhmut, to throw them instead into the coming campaign. […] The new Ukrainian campaign, when it comes, will be a test of its army's ability to re-arm and reconstitute battalions while maintaining the motivation and maneuvering skills that gave it an edge in three previous counteroffensives.
The timing is critical. Success for Ukraine in the battles on the southeastern plains would drive home to the world the declining military might of Russia, ease concerns that the war has settled into a quagmire and most likely encourage Ukraine's allies to further arm and finance Kyiv in the war. Western support has been solid so far but is not guaranteed. The US budget for military assistance, for example, is now expected to run out by around September, and a senior American defense official recently described the latest tranche of artillery rounds and rockets sent to Ukraine as a "last-ditch effort." […]
Ukrainian officers will have to choreograph artillery, infantry and armored vehicle assaults that crash through Russian trenches, tank traps and minefields. In the south, Russian units have been building defensive positions since they were pushed out of the Kherson region in November. Sophisticated Western tanks, with better survivability and firepower, will be critical in uprooting those positions.
Ukraine had a standing army of about 260,000 soldiers before Russia invaded last year, and it quickly swelled to about a million people bearing arms in various branches of the security services and military. Over the past year, about 100,000 Ukrainian soldiers have been killed or wounded, according to Western estimates. Ukraine has not revealed how large a force it will commit to the counteroffensive.
Ukraine is seen as planning to drive a wedge through Russian occupied territory along the southern coasts of the Black and Azov Seas, near Crimea, or to seek a humiliating turnabout in the fighting in the eastern Donbas region — or both. If weapons and trained troops fall into place in time, Ukraine is capable of inflicting losses on the Russian Army that could have far-reaching geopolitical consequences, Evelyn Farkas, the director of the McCain Institute, said in a telephone interview.
She posited a once-unthinkable outcome: that Ukraine could render Russia a weakened military power in Eastern Europe with little leverage in negotiations to end the war. […] But much could change, she said, with the influx to the front lines of the new Western weaponry and the tens of thousands of Ukrainian soldiers who have been training for the operation at home and in Europe.
Still, success is hardly assured. Allies have dragged their feet in sending weaponry, and soldiers have had to make do with cars
h courses in assault tactics. It's a lot to learn in a short time, said Rob Lee, a military analyst at the Foreign Policy Research Institute. And, he noted, they will have to go before they get all the equipment. The weaponry and equipment for breaching trench lines and crossing minefields is falling into place, though it remains unclear if in sufficient quantity. […]
The counteroffensive, at least in its opening stages, could well hinge on crossing sprawling minefields, military analysts say. To do so, Ukraine will be relying on the unglamorous but crucial mine-clearing machines it has in its Soviet-era arsenal. It has captured some from retreating Russians and is now also receiving mine-clearing devices from the West. The Russian military has a vast arsenal of anti-tank and anti-personnel mines, with colorful nicknames like the Black Widow and the Leaf, some specifically designed to complicate demining with booby traps.
The demining can be done manually, with specially trained soldiers probing the soil and keeping a close eye for trip wires as they walk in front of assault units, or with specialized mine-clearing machinery. These vehicles fire a rocket that tows a long line of explosives. Draping the line over a minefield, then detonating it, clears a path for soldiers or armored vehicles. If the engineers do not say it's done, the route is clear, the infantry will not attack, said Markian, a lieutenant who commands a Ukrainian mine-clearing unit. He asked to be identified only by his first name and rank.
Preparing for the counteroffensive has come at a cost. Russia has used convicts and mercenaries to wear down Russian forces in the monthslong fight at Bakhmut, stretching Ukraine's exhausted, battered soldiers to the limit. Ukraine has tried to avoid taking the bait, deploying volunteer Territorial Defense units and delaying rotations. The village of Oleksandro-Shultyne, on one of the flanks in the battle for Bakhmut, for example, is defended now by the Ukrainian Volunteer Army, a unit that blends civilian volunteers with enlisted soldiers. […]
In the counteroffensive, Ukraine is likely to launch intensive artillery bombardments along a narrow stretch of frontline, military analysts say, followed by demining teams and tank assaults. Ukraine is widely expected to strike in the south, where the terrain ranges from wide-open farm fields, with only sparse tree lines for cover, to towns and villages. A thrust of about 50 miles over the steppe from the current front lines to the Russian-occupied city of Melitopol would split Russian-held territory into two zones, sever supply lines and put Ukrainian artillery within range of Russian bases on the Crimean Peninsula.
Preparing new recruits to replace dead, wounded and exhausted soldiers has been taking place for months. Tens of thousands of new recruits have undergone training in Europe and inside Ukraine, including in newly formed Offensive Guard units. About 35,000 Ukrainians have signed up for the assault units. But morale, an area in which Ukrainian fighters held an edge for much of the war, is becoming more of a challenge. In a dozen or so recent interviews, soldiers at positions near Bakhmut or emerging from the crucible of street fighting for short breaks expressed dismay at the scale of violence and death. […]
We know how Russia fights, and we know how to counter it, Lieutenant Samoilenko said. Resilience is the ability to find new people, to move forward."
Russia does not have forces to go on offensive along entire front line, Ukrinform reports. "The Russian-occupation forces will not be able to go on the offensive simultaneously in all directions as they have big problems with logistics, therefore, the enemy is actively mining Zaporizhzhia region and strengthening fortifications near the Crimean isthmus.
If the enemy extends offensive operations along the entire front line, they will not have enough logistics. They already lack logistics in the areas they attack – these are the four directions on which they work. If we add Zaporizhzhia direction, then I think that the enemy will not be able to supply either ammunition or fuel at all. The problem is already noticeable as the information appeared today that the enemy began to withdraw equipment on trawls from Mariupol, to transfer ammunition after numerous strikes were launched [by the Armed Forces of Ukraine] on ammunition and fuel depots, Oleksiy Dmytrashkivskyi, the Head of the Joint Press Center of the Defense Forces of Tavria direction said.
In Zaporizhzhia direction, he noted, the enemy actively mines the territory, puts so-called "dragon's teeth", and continues to improve its numerous fortifications. In addition, the Russians strengthen their fortifications closer to the Crimean isthmus. This indicates that the Russian Federation is afraid of a counteroffensive of the Armed Forces of Ukraine and not without reason, the spokesman noted. […]
The moment will come when a decision [on the counteroffensive] will be made but so far all the efforts are aimed at exhausting the enemy, destroying manpower and the largest possible amount of equipment, as well as ammunition and fuel depots. This is what will make it difficult for the enemy to continue combat operations. That is, our main task is to complicate the enemy's activity every day, he concluded.
As reported, the day before, Dmytrashkivskyi said that the Russian-occupation forces continued to attack settlements in Avdiivka, Marinka, and Vuhledar directions. At the same time, the Armed Forces of Ukraine managed to improve their tactical position in one of the districts on Donetsk axis."
Russia builds web of trenches and fortifications in Crimea – WP, Ukrainska Pravda reports, citing The Washington Post with reference to Maxar satellite images. "Russia has started to prepare the annexed Crimea for a Ukrainian counteroffensive, with the occupiers building a complete web of trenches and fortifications on the peninsula in just a few weeks. WP said that the occupiers have built fortifications near the settlements of Medvedivka, Vitino and in other parts of Crimea.
The Russians have installed anti-tank embankments, ditches and artillery along the coast of the Black Sea. In the satellite imagery, a whole web of trenches can be seen from the side of Syvash Lake, the length of which in some cases exceeds 900 metres. There are also three rows of concrete pyramidal anti-tank structures, known as "dragon's teeth". WP said that "more recently", Russia has heavily fortified its defences on the border of Crimea with mainland Ukraine. […]
Many of Russia's defences, WP noted, have been built along bodies of water, adding an extra obstacle against a potential Ukrainian ground offensive. Crimea can now be considered one of the most fortified territories in the war zone, WP emphasised. […]
Michael Kofman, a military analyst at CNA in Virginia, said that Ukraine is unlikely to seize Crimea in the classical sense, but that Kyiv could pursue a strategy of exhaustion by establishing fire control over access to Crimea. Over time it could make the situation in Crimea untenable, such that Russia might have to negotiate over its status, Kofman said."
Russian forces plant mines in Zaporizhzhia Oblast fields to reinforce their defence lines, Ukrainska Pravda reports. "Melitopol Mayor Ivan Fedorov has said that Russian forces are planting mines in fields in Zaporizhzhia Oblast in preparation for defending the occupied territories.
Occupation forces in Zaporizhzhia Oblast are endangering civilians as they prepare for defence [operations]. The orcs [i.e., the Russian forces – ed.] are planting mines in the fields in the north of the occupied – for now – part of Zaporizhzhia Oblast, between [the villages of] Mykhailivka and Orlianske. Local residents spotted a GMZ-3 tracked minelayer in the fields. This type of enemy equipment is capable of planting mines along a 1–2 kilometre track within 10–20 minutes."
Consequences and what to do?
Ukraine needs hundreds of billions for rapid recovery – Zelensky, Ukrinform reports. "I don't know the real amount of funds, because you can see that not all the territory has been de-occupied. With this in mind, I cannot name the total amount of money we need. Of course, we are talking about hundreds of billions, Zelensky said.
At the same time, he said it was necessary to think about mental health and social issues. We need money for rapid recovery, because now we spend all the money we have on the battlefield, we give it to our army, we give it for salaries. We also help our teachers and doctors, he said.
Ukrainian Prime Minister Denys Shmyhal said on February 16 that there was already UAH 17 billion in a special account for the rapid recovery of Ukraine."
Germany's Stada asks Berlin to help secure its future in Ukraine, Reuters reports. "Generic drugmaker Stada has asked the German government to seek assurances from Ukraine that the company can continue operations there even though it also does business in Russia, according to a letter seen by Reuters. In the March 21 letter to German Economy Minister Robert Habeck, Stada CEO Peter Goldschmidt said there was a risk Kyiv might withdraw the company's market authorisation.
Stada still has no longer-term certainty that we will be able to sell our products in Ukraine in the future, the letter said, with the subject line: Please prevent the exclusion of international pharmaceutical companies from the Ukrainian market. The Economy Ministry did not have an immediate comment on the letter. […]
Goldschmidt said restricting Stada's operations would be bad for Ukraine. In the worst case, this would mean that vital medicines would suddenly no longer be available to Ukrainian patients because Stada and other manufacturers would have to stop production and distribution, he said. Medicines are excluded from Western sanctions against Russia, which is an important market for Stada. Pharmaceutical companies such as Stada and German rivals Bayer and Boehringer Ingelheim continue to deliver medicines to the country."
Hans Petter Midttun: On December 13, 2021, Deputy Foreign Minister Sergey Ryabkov stated that the Paris Charter which " fully recognizes the freedom of States to choose their own security arrangements", must be balanced by the phrase "that this must not be done at the expense of the security of other states". He warned all countries opposing Russia's right to veto NATO membership decisions will face grave consequences.
Four days later, Russia published both a draft treaty between the USA and the Russian Federation "on security guarantees", as well as a draft agreement on "measures to ensure the security of the Russian Federation and the Member States of the North Atlantic Treaty Organization".
NATO was asked to refrain from any further enlargement.
Yesterday, Finland became the 31st NATO member. Swedish membership has so far only been thwarted by non-democratic forces within the Alliance itself. Not Russia. Having cited opposition to NATO's eastward enlargement as one justification for invading Ukraine, Finland's membership is another testimony to his failed strategy as Ukraine and Moldova continue to move closer to NATO integration.
Crucially, Finland's accession kills one of the most well-established Russian disinformation messages about NATO's so-called "eastward expansion".
"Russia's recent invasion of Ukraine has prompted the Finns to seek safety under NATO's collective defence agreement. Finland's accession roughly doubles the length of NATO's border with Russia."
In reality, NATO's eastward expansion is not part of a strategy to encroach Russia but the consequence of an aggressive Russian foreign policy that over centuries has ensured its continuous expansion at the cost of its neighbours. Like Finland, countries have actively sought the protection of NATO out of fear of Russia's westward expansion.
NATO's eastward expansion has never been a result of offensive intent but a defensive action under the auspice of the "Charter of Paris for a new Europe" stating that "we fully recognize the freedom of States to choose their own security arrangements."
Russia wanted to reduce NATOs force posture in all countries which joined the Alliance after 1997 (Albania, Bulgaria, Croatia, the Czech Republic, Estonia, Hungary, Latvia, Lithuania, Montenegro, North Macedonia, Poland, Romania, Slovakia, and Slovenia). Having started wars in Europe, Russia tried to limit the Alliance's ability to forward deploy units in response to its aggressive foreign policy.
Asking NATO to "withdraw" from former USSR countries (NATO members after 1997), Russia was already occupying and waging war against former USSR countries in direct contradiction to the agreement it was proposing.
As a result of Russia's full-scale invasion of Ukraine, however, Putin has achieved the exact opposite result. NATO members have started rebuilding their Armed Forces. NATO's defence plans were activated and thousands of extra troops from both sides of the Atlantic were deployed. Over 40,000 troops, along with significant air and naval assets, were placed under direct NATO command in the eastern part of the Alliance, supported by hundreds of thousands more from Allies' national deployments. The Alliance has established eight battlegroups along its eastern flank, from the Baltic Sea in the north to the Black Sea in the south. The member states have agreed to strengthen forward defences, enhance the battlegroups in the eastern part of the Alliance up to brigade level, transform the NATO Response Force and increase the number of high-readiness forces to well over 300,000.
The efforts will be supported by more pre-positioned equipment and supplies; more forward-deployed capabilities; and upgraded defence plans, with forces pre-assigned to defend specific Allies. NATO Allies are also increasing the resilience of their societies and infrastructure.
Instead of the withdrawal it was demanding, Russia triggered the biggest overhaul of Allied collective defence and deterrence since the Cold War.
Russia demanded that the USA should refrain from flying heavy bombers or deploying surface warships in areas "where they can attack targets in the territory" of Russia. In principle, it called on NATO to refrain from operating in the Black Sea, the Baltic Sea, the Barents Sea and the Arctic, as well as the airspace over Northern, Central and Eastern Europe.
Again, it has achieved the exact opposite.
NATO has substantially increased the number of fighter jets on alert across Eastern Europe in response to Russia's unprovoked attack on Ukraine. According to NATO around 30 surveillance and fighter aircraft are in the air over Eastern Europe at any one time.
NATO has increased its air presence in Eastern Europe with surveillance aircraft and tankers. Since February 2022, NATO AWACS have conducted regular patrols over eastern Europe and the Baltic Sea region to track Russian warplanes near NATO borders. The Alliance has forward deployed AWACS to Romania.
Russia has, however, succeeded in stopping NATO from deploying its maritime forces into the Black Sea. The last non-Black Sea NATO warship left on 2 January 2022.
The USA was told to withdraw its nuclear weapons from Europe and eliminate all existing infrastructure on the continent. Obviously, the demand was ignored.
Russia has instead reverted to nuclear threats and actions, including the modernisation and upgrade of nuclear storage facilities in Crimea, forward deployment of platforms capable of delivering nuclear weapons, (allegedly) the positioning of Iskander-M and preparations for the deployment of tactical nuclear weapons to the Republic of Belarus.
Additionally, Russia plans to form a division of special-purpose submarines that will carry Poseidon nuclear-capable torpedoes as part of the country's Pacific Fleet by the end of 2024 or the first half of 2025.
It is a sign of weakness, not strength. Russia is increasingly flagging its nuclear capabilities as its conventional forces are being decimated in Ukraine. It has not only lost a staggering number of soldiers but also its elite forces, its newest and most modern tanks (3,600) and armoured personnel vehicles (7,000). Russia has lost more than 2,700 pieces of artillery and a great part of its ammunition stocks. It is running out of precision-guided missiles. The Russian Air Force has proven incapable of achieving air supremacy over a country that has 5-7 times fewer combat aircraft of inferior quality. Russian logistical support is failing as the morale and motivation of its soldiers hits rock bottom.
Under Putin's watch, Russia's military power has been greatly reduced. A Great Power wannabe has instead become dependent upon China, Iran and North Korea as its military power dwindles.
That said, it has still succeeded in limiting Western support to Ukraine. That's not a sign of NATO strength. It is a cause for concern.
Tags: Russian invasion