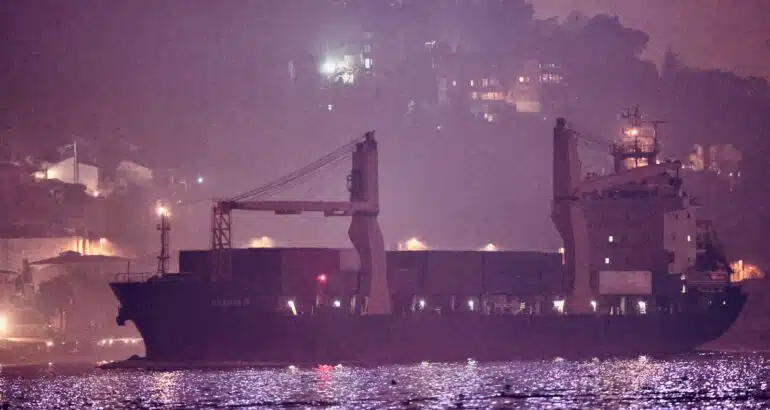 A Russian cargo ship slipped quietly into the Black Sea with a suspected load of war supplies for Russia's invasion of Ukraine, Naval News reports. The ship, Sparta IV, was loaded in Syria and sailed with a Russian Navy escort.
Although Türkiye closed the waterway between the Mediterranean and the Black Sea to Russian warships, the flow of military supplies continues.
The Russian government linked ship, MV Sparta IV, passed through the Bosporus during the hours of darkness. It was not unnoticed. Her voyage has been tracked by defense analysts and her passing was photographed by respected ship spotter and defense expert Yörük Işık.
The Bosporus Straits, which run through Istanbul and are Turkish sovereign waters, is closed to warships due to Russia's war against Ukraine. Naval News has seen evidence which indicates that this latest ship, MV Sparta IV, is carrying military vehicles and/or other war supplies. She is expected to unload in Novorossiysk, a base heavily involved in the Invasion of Ukraine.
Russian media previously reported that the ship arrived in Tartus in Syria carrying humanitarian aid. The loading involved distinctive military vehicles, and the ship's large holds were opened during this time. As she sailed through the Bosporus she had a declared draught of 6.2 meters (20 feet) suggesting a heavy load. This is supported by the photographic evidence.
Sparta IV is one of four ships owned by SC South LLC, a Russian shipping company which is involved in transporting military equipment. The company and the ship have been sanctioned by the US Government under Specially Designated Nationals list (SDN) following the invasion of Ukraine.
Tags: Black Sea, Russian aggression